Denver to Moab Aboard Rocky Mountaineer
October 5 to 9, 2024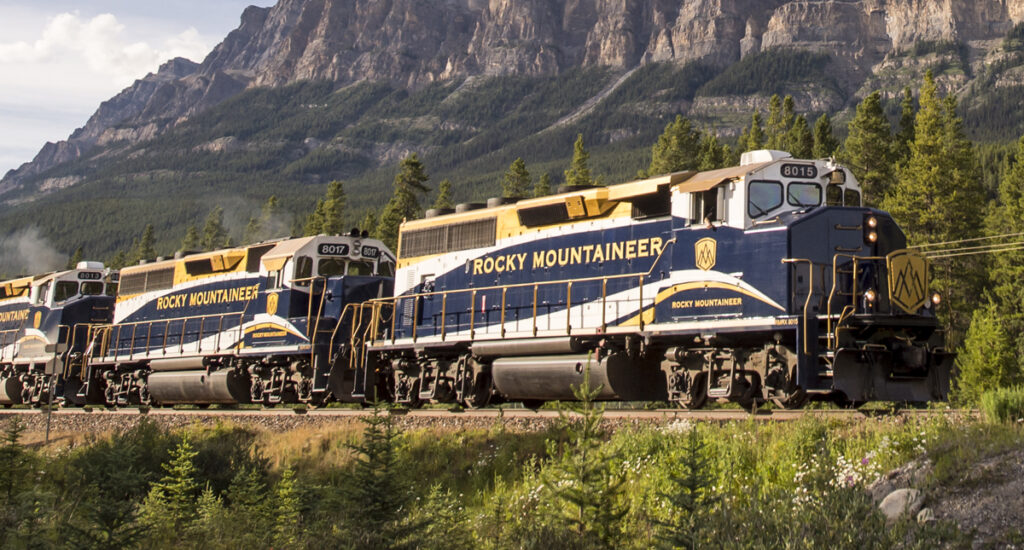 Starting Price: SilverLeaf double, $3,695; SilverLeaf Plus double, $4,495; SilverLeaf single, $5,495; SilverLeaf Plus single, $6,295
Activity Level: Moderate. Guests should be comfortable boarding and disembarking trains without assistance, and walking and moving between cars while the train is in motion. Activities take place at a high elevation.
Travel Type: Train and land
More information: NC State + Orbridge website
All aboard! Travel by rail from the mile-high city of Denver to the red rock formations of Moab by joining a luxury train journey to America's Southwest—a region steeped in history and full of opportunities to explore. Oversized windows and glass-domed coaches allow you to relax and soak in the magnificent scenery that includes colorful deserts, bewitching hoodoos, and natural archways. As the train winds alongside rivers, through mountain ranges, and past ancient rock canyons, watch for wildlife, such as bighorn sheep, bears, mountain lions, deer, and marmots. Entertaining stories from onboard hosts and comfortable travel combine with locally inspired cuisine to make this an unforgettable adventure. Off the train, enjoy nature with guided tours of Arches National Park and Canyonlands National Park.
Itinerary
Day 1: Arrive in Denver, CO 
Saturday, October 5, 2024
After arriving, settle in and relax for the exciting journey to come. 
Overnight: The Rally Hotel
Day +2: Denver / Rocky Mountaineer / Glenwood Springs
Sunday, October 6, 2024
Embark upon the Rocky Mountaineer for two days of extraordinary landscapes between Denver and Moab. This rail route is filled with highlights best seen by train, including Ruby Canyon and Mount Logan.
Pass the towering Rockies on the way to Glenwood Springs, and celebrate crossing the Continental Divide with a sparkling wine toast. Later, enjoy lore, lunch, and landscapes! Hear engaging stories of the region from onboard hosts and delight in dining on a three-course lunch. Tour along the Colorado River through picturesque Byers Canyon and Gore Canyon.
If desired, sip a signature cocktail upon approach of your overnight destination Glenwood Springs. This resort city sitting in the rugged Rocky Mountains is surrounded by the vast White River National Forest and is known the world over for its hot springs and outdoor adventures. Within the town's vibrant history, John Henry "Doc" Holliday traveled here in the late 1800s seeking a cure for his advanced tuberculosis. A museum bearing the name of this dentist-turned-gambler/gunfighter exists in the heart of downtown. Glenwood Springs also has a dynamic dining and entertainment scene. With everything from farm-to-table eateries to award-winning breweries, Glenwood Springs' restaurant scene is a consistent source of culinary delights.

Disembark and reminisce about the day in comfortable accommodations. A dip in the mineral-rich waters of the world's largest hot springs pool may be just the ticket to soothe body and soul at this unique and historic destination.
Overnight: Glenwood Springs Lodging (B,L)
Day +3: Glenwood Springs / Rocky Mountaineer / Moab, UT / Canyonlands National Park
Monday, October 7, 2024
Rested and relaxed, depart Glenwood Springs aboard the Rocky Mountaineer, heading southwest for another day of awe-inspiring views of colorful archways and astounding rock formations.
Savor a two-course hot breakfast while watching the morning light bounce off the magnificent Parachute Creek and Mount Logan. Take in the red rock formations lining the cliffs in Ruby Canyon and look for Mount Garfield. At 6,600 feet, it's the highest point of the Book Cliffs and easy to spot. These sandstone cliffs and mountains stretch nearly 200 miles from west to east—another great reason to take more photographs!
The train continues to follow the Colorado River and crosses the state line between Mack, Colorado, and Westwater, Utah. Watch for Mount Peale. It's the highest point of the La Sal Mountains at 12,726 feet. Due to their immense height, these mountains are usually snow-capped until early summer.
As the train reaches Moab, you'll be greeted by its brilliant red sandstone backdrop and a first glimpse of the iconic Arches National Park—a 73,234-acre wonderland of geological marvels. Depart the train and travel to downtown Moab.
After lunch on your own in Moab, visit Canyonlands National Park—the largest national park in Utah—for guided sightseeing. Canyonlands' diverse landscape promises spectacular views of towering rock pinnacles and striking desert vistas. Over time, the Colorado River and its tributaries have carved intricate buttes and river beds into this beautifully rugged terrain.
Later, transfer to the property for an evening of free time at Red Cliffs.
Overnight: Red Cliffs Lodge (B)
Day +4: Moab / Arches National Park / Moab
Tuesday, October 8, 2024
Following breakfast, set out for Arches National Park—featuring more than 2,000 natural sandstone arches. Observe the myriad of unusual rock formations, including Balanced Rock and the world famous Delicate Arch. Did you know? The enormous sandstone boulder atop Balanced Rock is presumed to weigh approximately 3,577 tons! See arch formations that include cliff-wall arches, free-standing arches, pothole arches, and natural bridges. In addition, there are 745 species of flora in Arches National Park. Hundreds of types of grasses, cacti, evergreens, deciduous trees, flowers, and bushes have adapted to surviving in the harsh conditions.

Later, enjoy both lunch and the afternoon on your own.
Overnight: Red Cliffs Lodge (B)
Day +5: Moab / Grand Junction, CO / Flight to Phoenix, AZ / Main Program Begins
Wednesday, October 9, 2024
Following breakfast, transfer to Grand Junction for the flight to Phoenix to join fellow travelers on the main program. (B)
B = Breakfast, L = Lunch, D = Dinner
Sights to See