NC State Ring
Wear the Tradition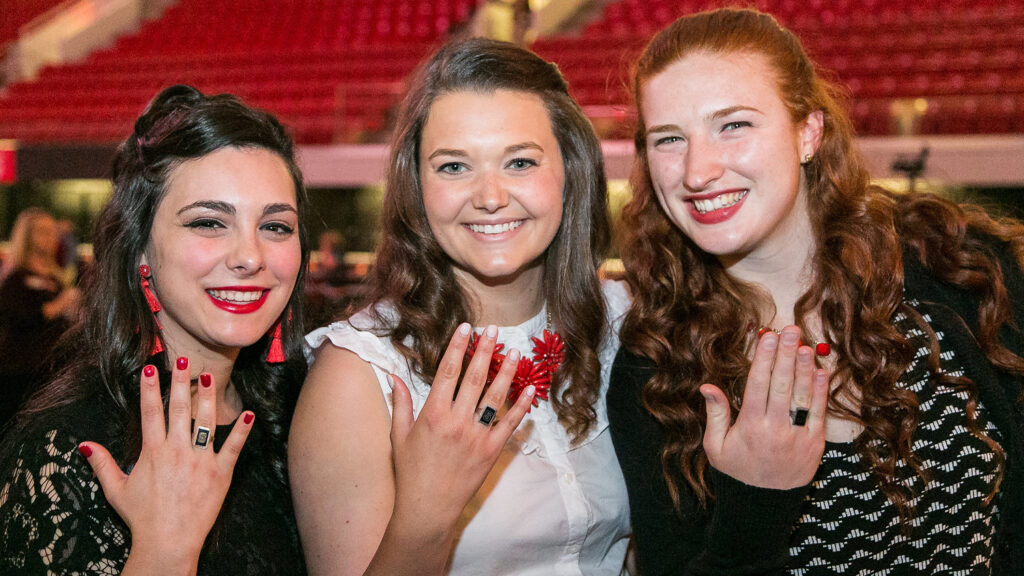 The NC State Ring Collection was designed for our university in 2005 by a committee of students, alumni, faculty and staff. Its distinctive features capture NC State through symbols you're sure to recognize—no matter when you graduated.
The Memorial Belltower is supported by 19 bricks, representing the number of students in the first class to graduate. The North Carolina motto, "esse quam videri" ("to be rather than to seem"), speaks to our solutions-based role as a land-grant institution. The open doors of Holladay Hall welcome new students and returning alumni. A proud pack of wolves lunges in front of the university mace. Twenty-one bricks represent the size of the first class to enroll. The Block-S logo tops the traditional style and signet rings, encircled by the name and founding date of the university. Your college is identified in a banner on your ring.
Save the date for our next Ring Week Celebration, running from Aug. 28 – Sept. 1.
Who can get a ring?
Rings are worn only by students and alumni who have completed 60 or more undergraduate credits (junior status) or studied in a master's or doctoral program. As an alumnus/alumna, you wear the ring with the university name facing outward, symbolizing the completion of your degree, your path to the future and your status as an alumnus/alumna of NC State. As a student, you wear it with the university name facing inward until you're instructed to turn it at commencement.
Alumni and qualifying students can purchase the ring online anytime or at Wolfpack Outfitters during ring sale events.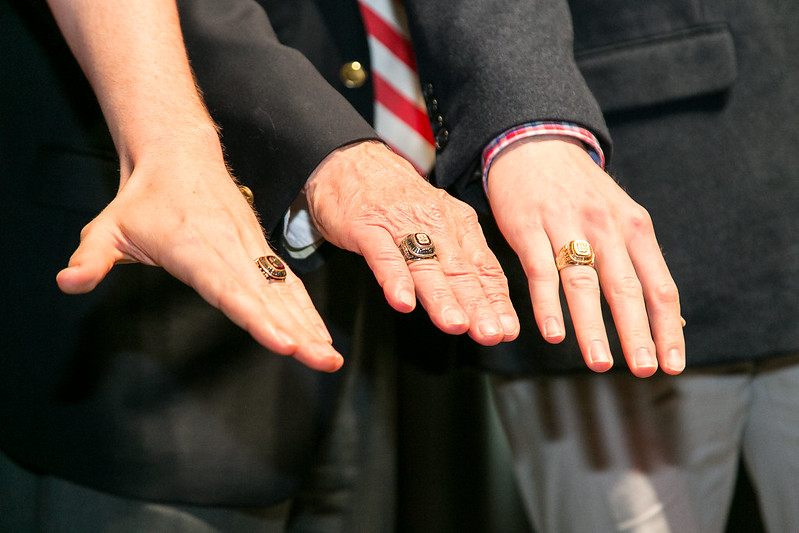 What does the ring symbolize?
NC State rings are designed to symbolize the university experience and to capture the Wolfpack spirit. The NC State Ring is a testament to your success as a student and your pride and loyalty as an alumnus. It is not a piece of jewelry destined to sit in a box. It's meant to be worn with pride to show the world you are Red and White for Life. You have earned the lifelong right to wear this NC State emblem. It symbolizes the uniqueness of experiences shared only by those students who have heard the Memorial Belltower play the alma mater, raced across the Brickyard to class or raised their hands to make the sign of the "wolf" at a ballgame. No other ring will have these symbols.
Wearing your ring will easily be your most visible connection to NC State after graduation. It clearly signifies your connection to this great university, serves as a reminder of your time spent here, and tells others that you are a proud member of the Wolfpack. Above all is the fact that the ring signifies the foundation of knowledge and comprehensive education that you received from NC State and the impetus the university provided to you on your personal road to growth and achievement.
A 60-credit-hour requirement limits who can receive a ring, ensuring that those eligible to wear it are well down the road toward graduation, signifying success. The only path to ownership is through academic achievement.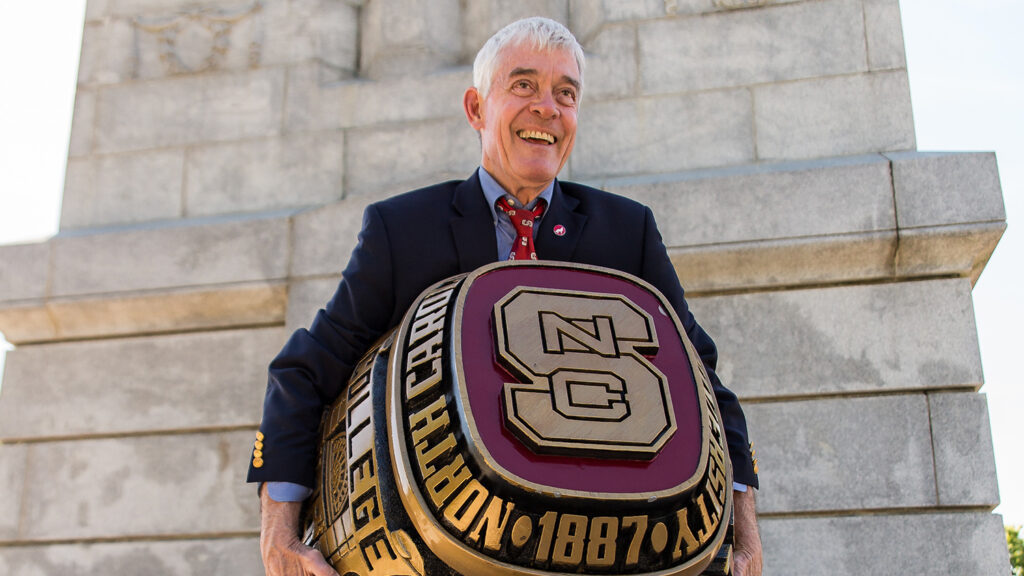 Ring tradition
The Alumni Association invites ring recipients to attend a ceremony on Monday, April 17, that explains the significance and symbolism of the ring before each student is awarded this time-honored emblem of an NC State degree. All rings presented to students spend one night in the Alumni Memorial Belltower to connect the ring symbolically to all others who have proudly earned an NC State degree.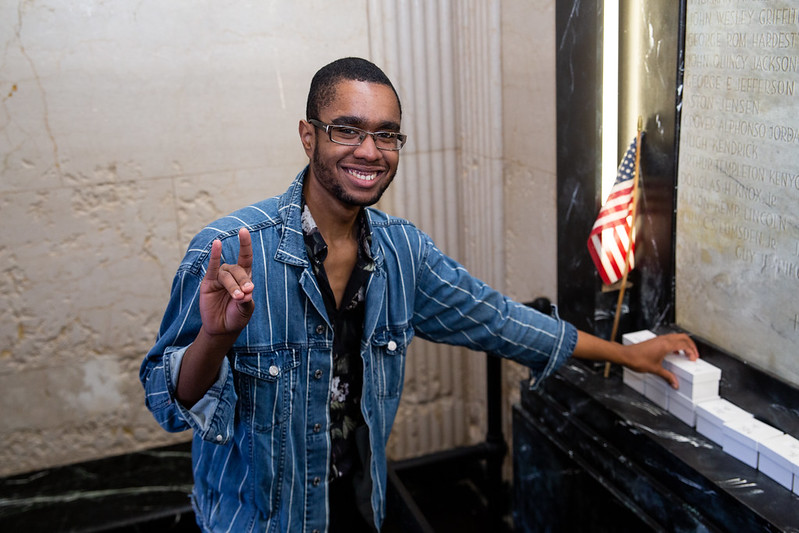 This growing tradition has been featured in "54 things to do before graduating from NC State." Students' rings will be placed in the Memorial Belltower at the Fellowship of the Ring Ceremony. The experience is special in many ways, providing students a sense of togetherness and giving them a sentimental tie to campus for the rest of their lives. The main symbol of NC State, the Memorial Belltower, will host the rings in its shrine room overnight in preparation for the ring presentation and reception at the Park Alumni Center the following day. It is said that once in the Belltower, the rings are visited by three benevolent spirits, the spirits of Wolfpack Past, Present and Future. These spirits implant values within each ring that are dear to every graduate of the university.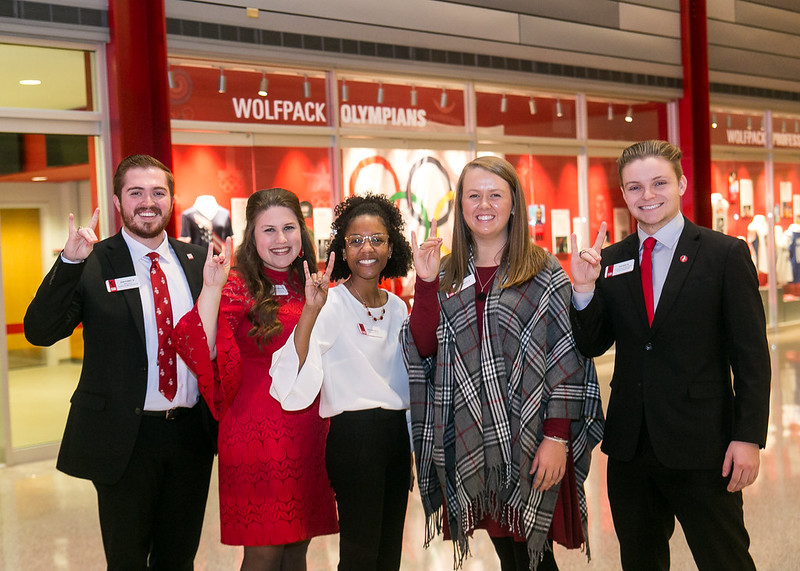 Presentation of the ring
After spending the night in the Belltower, rings will be personally awarded at a ceremony on Tuesday, April 18, attended by your family, friends and other students. Once all students have their rings, the group will put their rings on collectively. The ceremony concludes with the singing of the alma mater and is followed by a reception for students and their guests.
Frequently asked questions
Who can get an NC State Ring? Only alumni and students with 60 or more completed credit hours and junior standing can wear a ring. Enrolling in a master's or doctoral program also qualifies you to wear the ring.
Can I get my ring without attending the ceremony? We encourage all students receiving a ring to take part in the tradition of the ceremony. However, if a student can't make it to the presentation of the rings, they can pick up their rings in the campus bookstore from Balfour representatives, usually the following day. Those rings that are not picked up are sent to the address listed when the ring was purchased.
If I'm an alumnus/alumna and don't live near Raleigh can I have my ring shipped to me? Yes. If you mark yourself as an alumni on the online order form, the ring will be shipped straight to you.
Can I put my greek letters, campus organization, etc. on my ring? Our current design does not allow for adding symbols, logos or text to the outside of the ring. Although there are some customization options, those options are limited. These types of additions can be included as engravings on the inside of your ring, however.
My ring has been lost or stolen. Can I replace it with an exact replica? Sometimes our ring company, Balfour, can use old ring casts to recreate a ring. In some cases, however, a more recent design must be used. Contact amcmull2@ncsu.edu for more information.
I've found an NC State ring. What should I do? If there is a name engraved inside the ring, the Alumni Association can locate the owner through our alumni database. Contact amcmull2@ncsu.edu
My ring has been damaged. Can I have it fixed? How much does it cost? Should you need to repair your Balfour ring, send it insured to:
Balfour
Attn: Repair Department
7211 Circle S. Road
Austin, Texas 78745
Include your name, or original order number (if available), instructions as to the type of repair you want done, a return address and a daytime phone number so Balfour can contact you to approve any charges. We recommend that you send the ring using a traceable method like USPS, UPS or FedEx. Please remit a $14.95 shipping/handling/insurance charge with your ring.
Many times, repairs can be done on a ring; however, some requests may require that your ring be remade. If your ring is very sentimental to you and you do not want it remade, an explicit note directing that the ring not be remade must be included with the ring. A remake fee will apply to any order that must be remade. To learn more about these fees please call 1.877.225.3687. Repairs typically take two to three weeks; sometimes less. Remaking your ring, if necessary, will generally take four to six weeks.
Can I get my ring resized? Changes in weather and physical activity affect your finger size, so wear it for a while before considering any changes in ring size. If you still feel you require a different size, Balfour will be happy to resize your ring up to two sizes.
Since purchasing a ring, my graduation date has changed. Can I have the date changed on my ring? Should your year of graduation or your school change before you graduate, Balfour will remake your ring one time at no charge or replace it with a ring of similar design and comparable value.
I'm a parent and want to give my son/daughter a ring as a gift. What should I do? Although it is recommended that students participate in the tradition of receiving rings through the ring ceremony, it is possible to arrange a ring delivery for personal gifts. However, a ring delivered early to be given as a gift will not spend a night in the Memorial Belltower. Email amcmull2@ncsu.edu about receiving a ring to use as a gift. The Alumni Association can notify Balfour of the gift so that your student will not receive emails that may reveal the surprise.