Awards
Recognizing the Pack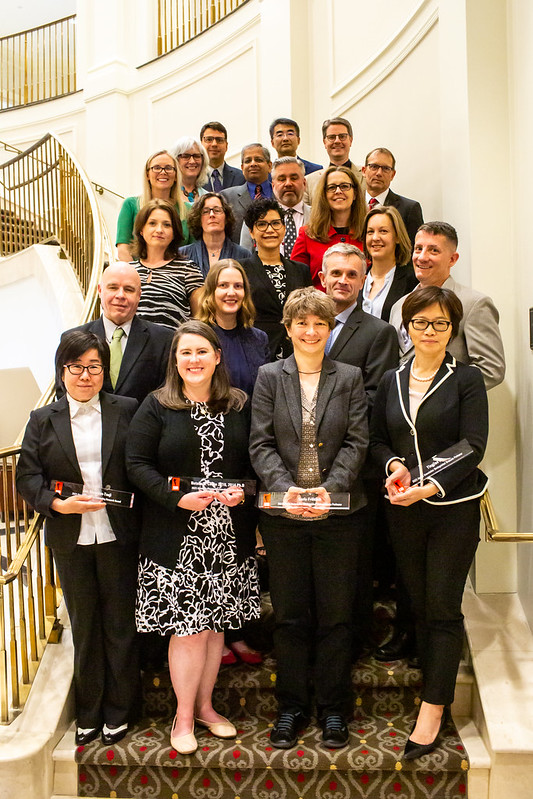 Each spring, the Alumni Association recognizes the university's top faculty who consistently demonstrate excellence in NC State's core values – teaching, research and extension.
The funding support for these awards comes from the North Carolina license plate program. When alumni purchase a specialized NC State license plate, a portion of the proceeds are returned to the Alumni Association to reward faculty. The Alumni Association is proud to use these dollars to honor hard-working faculty who create the ties that bind students to NC State for a lifetime and elicit their unending gratitude for an education that changed their lives.
Nominations are made for these awards by deans, department heads, peers and students. Criteria are rigorous, numerous nominations are received and final selections are made by five different committees.
Awards include:
Alumni Association Distinguished Professorship
Honors the "best of the best" in undergraduate and graduate instruction
Undergraduate award established in 1968; Graduate award established in 1983
Alumni Association Outstanding Research Award
Honors faculty members who make significant advances in their fields and mentor other research faculty
First presented in 1981
All winners are inducted into NC State's Research Leadership Academy
Alumni Outstanding Extension and Outreach Award
Honors extension agents and specialists who make an outstanding effort to bring research and technology to the people and businesses of North Carolina and beyond
Established in 1978
Outstanding Teacher Award
Recognizes six to eight of the faculty being inducted into the NC State Academy of Outstanding Teachers
Mathews Medal
The highest non-academic distinction awarded to NC State students
Established in 2006
Recognizes seniors who have made significant contributions to the university and created a lasting legacy
Administered by the Alumni Association Student Ambassador Program
Named after Walter J. Mathews, the first student to arrive on the campus of the North Carolina School of Agriculture and Mechanic Arts in October 1889