National Parks and Lodges of the West
June 28 to July 6, 2024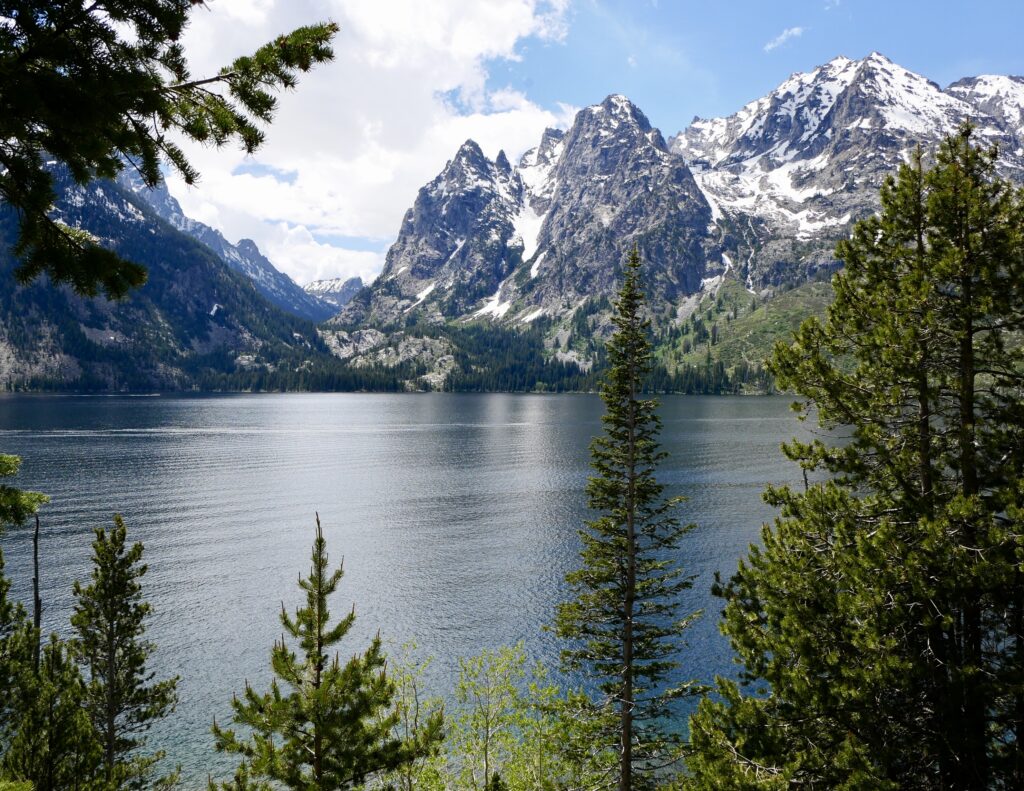 Itinerary
June 28 – July 6, 2024
Day 1: Arrive in Rapid City, SD
Friday, June 28, 2024
Welcome to Rapid City—nicknamed "The City of Presidents" for the series of life-sized bronze statues of our nation's past leaders situated throughout downtown. Transfer to the hotel to meet your fellow travel companions and Orbridge Expedition Leaders for a welcome dinner and briefing to kick off the exciting week ahead.
Overnight: Hotel Alex Johnson (D)
Day 2: Rapid City / Badlands National Park / Custer State Park
Saturday, June 29, 2024
This morning after breakfast, head to Badlands National Park, with more than 244,000 acres of mixed-grass prairie, featuring some of the most spectacular scenery and diverse wildlife in the region. Gaze in awe at the layered rock cliffs, towering spires, and narrow canyons that create this amazing landscape. Lunch is at leisure in Wall, South Dakota—a bustling community that exudes small-town charm.
Later, set out on a Jeep safari tour through Custer State Park. Embrace the magnificent vistas and spot for herds of bison, elk, bighorn sheep, and other wildlife that can be observed along the scenic roads. Beware of the "begging burros" that approach visitors looking for a handout!
For the following two evenings, retire to Custer State Game Lodge, which offers a tranquil, nature-filled experience combined with stunning views and outstanding service. Built in 1921, this impressive stone and wood lodge surrounded by stately trees is listed on the National Register of Historic Places. The charming lodge served as the "Summer White House" in 1927 for President Calvin Coolidge, who saw it as a quiet retreat from the heat, bugs, and crowds of Washington, DC. President Dwight D. Eisenhower also visited the lodge in 1953 while on a visit to the Black Hills area.
Overnight: Custer State Game Lodge (B,D)
Day 3: Mammoth Site / Crazy Horse / Custer
Sunday, June 30, 2024
This morning, travel to Hot Springs to visit The Mammoth Site—where history of the late Ice Age comes to life. This paleontological site, research center, and museum contains the largest concentration of mammoth remains in the world and earns recognition worldwide for its interpretation and exhibits. Walk the edges of a sinkhole where Columbian and woolly mammoths, camels, wolves, and giant short-faced bears became trapped more than 26,000 years ago, leaving a treasure of fossils. For centuries the bones lay buried until discovered in 1974 during excavation for a housing development. After a short tour, stroll the boardwalk over the dig area and see the paleontology laboratory. 
Visit the base and museum of Crazy Horse Memorial and admire the world's largest monument carving in progress. Under construction since 1948, crews are drilling, sculpting, and removing rock more than 70 years later. The work honors Crazy Horse, a member of the Oglala Lakota, and the values of Native Americans. Crazy Horse led his warriors to victory against Custer's battalion at the Battle of the Little Bighorn in 1876. If completed as designed, the sculpture will be 563 feet high and 641 feet long.
Experience an audio-visual program featuring artist Korczak Ziolkowski and his sculptures that illustrate the culture, tradition, and living heritage of Native Americans.
Afterwards, enjoy lunch and free time to explore on your own before joining the group for an evening meal in the main lodge—where the ambiance harkens back to the 1927 summer White House dinners.
Overnight: Custer State Game Lodge (B,D)
Day 4: Custer / Mount Rushmore / Spearfish Canyon
Monday, July 1, 2024
Today visit one of the world's largest iconic stone monuments—Mount Rushmore. Begun in 1927, this remarkable granite sculpture was originally designed to portray the four Presidents—George Washington, Thomas Jefferson, Abraham Lincoln, and Theodore Roosevelt—from the waist up, but construction ended in 1941 due to budgetary constraints. The stone visages that remain, however, are inspiring in both their beauty and the enormous feat of engineering it took to create them. Carved under the direction of sculptor Gutzon Borglum, Mount Rushmore was a massive undertaking requiring 800 million pounds of stone to be removed by dynamite from the mountain face.
Pass through the Avenue of Flags walkway and peer up to capture sight of four influential presidential faces. Each face is approximately 60 feet in height, with noses longer than 20 feet. Their mouths are about 18 feet wide.
During free time, have lunch, perhaps explore the Visitor Center or Sculptor's Studio, or hike the 422-stair Presidential Trail that loops around the base of the monument. Wandering through gorgeous scenery, experience an up-close perspective of the sculpture and a chance to spot local wildlife.
Later today, retreat to your accommodations, deep in the heart of one of the most breathtakingly beautiful canyons in the world, nestled alongside lofty pines and spectacular cliffs. This property was built and decorated in the style of the old lodges of the West. Enjoy leisure time at the lodge for a walk or hike before rejoining the group for dinner.
Overnight: Spearfish Canyon Lodge (B,D)
Day 5: Spearfish Canyon / Cody, WY 
Tuesday, July 2, 2024
Enjoy wide-open spaces and western hospitality with a scenic travel day today. Relaxing aboard the motor coach en route to Cody, encounter vistas of historic and geologic significance among the rolling plains of the Old West, the towering peaks of the Bighorn Mountains, and refreshing opportunities to stop and stretch your legs. 
Delight in lunch and the beautiful scenery at The Ranch at UCross—an authentic Western ranch. The Ranch at UCross and the surrounding Buffalo, Wyoming, landscape are rich in the history of the American West. Many western writers, sculptors, artists, and craftsmen make this area home for exactly that reason.
American scout, bison hunter, and showman William Frederick "Buffalo Bill" Cody founded Cody in 1896. He was drawn to the area's rich soil, abundant fish and game, grand scenery, and proximity to Yellowstone National Park. The town now boasts a population of more than 10,000 residents who live and work in the surrounding area.
With a late afternoon arrival in Cody, enjoy the evening and dinner on your own or maybe venture out for some real western entertainment at the nation's longest running successful professional rodeo.
Overnight: Holiday Inn Cody-At Buffalo Bill Village (B,L)
Day 6: Cody / Yellowstone National Park
Wednesday, July 3, 2024
Visit the Buffalo Bill Center of the West for a journey into the region's rich past with five museums, a research library, and special exhibitions. Learn about Western and Native American history, the life of "Buffalo Bill" Cody, Yellowstone, old firearms, and more. Experience the spirit of the American West through art by surveying the Whitney Museum's collection of paintings, prints, and sculpture. 
Continuing on, pass through Shoshone National Forest to Yellowstone National Park. The Shoshone National Forest was set aside in 1891 as part of the Yellowstone Timberland Reserve, making it the first national forest in the United States. It consists of some 2.4 million acres of varied terrain, ranging from sagebrush flats to rugged mountains. With Yellowstone National Park on its western border, the Shoshone encompasses the area from the Montana state line south to Lander, Wyoming, and includes portions of the Absaroka, Wind River, and Beartooth Mountains.
As the world's first national park, Yellowstone has delighted visitors since 1872. Few places on the planet offer such scenic and scientific wonder in one area. Home to staggeringly beautiful and dramatic canyons, alpine rivers, lush forests, hot springs, gushing geysers, and hundreds of animal species, experiencing Yellowstone in person is a humbling, enthralling adventure.
Sitting atop a slumbering super volcano, Yellowstone has half of the world's known geysers, including iconic Old Faithful. Watch with excited anticipation to witness the power of 3,700 gallons to 8,400 gallons of hot water (depending on the duration of the eruption) shooting high into the air at extreme force.

Additional geological spectacles include the Park's Upper and Lower Falls. Hear the roar of the Yellowstone River dumping as many as 60,000 gallons of water per second over the Lower Falls. Magnificent to behold, the Lower Falls towers over 300 feet, making it nearly twice as tall as Niagara Falls.
Take time to spot for wildlife in Hayden Valley. In many ways—geographically, historically, and biologically—it is the heart of Yellowstone. Grizzly bears, bison, wolves, coyotes, elk, moose, and dozens of bird species live here.
Overnight: Yellowstone Lodging (B,L,D)
Day 7: Yellowstone National Park
Thursday, July 4, 2024
Enjoy a full day exploring Yellowstone, including its active caldera.
Along Fountain Paint Pot Trail, see various hydrothermal features that are expressions of Yellowstone's still active volcano. Within this geologic system, each type of thermal feature is represented. They can be grouped into two general categories—those with a great deal of water (hot springs and geysers) and those with limited water (mudpots and fumaroles). Despite their structural similarities, no two features are exactly alike. Learn interesting facts, such as the "recipe" for mudpots—a perfect mix of heat, gases, water, volcanic rock, minerals, acid, and even living microorganisms. Walk the half mile boardwalk nature trail to see it all.
At Mammoth Hot Springs, admire how the steamy terraces and hot springs overlook the visitor facilities. Limestone, a naturally white rock, underlies this area. Hot water dissolves the mineral calcium carbonate from the limestone, which is deposited at the surface to form travertine. Colors in the hot springs come from thermophiles, organisms adapted to live at high temperatures. This unique thermal feature has been described as looking like a cave turned inside out, creating a surreal landscape. Perhaps visit the Albright Visitor Center and Museum, with its interactive displays, great animal wildlife exhibits, orientation area, and educational ranger talks. Elk are often spotted close by.
Overnight: Yellowstone Lodging (B,D)
Day 8: Yellowstone National Park / Grand Teton National Park / Jackson
Friday, July 5, 2024
With the remaining space on your camera's memory cards, capture the "grand" of Grand Teton National Park. Head south through vast unspoiled wilderness to the park and take in its jagged mountain peaks that form postcard perfect backdrops behind lakes, such as Jenny and Jackson. The Tetons—the highest at more than 13,700 feet—are the youngest of the Rocky Mountains, but still inspire visitors from all over the world with their regal and imposing beauty. Standing nearly 7,000 feet above the valley floor, they make a bold and beautiful geological presence and are arguably North America's most spectacular mountains. Savor this natural world as the wind blows through some 700 species of trees and higher plants, including cottonwoods, aspens, spruces, firs, and lodgepole pines. Here is a place where truly the buffalo roam and the deer play, along with bighorn sheep, black and grizzly bears, red-tailed hawks, moose, elk, pronghorn, bald eagles, wolves, mountain lions and other animals.  
Today we also plan on stopping for lunch at leisure at the Pioneer Grill at Jackson Lake Lodge. This eatery is said to be one of the oldest and longest continual counters at 200 ft. One counter winds through the room, creating a welcoming atmosphere where guests interact with travelers and employees from around the globe. Those with a sweet-tooth will enjoy indulging in the famous huckleberry milkshake.
Celebrate the grand adventures of the past week at a farewell meal with the Orbridge Expedition Leaders and new found friends.
Overnight: Rustic Inn at Jackson Hole Creekside Resort and Spa (B,D)
Day 9: Jackson / Depart Jackson
Saturday, July 6, 2024
After breakfast, guests departing during the suggested times take a complimentary transfer to Jackson Hole Airport for flights home. (B)
B = Breakfast, L = Lunch, D = Dinner
(Itinerary subject to change.)
Activity Level
Moderate
The majority of the program's activities will take place outdoors and a fair amount of walking on varying terrain is to be expected. Many of the parks have dirt trails, but they are usually fairly smooth for walking. Some do have paved pathways and boardwalks. It is our expectation that guests on this program are able to walk a mile at a moderate pace, get in and out of a motor coach, and walk up a flight of stairs without assistance. Also keep in mind that you will experience varying altitudes, rising up to 9,000 feet, to which you may not be accustomed.
Jackson Hole Post-Tour
Take advantage of Jackson Hole's world-class wildlife viewing, outdoor activities, and the region's jaw-dropping scenery. With scenic mountain vistas as its stunning backdrop, you can find much of the area's Old West heritage in Jackson.
Itinerary
Day 9: Jackson
Saturday, July 6, 2024
Spot for wildlife outside before taking a private, docent-guided tour of the National Museum of Wildlife Art. It's situated on a distinct cliff overlooking the National Elk Refuge. Enter the museum to view selections of the 5,000-piece collection from more than 550 artists. Dating from 2500 B.C. to the present, the collection chronicles much of the history of wildlife in art, focusing primarily on European and American painting and sculpture. The collection of American art from the 19th and 20th centuries is particularly strong, recording European exploration of the American West. Many of these works predate photography, making them vital representations of the frontier era in the history of the U.S. 
Overnight: Rustic Inn at Jackson Hole Creekside Resort and Spa
Day 10: Jackson
Sunday, July 7, 2024
Set out on a three-hour adventure, beginning at Pritchard Creek, floating past nesting areas of bald eagles and ospreys. Early morning is watering time—and the best viewing time—for native fauna along the river, such as waterfowl, moose, deer, and river otters. Make sure to bring your camera to capture the beautiful scenery and active wildlife.
During leisure time, explore downtown Jackson's shops and restaurants or relax and enjoy the various amenities at the Rustic Inn's resort and spa.
Overnight: Rustic Inn at Jackson Hole Creekside Resort and Spa (B)
Day 11: Depart Jackson
Monday, July 8, 2024
After breakfast, guests departing during the suggested times take a complimentary transfer to the Jackson airport for flights home. (B)
B = Breakfast
This post-tour is not escorted by an Orbridge Expedition Leader. Included sightseeing is accompanied by a local guide. Space is limited, so it's recommended to reserve early for best availability.