Itinerary & Accommodations: Legendary Turkey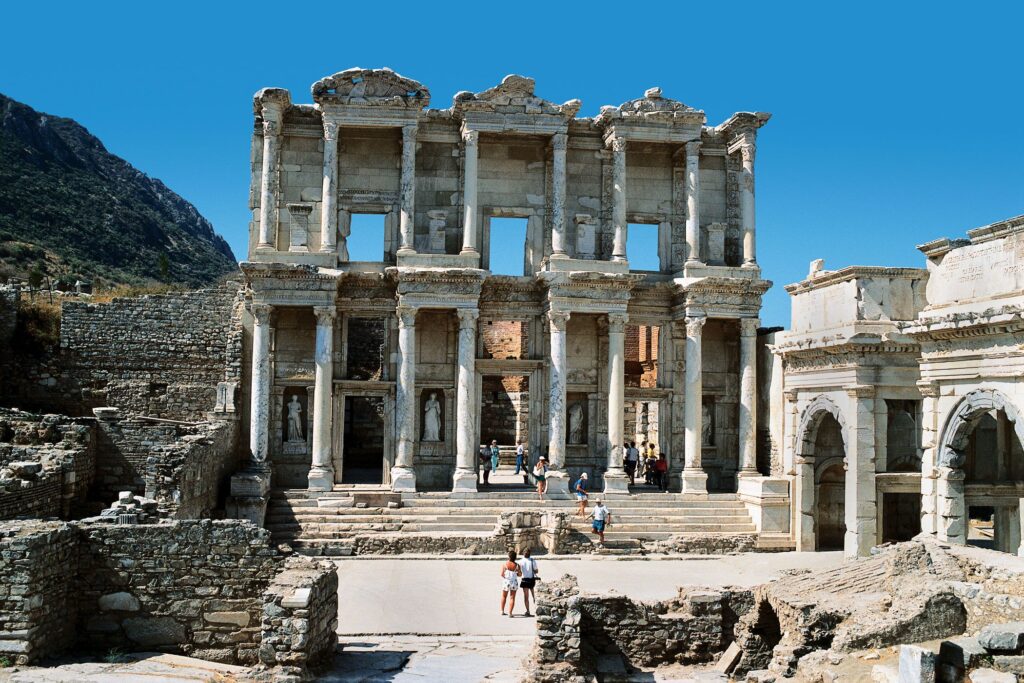 Day 1: Depart U.S. for Istanbul, Turkey
Day 2: Arrive Istanbul We arrive in Turkey's cultural and spiritual heart today and transfer to our hotel located near Taksim Square, the heart of modern Istanbul. As guests' arrival times may vary greatly, we have no group activities or meals planned; on our own we can explore the area surrounding our hotel or simply relax. Dinner tonight is on our own.
Day 3: Istanbul We get our first real taste of this city straddling two continents today as we set out on a walking tour along lively pedestrian Istiklal Street, lined with boutiques, galleries, restaurants, and late Ottoman-era buildings. We see the acclaimed mosaics and frescoes at Chora Church (now Kariye Museum) then take a panoramic drive along Istan­bul's Old City walls. Then we visit intimate Rustem Pasha mosque, with its exquisite Iznik tiles, followed by the renowned Spice Market. After lunch on our own here, we take a private cruise on the Bosphorus, the waterway that separates Europe from Asia. This evening we take a short walk to a local restaurant for a welcome dinner of traditional Turkish fare. B,D
Day 4: Istanbul Today we encounter Old Istanbul, beginning with the ancient Roman Hippodrome, the 3,500-year-old obelisk brought from Egypt in 390 CE. Next we visit the Blue Mosque, with its 20,000 blue Iznik tiles and signature six minarets. We then visit the renowned Museum of Turkish & Islamic Art, housing priceless artifacts from the 8th to 20th centuries. After lunch at a local restaurant we con­­tinue on to Hagia Sophia, the 6th-century church that was Christendom's most important before becoming a mosque in the 15th century. B,L
Day 5: Istanbul This morning we tour splendid Topkapi, for 400 years the palace of Ottoman sultans that today ranks among the world's richest museums. We continue on to the Basilica Cistern, the marble-columned underground chamber that provided water to Istanbul in antiquity. Our next stop is the Grand Bazaar, the covered market housing some 5,000 shops along 60 "streets." The remainder of the day and evening is free for independent exploration. B
Day 6: Istanbul/Gallipoli/Troy/Assos Leaving Istanbul this morning, we travel to the northern Aegean Coast for a brief visit to Gallipoli, haunting site of 31 Allied cemeteries from World War I. Then we ferry across the Dardanelles to Troy, once believed to exist only in Homer's epic poem until the present site was discovered in the 1870s. After touring here we con­tinue south to Behramkale, ancient Assos, where we spend the night. B,L,D
Day 7: Assos/Pergamum/Kusadasi Today we ex­plore one of Turkey's most spectacular ancient sites: windswept Pergamum, a major power in the 3rd and 2nd centuries BCE, with a wealth of Hellenistic ruins. Then we continue on to Kusadasi. B,L,D
Day 8: Kusadasi/Ephesus Few ancient sites com­pare to Ephesus, the world's best-preserved class­ical city which we explore today. Dating to at least 1300 BCE, Ephesus was Asia Minor's largest metro­polis and principal port. Our tour includes the Terrace Houses, the recently restored "houses of the rich," with their outstanding mosaic floors and frescoed walls. Then we enjoy lunch in the rustic village of Sirince. B,L
Day 9: Kusadasi/Ephesus We return to Ephesus to visit the Basilica of St. John, the 6th-century ruins that stand over what is believed to be the burial site of John the Apostle. Then we learn about Ephesus through the ages, as we tour the Ephesus Museum, housing treasures from the archaeological site. After lunch together, we stop at a carpet factory to watch a demonstration of this age-old craft. B,L,D
Day 10: Kusadasi/Fethiye En route to Fethiye today, we stop in Dalyan, where we board a small skiff for a trip through an intriguing maze of channels. Reaching the Lake of Koycegiz, we see our first Lycian rock-cut tombs on the cliffs above. Dating to 350 BCE, the tombs number more than one thousand along Turkey's Mediterranean coast. Then we continue our journey to the port town of Fethiye, known for its beautiful natural harbor. B,L,D
Day 11: Fethiye/Cruising This morning we coach to the Greek "ghost town" of Kayakoy, abandoned after WWI and now preserved as a historical monument. Then we board a private yacht for our Turquoise Coast "Blue Voyage" cruise along the stunning coastline that Antony is said to have given to Cleopatra as a wedding gift. We visit secluded coves (including Aquarium Cove, with its waters of brilliant blue and green), have the opportunity to swim and snorkel, and enjoy lunch on board. B,L
Day 12: Fethiye/Antalya We set out this morning on a scenic drive along the coastal road to Antalya, stopping along the way in Demre (ancient Myra). Here we visit the 6th-century Church of St. Nicholas, known for its impressive frescoes, its significance to both Roman Catholics and Eastern Orthodox Christians, and as its namesake's inspiration for Santa Claus. Then we travel on to the evocative seaside ruins of Phaselis, the ancient Greek and Roman port city now a national park. Following our visit here, we continue on to Turkey's premier resort town of Antalya. B,L,D
Day 13: Antalya We discover Antalya's charming old city (Kaleici) on a morning walking tour through its narrow streets, past historic buildings, mosques, and parks. After lunch at a local restaurant, we visit Antalya's acclaimed Archaeological Museum, housing priceless artifacts unearthed from sites throughout the region. B,L
Day 14: Antalya/Perge This morning we tour the ruins at Perge, an ancient Greek city once among the world's prettiest and most prosperous. We also visit the Duden Waterfalls, which tumble about 130 feet into the Mediterranean. Returning to our hotel, this afternoon is at leisure. Tonight, we celebrate our Turkish adventure over a farewell dinner at a local restaurant. B,D
Day 15: Depart for U.S. This morning we board an early flight for our return to the United States. B
Note: This trip involves considerable walking on uneven or cobblestone streets and at sites of ancient ruins. You should be in good physical condition to enjoy the tour to its fullest.
B = Breakfast included L = Lunch included D = Dinner included
Accommodations
Hilton Istanbul Bosphorus, Istanbul / Days 2-5 / Deluxe
Overlooking the River Bosphorus and surrounded by gardens, the Hilton Istanbul Bosphorus is situated in the heart of the city's European side within easy walking distance from the shops and restaurants of Taksim Square and Nisantasi. The hotel offers seven dining options including a Chinese restaurant, Indian restaurant, and pool bar; fitness center; spa with Turkish bath, two saunas, two steam rooms, and massage treatments; outdoor and indoor pool; tennis court; complimentary Wi-Fi internet access; laundry and dry cleaning services (for a fee). Air-conditioned guest rooms feature a balcony, private bath with hair dryer, minibar, in-room safe, tea- and coffee-making facilities, TV, and phone.
Nazlihan Hotel, Assos / Day 6 / Not rated
This rustic harbor-front hotel is in a remote and dramatic Aegean setting. The hotel has two restaurants and a bar. Air-conditioned guest rooms are decorated in authentic Turkish décor and include private bath with hair dryer, mini-bar, TV, and phone. Please note that guest rooms are quite small, and there is no elevator. Lodging alternatives are limited in this region of Turkey; while your one-night stay in this unique location should be quite enjoyable, the amenities (and overall quality) at the hotel will be lower than elsewhere on your tour.
Charisma Hotel, Kusadasi / Days 7-9 / Deluxe
Located a 15-minute walk from Kusadasi's shopping and entertainment areas, the hotel features a private beach and infinity pool with views of the Aegean Sea. The Charisma's amenities include a Turkish bath, sauna, beauty center, and fitness facilities, along with water sports at the hotel's beach.  Complimentary Wi-Fi access is available in public areas.  Each air-conditioned room has a balcony, private bath, a phone, TV with satellite channels, and minibar.
Alesta Yacht Hotel, Fethiye / Days 10-11 / First Class
The modernly designed Alesta Yacht Hotel sits where the Mediterranean and Aegean seas merge, and is only a 5-minute walk from Fethiye Center.  Featuring a bar, restaurant, and pool, the hotel also boasts a spa and wellness center, sauna, and Turkish bath. Complimentary Wi-Fi access is available in the hotel's public areas.  All 52 air-conditioned rooms are individually decorated and have a TV with satellite channels, phone, private bath, and seating area with a desk.
Akra Barut, Antalya / Days 12-14 / Deluxe
Located just outside of Antalya's city center, the Akra Barut is set on the Mediterranean, overlooking both the sea and the Taurus Mountains in the distance. The hotel is fully equipped with three restaurants and two cocktail lounges; internet access; laundry and dry cleaning services; market; fitness center; spa; outdoor pools; tennis courts; and private platform beach. Air-conditioned guest rooms have private bath with hair dryer, in-room safe, mini-bar, TV, coffee- and tea-making facilities, balcony, and phone.
_________________________
Hilton Garden Inn Konya, Konya / Post-Tour / First Class
The Hilton Garden Inn Konya sits in the heart of Konya, a city which has seen continuous human habitation since the 3rd millennium BCE.  The hotel sits close to the Mevlana Museum and adjacent to the Mevlana Cultural Centre.  The hotel's amenities include a restaurant and bar, 24-hour fitness center, 24-hour mini-mart, complimentary Wi-Fi internet access, and laundry service (for a fee).  Air-conditioned guest rooms have private bath with hair dryer, in-room safe, coffee-making facilities, TV, and phone.
Yunak Evleri Hotel, Cappadocia / Post-Tour / Superior First Class
The Yunak Evleri Hotel perfectly embodies its destination, as it is built into the side of a mountain, with rock-hewn corridors and sleeping quarters that date from the 5th century. In addition to these original living spaces, the hotel also boasts a 19th-century Greek mansion that now houses the main lobby and common areas. Hotel amenities include a restaurant, two outdoor swimming pools, full spa with a range of treatments (for a fee), and complimentary Wi-Fi internet access in public areas. Climate-controlled guest rooms have natural rock walls and ceilings and feature private bath with hair dryer, in-room safe, minibar, tea- and coffee-making facilities, TV, and phone.