Student Ambassador Program
Building culture, preserving traditions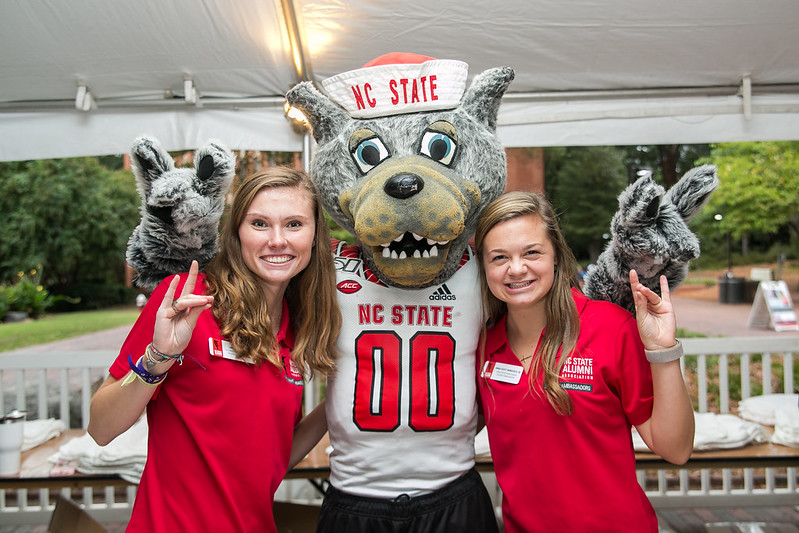 About the Alumni Association Student Ambassador Program
The Alumni Association Student Ambassador Program plays a critical role in developing the next generation of engaged Wolfpack alumni.
Applications are open now! Applications are being accepted for the ambassador program until March 11 at 11:59 p.m. If you want to learn more about the program before you apply, you can attend one of our information sessions:
Feb. 17 at 6 p.m. in Riddick Hall 321
March 2 at 6 p.m. in Riddick Hall 321
Our Mission
The Alumni Association Student Ambassador Program instills leadership development while engaging the NC State community by fostering traditions. AASAP strives to provide opportunities for the active involvement of students and to promote a vibrant campus culture.
Our History
Founded in 2001, the program is funded by the NC State Alumni Association, the North Carolina State University License Plate Fund and private donations.
Today, the Alumni Association Student Ambassador Program is a diverse group of 26 NC State students with varying backgrounds, interests and areas of study, but who share the same enthusiasm for being part of the Wolfpack family. The program is affiliated with the Association of Student Advancement Programs, an international nonprofit organization of more than 300 student ambassadors, student alumni, student spirit and student foundation groups. The Alumni Association Student Ambassador Program serves as the official student ambassadors to the NC State Alumni Association and represents the Park Alumni Center at various functions throughout the year. Additionally, the program governs the Student Alumni Association, one of the largest student organizations on campus with more than 3,000 members.
Our Ambassadors
President and Vice President
The program is overseen by the president and vice president. This duo is responsible for leading meetings, overseeing operations and representing the program on various boards and committees.
Email President Callie Smith or Vice President Sarah Phillips.
Membership Committee
The membership committee oversees internal membership development by helping to support and aid group morale. We also plan socials and end-of-the-year dinners to celebrate and reward our accomplishments. The Membership committee also runs recruitment of new members into the Ambassador Program.
Email Membership Director Olivia Bernard.
Homecoming Committee
If you've seen or heard of any events going on during Red & White Week, it is because this committee planned and organized it! Each year, the Homecoming Committee plans all events surrounding Homecoming, including group spirit competitions, Wear Red, Get Fed, and all things Red & White Week!
Email Homecoming Director Becky Renfrow or Homecoming Co-Director Harrison McLamb.
Traditions Committee
The Traditions Committee is responsible for fostering school spirit within the student body and maintaining the traditions that make NC State so near to alumni's hearts. From energetic pep rallies to the endearing NC State Ring, our school culture is what makes the university such a special place. This committee not only works to ensure this heritage is passed on to incoming freshmen, they also oversee developments for The Brick, Mathews Medal and the NC State Ring Program to continually improve upon how we present these experiences to students across campus.
Email our Traditions Director Max Bonghi.
Questions? Contact Ashley McMullen, coordinator of student and young alumni programs, at 919.515.3376.