Student Alumni Association
Wolfpack for life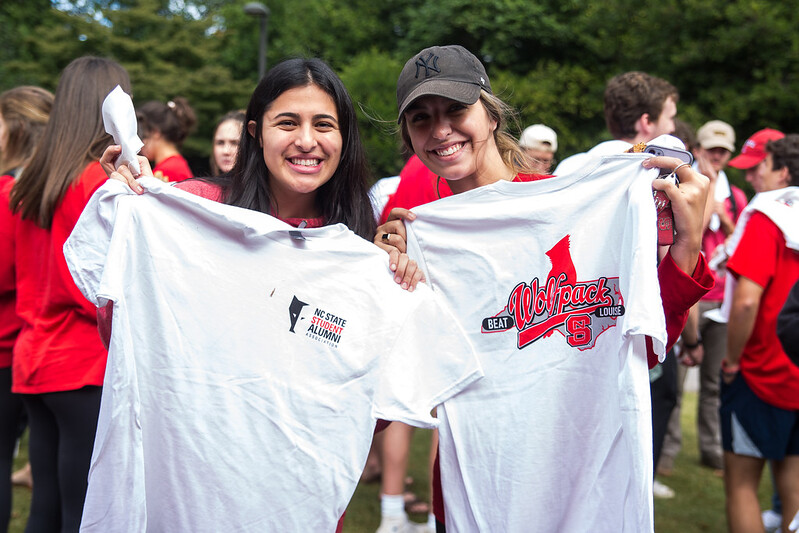 What is the Student Alumni Association?
The Student Alumni Association is part of the Alumni Association Student Ambassadors Program. It's membership-based and currently the fastest-growing student organization on campus with 3,000 students … and counting!
The SAA enhances a student's campus experience while preparing them for life after graduation. Involvement in the Student Alumni Association puts students at the center of several NC State traditions, including Red and White Week and Ram Roasts, while also helping build lifelong relationships with fellow students and an engaged network of NC State alumni.
Why be a part of the Student Alumni Association?
The Student Alumni Association provides personal and professional mentorship benefits, including access to an alumni network, discounts at local businesses, opportunities for service and leadership, and a host of fun, exciting events throughout the year.
Student Alumni Association membership benefits
Athletic T-shirts
Who doesn't love a T-shirt? One of the greatest perks of being a member is free athletic T-shirts. These exclusive tees are distributed before rival football, basketball and baseball games.
Student Alumni Networking Dinner
Once a semester, members can enjoy a three-course meal with distinguished alumni who provide educational and career advice. Our Networking 101 course is available before the dinner so you can refresh your networking skills.
NC State Ring Discount
With your Student Alumni Association membership, you're eligible to receive $30 off your NC State Ring. Members and students are eligible to purchase their ring upon earning 60 credit hours.
Subscription to NC State magazine
Want to know what's happening on campus and with alumni around the world? Stay in the know with your complimentary subscription to NC State magazine.
Student Alumni Association Frequently Asked Questions
Can you tell me more about the NC State Alumni Association app? You can download the app by going to the app store on your phone and searching "NC State Alumni." You can use the app to access a mobile version of your membership card, view photos, keep up with social media and more.
I wasn't able to make it to a T-shirt distribution. Can I still pick up my shirt? Student Alumni Association members can pick up their shirt at the Park Alumni Center at 2450 Alumni Drive from 9 a.m. – 4 p.m. on Monday-Friday following a T-shirt distribution if they missed the event. Please be aware that certain sizes may run out, so it's best to pick up your shirt as early as possible.
My roommate, a Student Alumni Association member, can't make it to a T-shirt distribution. Can I pick up their shirt for them? No. Each member must attend a distribution event to pick up their shirt to be fair to those who do make it to the event.
As a Student Alumni Association member, am I guaranteed a membership T-shirt and four athletic T-shirts each year? Membership and athletic T-shirt supplies are limited and distributed on a first-come, first-serve basis – no exceptions.
I'm unable to make it to a T-shirt distribution. Can I pick up my shirt before the event? No. Early pick-ups are not permitted for T-shirt distributions. This ensures that everyone has an equal opportunity to get a shirt on a first-come, first-serve basis.
I heard about the Alumni Association Student Ambassador Program and want to learn more. Visit the program's page for information. If you still have questions about the program, email aasap_membership@ncsu.edu.
I have an issue related to my Student Alumni Association benefits. Who do I contact about this? Please email us at saainformation@ncsu.edu if there are any problems related to your benefits. A representative will contact you within 48 hours.
What do I need to pick up my athletic T-shirts throughout the year? You will need access to your mobile membership card through the NC State Alumni app. See below for details on how to download the app. Email aasap_president@ncsu.edu if you have any questions or issues. Please note that temporary membership cards will be accepted as well.
How do I access my digital membership card? The Student Alumni Association has gone mobile with their membership cards. Download the NC State Alumni app for free on any Android or Apple app store to obtain a mobile version of your membership card. Sign in to the app using your first and last name, then select your name in the search results. Verify your account using the email address you registered with the Student Alumni Association. After logging in, you can access your membership card, benefits and make changes to settings.
Now that I'm a member, when do I get my digital membership card? In two-to-three weeks, you'll receive both an email and letter in the mail with instructions on how to download and log in to the app.
Social media:
Learn more by joining us on Facebook, Instagram and Twitter.
Photos:
RWW 2022: BEAT Wake Forest Pep Rally & Friday Night Floats
2022 BEAT Florida State Pep Rally
2022 Fall Student Networking Dinner
SAA/Young Alumni Mixer 2022
AASAP 2021-2022
RWW 2021: BEAT Louisville Pep Rally
2020 Ram Roast
2019 BEAT 'Cuse Pep Rally
2019 Fall Student Networking Dinner
Questions? Contact aasap_president@ncsu.edu.