Evening of Stars Gala
Lighting the Way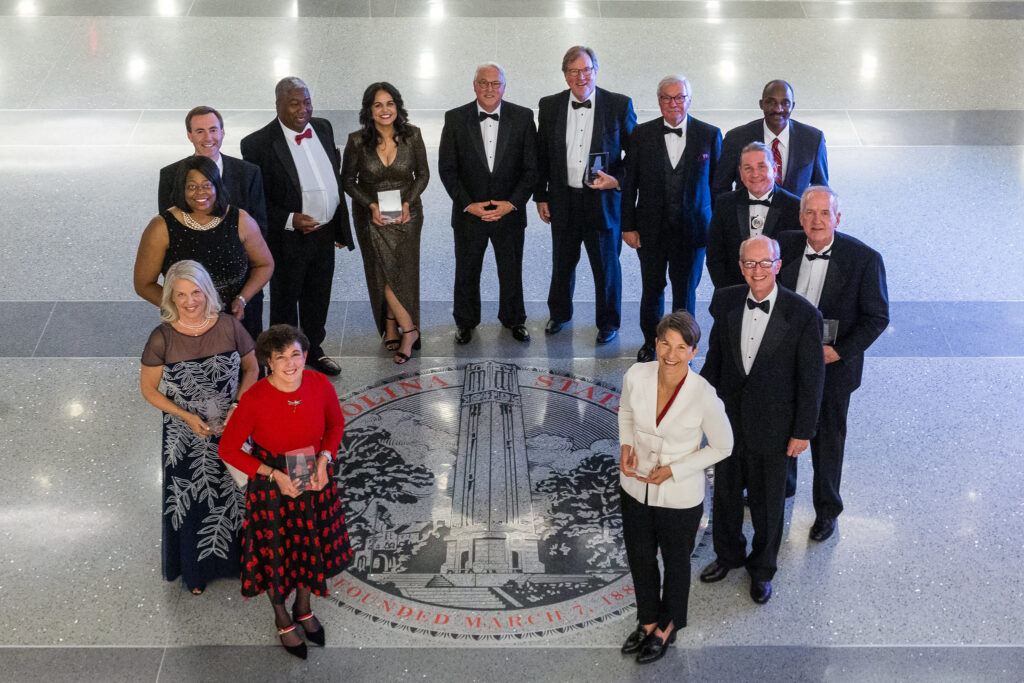 Each year, celebrated alumni from across the globe gather in Raleigh for the Evening of Stars Gala – a time-honored event where the Alumni Association celebrates the winners of the College Distinguished Alumni Awards, the Wolfpack Club's Ronnie Shavlik Award and the Alumni Association Awards.
It is an elegant celebration of a tradition that dates back to the early 1940s when the Alumni Association began recognizing noteworthy graduates. Through the years, the colleges and the Wolfpack Club joined in the recognition as the abundance of extraordinary alumni grew and the need to acknowledge those who excelled in specific fields increased. Individuals honored in previous years have enriched NC State's history and increased the value of an NC State degree.
Past recipients have left indelible marks on the history of our university, state, nation and world. They include: William Friday, Gov. James B. Hunt Jr., Roy Park, John Caldwell, Katharine Stinson, Jim and Ann Goodnight, Ed Woolard, Gen. Hugh Shelton, Smedes York, Gov. Bob Scott, Burley Mitchell, Phil Freelon, Jeff Williams, Jerry Punch, Bill Cowher, Jim Valvano, Kay Yow and many more.
2021 Awards Recipients
The 17th Annual NC State Alumni Association Evening of Stars celebrated women and men who were selected as recipients of the College Distinguished Alumni Awards, the Wolfpack Club's Ronnie Shavlik Award and the Alumni Association Awards. This tradition, which began in 2004, celebrates recipients whose accomplishments continue to raise the bar of NC State excellence through their professional and personal achievements. They embody the NC State mantra of "Think and Do." View photos.
College Distinguished Alumni Awards
Dr. Pamela G. Marrone '83 Ph.D Entomology, College of Agriculture and Life Sciences
Tim Peppe '70 B.S. Food Science, College of Agriculture and Life Sciences
Dr. Charlie W. Suggs '59 Ph. D Philosophy, '55 M.S. Agricultural Engineering, '49 B.S. Agricultural Engineering, College of Agriculture and Life Sciences
Brian Leonard '91 M.S. Product Design, '89 B.S. Environmental Design, College of Design
Dr. Valerie H. Bridges '10 Ph.D Education Adminstration & Supervision, '02 M.S. Master of School Administration College of Education
Christina H. Koch '02 M.S. Electrical Engineering, '01 B.S. Electrical Engineering, College of Engineering
Joe Pleasant '72 B.S. Industrial Engineering, College of Engineering
Lonnie Poole '59 B.S. Civil Engineering, College of Engineering
Clare Jordan '91 B.A. English, College of Humanities and Social Sciences
Richard Bryant '81 B.A. Business Management, Poole College of Management
Sam Cook '85 B.S. Forestry, College of Natural Resources
Dr. Bob Starbuck '75 Ph.D Statistics, '72 M.S. Statistics, College of Sciences
Mohamed Mansour '68 B.S. Textile Techonology, Wilson College of Textiles
Julie Funk '00 Ph.D Comparative Biomedical Science, College of Veterinary Medicine
Wolfpack Club Award
David Thompson, Ronnie Shavlik Award
Alumni Association Awards
Lyndenise Berdecia '06 B.A. Business Management, Outstanding Young Alumna
Daniel Gunter III, Meritorious Service
2020 Award Recipients
College Distinguished Alumni Awards
James W. Gentry '72 B.S. Agricultural Education, College of Education
Jimmy Gentry is president of the North Carolina Grange, an organization dedicated to supporting agriculture in North Carolina through charitable, scientific and educational activities. Additionally, Gentry serves on the board of directors for the N.C. Foundation for Soil and Water Conservation, the N.C. Cooperative Extension Service Foundation and the N.C. Agricultural Consortium. A champion for agriculture both locally and nationally, Gentry is also former chair of the National Grange Board of Directors. A former vocational agricultural teacher and school administrator, Gentry continues to be an advocate for cooperative extension and youth agricultural programs in service to the College of Agriculture and Life Sciences. In addition to a bachelor's degree from the College of Agriculture and Life Sciences, Gentry also holds two master's degrees from N.C. A&T State University.
Angela J. Medlin '91 B.S. Environmental Design, College of Design
After graduating with a bachelor's degree in environmental design from the College of Design, where she created her own independent study program focusing on fashion and textiles, Angela Medlin went on to become a successful designer for high-profile activewear brands including Adidas, The North Face, Levi's, Eddie Bauer and Nike. Then, in 2017, Medlin launched the Functional Apparel and Accessories Studio at Pensole Design Academy in Portland, Ore. At FAAS, Medlin trains students in apparel creation for global companies and mentors them in innovative design for a competitive industry. Since the program's inception, 50 percent of the participants have landed design positions in the product design industry. Additionally, Medlin has poured into the next generation of creatives at NC State – serving on the Leaders Council for the College of Design since 2011. This fall, Medlin will lead a new committee on the board focusing on supporting diversity, equity and inclusion efforts.
C. Neill McLeod '72 M.S. Adult Education, '74 Ed.D., College of Education
Dr. Neill McLeod served North Carolina's Community College System for more than 30 years, working for five different campuses and most recently as senior vice president of student services at Wake Technical Community College. A passionate leader, McLeod became North Carolina's first female community college president, first female director of student activities, first female dean of continuing education, first female vice president of instruction and student development and first female system associate executive vice president. McLeod has also been a devoted servant of the community, volunteering with Meredith College, the Women's Forum of North Carolina, the Five Points Citizens Advisory Council, the Pines of Carolina Girl Scouts council, the YWCA of Wake County, Wake County Work First and Wake County Smart Start. With 44 years of consecutive giving, McLeod is a loyal donor to NC State.
Dr. Linda H. Butler '86 B.S. Nuclear Engineering, College of Engineering
Dr. Linda Butler is vice president of medical affairs and chief medical officer at UNC Rex Healthcare in Raleigh, where she is responsible for overseeing quality and performance improvement, infection prevention, risk management and research. Additionally, Butler oversees staff affairs for a medical system boasting more than 7,400 medical staff members and multiple facilities, ensuring staff have the resources they need to provide quality care to patients. Throughout the COVID-19 pandemic, Butler has worked with system leaders at REX, local leaders and other North Carolina hospital leaders to protect medical staff, provide care and respond to patient surges. With a bachelor's degree in nuclear engineering from NC State, a master's degree in medical physics from the University of Florida and an M.D. from the University of North Carolina at Chapel Hill, Butler is uniquely positioned to engineer safety procedures and medical solutions that save lives. After completing her residency in pediatrics, Butler was managing partner for Capitol Pediatric Adolescent Center in Raleigh for 13 years while serving on various hospital committees. During this time, Butler became chair of pediatrics at Duke Raleigh Hospital and REX and president of the medical staff at REX. Butler gives back to NC State as a member of the NC State Engineering Foundation board of directors.
Carl S. Stutts, Jr. '68 B.S. Chemical Engineering, College of Engineering
Carl Stutts is chairman of Cyanco Corporation, a leading global supplier of sodium cyanide that supports the precious metals mining sector. With a bachelor's degree in chemical engineering from NC State and an MBA from the University of Houston, Stutt's combined degrees allowed him to quickly climb management ranks and excel in his career. After graduating from NC State, he joined Union Carbide in Texas City, Texas as a production engineer. He then went on to hold various management positions at Tenneco Ventures – including vice president. Opting for a more entrepreneurial focus, Stutt left Tenneco to become a general partner at Columbine Venture Funds, a technology-based capital fund, and then went on to become president of Petrochemicals and of Cyanco Corporation. Today, Stutts remains at Cyanco as chairman. Additionally, Stutts remained close to NC State. In addition to serving on the NC State Engineering Foundation board, Stutts provides yearly scholarship assistance to engineering students.
John C. Brantley III '64 B.S. Civil Engineering, College of Engineering
John Brantley served as airport director for the Raleigh-Durham International Airport for 30 years, spearheading its expansion from a small base used by the federal government during World War II to its current status as a key gateway. Brantley first joined the Raleigh-Durham Airport Authority in 1977 as an engineering assistant – and became airport director within five years. As airport director, he oversaw airline relations, management, capital development and operations – including the planning and construction of Terminal 1 and Terminal 2. With Brantley's efforts, he not only elevated the status of RDU airport – he also contributed to the growth of Research Triangle Park and the surrounding Triangle area. Additionally, Brantley has left his mark on NC State, working to expand facilities and fund two scholarships.
Gregory Washington '89 B.S. Mechanical Engineering, '91 M.S. Mechanical Engineering, '94 Ph.D., College of Engineering
Dr. Gregory Washington is president of George Mason University, one of Virginia's largest institutions of higher education, and is the university's first African-American president. Previously, Washington served as dean of Henry Samueli School of Engineering at University of California, Irvine – becoming the first African-American to lead an engineering program in the University of California system. While there, Washington helped launch new graduate and undergraduate programs, recruit a diverse faculty and increase both undergraduate and graduate enrollment. Washington has also served on various national engineering science and education boards, helping engineering colleges increase diversity, inclusion and representation nationwide. Additionally, Washington specializes in dynamic systems research – and is the author of more than 150 technical publications in journals, edited volumes and conference proceedings. Washington earned his bachelor's degree, master's degree and doctorate from the College of Engineering at NC State – and now serves on the College of Engineering Foundation board.
The Honorable Robert B. Rader '78 B.A. Political Science, College of Humanities and Social Sciences
Judge Robert Rader served on the Wake County bench for 26 years, including 13 years as a chief District Court judge for the 10th Judicial District – making him the longest-serving District Court judge in Wake County history. Committed to the welfare and public safety of Wake County residents, Rader played a key role in constructing the Wake County Justice Center and in developing a response to COVID-19. Additionally, Rader has worked with drug offenders in recovery court, at-risk youth in juvenile court, impaired drivers in DWI court and individuals in family court, ensuring people get the support they need in critical times of their lives. An influential community leader dedicated to historic preservation, Rader served as chair of the Raleigh Historic Districts Commission and the Raleigh Historic Properties Commission. He also helped found Yates Mill Associates, Inc., a private nonprofit corporation that established Historic Yates Mill County Park and preserved Wake County's last-surviving grist mill, and served for 18 years as its president. Rader has also served on the College of Humanities and Social Sciences dean's advisory board since 2014 – and has given generously to the dean's fund endowment for the college.
Herbert K. Bales '84 B.S. Business Management, Poole College of Management
Herbert Bales is chief financial officer for Atlantic Investment Management. After completing high school, Bales joined the U.S. Army and later went on to obtain two degrees from NC State's College of Management – accounting and business management. Coming from humble means himself, Bales recognizes the need some students have for additional financial support. Along with his wife, Elizabeth, he generously established the Herb and Elizabeth Bales Endowment, supporting Poole College of Management students demonstrating merit and need. With a heart for service, Bales consistently provides support to various Poole College initiatives.
Dr. Marcus L. Martin Sr. '70 B.S. Pulp & Paper Science/Technology, '71 B.A. Chemical Engineering, College of Natural Resources
Dr. Marcus Martin has spent more than 50 years advancing diversity, equity and inclusion. As an undergraduate student at NC State, Martin walked onto the football team as the university's first African-American varsity player. After getting his bachelor's degrees in pulp and paper technology and chemical engineering, Martin went on to earn a medical degree at Eastern Virginia Medical School and then complete the emergency medicine residency program at the University of Cincinnati – becoming the first African-American graduate of both.
Dr. Meredith J. Williams '94 Ph.D. Physics, College of Sciences
Dr. Meredith Williams is director of the California Department of Toxic Substances Control, responsible for getting toxic chemicals out of consumer products to protect citizens and build healthier communities. After joining the department as a deputy director in 2013, Williams was appointed as director by California Gov. Gavin Newsom in 2019. Prior to her work with the department, Williams worked at 3M, Applied Materials and the San Francisco Estuary Institute – a nonprofit working to find cost-effective solutions for various environmental issues. Holding a bachelor's degree from the College of Sciences, Williams has worked throughout her career to make the world a safer place by focusing her efforts on environmental management and sustainability. A passionate supporter of NC State, Williams champions diversity and gives back to her alma mater with her time, talent and treasure. Namely, Williams helped establish a scholarship at NC State for underrepresented students.
Prashant Prabhu '77 M.S. Textile Chemistry, '79 Ph.D. Fiber and Polymer Science, Wilson College of Textiles
After earning his master's degree and doctorate from Wilson College of Textiles, Dr. Prashant Prabhu spent 35 years with Michelin Group, advancing the research and development of fiber and polymer science. He started his career with Michelin America Research and Development Corporation in Greenville, S.C., where he became president at age 45. Taking his career overseas, Prabhu moved to France to direct Michelin's earthmover and industrial tires global business unit. He later moved to Singapore to serve as head of Michelin Asia-Pacific and then to Dubai, United Arab Emirates to serve as head of Michelin Africa-India-Middle East. Prabhu went on to direct Michelin's "global incubator program" in Greenville before finally retiring from Michelin. Since his retirement, Prabhu has taught international business and entrepreneurship classes at Clemson University and mentored business leaders at multiple startups in Greenville. Additionally, Prabhu continues to invest in his alma mater – speaking in classes, volunteering for Wilson College, engaging in alumni events and virtual town halls and giving generously to the university. In addition to his consistent annual giving, Prabhu is in the process of documenting a planned gift to support an endowed centennial scholarship.
Phillip D. Nelson '93 Ph.D. Veterinary Medical Sciences, College of Veterinary Medicine
Dr. Phillip Nelson is dean of the Western University of Health Sciences College of Veterinary Medicine. With widespread recognition for his leadership in veterinary medicine and in higher education, Nelson became president of the Association of American Veterinary Medical Colleges' board of directors in 2017. Additionally, Nelson has researched feline leukemia and immunodeficiency extensively, using these as biological models for HIV in humans. Nelson offers his expertise and talents back to NC State's College of Veterinary Medicine, helping train graduate students and doctor of veterinary medicine students. In keeping with his lifelong dedication to diversity and inclusion within the veterinary field, Nelson has been a champion for NC State's ongoing work in supporting these efforts across campus.
Wolfpack Club Award
Kay Yow, Ronnie Shavlik Award
Sandra Kay Yow is the former head coach of women's basketball at NC State and past president and founding member of the Women's Basketball Coaches Association. Hired in 1974 as North Carolina's first full-time women's coach, Yow spent 38 years as a head coach – during which she led her teams to 20 to 27 NCAA Tournaments, became one of six Division I women's basketball head coaches to achieve 700 career victories and earned the national "Coach of the Year" title eight times. Additionally, Yow was 1988 Gold Medal Olympic Coach and a member of the Naismith Basketball Hall of Fame and Women's Sports Hall of Fame. Yow was an advocate for NC State Athletics and the Wolfpack Club – and for millions of women. Yow fought breast cancer off and on for 22 years, always seeking to encourage and inspire others in the midst of her own battle. Kay Yow Cancer Fund was founded in 2007 to fight against women's cancers and raise money for scientific research. The Ronnie Shavlik award was awarded posthumously to Yow in 2020 in honor of her leadership, service and commitment to NC State and its athletic programs.
Alumni Association Awards
Khalia M. Braswell '13 B.S. Computer Science, Outstanding Young Alumna
After receiving her bachelor's degree in computer science from NC State's College of Engineering, Khalia Braswell completed a master's degree in information technology and later became a user experience engineer for Apple, researching and designing enterprise applications. Wanting to have a more social impact, Braswell left Apple to found INTech Camp for Girls, a nonprofit organization in North Carolina with the mission of inspiring young women – especially young black women – to innovate in the technology industry. Through after-school programs and summer camps, INTech participants learn to build software solutions, explore technology careers and network with other women of color in the technology space. Because of her dedication to social change in the technology sector, Braswell received BlackcomputeHER's "Lift as You Climb" award in 2019 and has been featured in Forbes Magazine and Essence Magazine.

Paige Allen Harris, Meritorious Service
Paige Allen Harris, who spent years working as a community college instructor, is former president of the NC State Alumni Association board of directors. Today, she works in the insurance industry as principal of Flatlands Jessup Insurance Group – with multiple industry awards to her credit. She was named Beaufort County "Citizen of the Year" in 2016. After graduating from the College of Humanities and Social Sciences, Harris poured back into her alma mater and contributed to the university's success and growth through her efforts with the Alumni Association. For more than a decade, Harris welcomed new students to NC State and built and maintained relationships with university alumni near and far.