Community
Wolfline Connections: A Wolfpack Love Story
For two Wolfpack fans, an NC State meet-cute was just a bus ride away.
Story by Rachel Young | Video by Evan Kidd
For Kaitlyn Sutton Pennington '15, MBA '17 and her husband Mallie Pennington '15, an NC State meet-cute was just a bus ride away.
"Mallie and I met in the Spring of 2013 on the Wolfline bus," says Kaitlyn, a two-time graduate of the Poole College of Management. "We both lived at Wolf Village apartments at the time and on Tuesdays and Thursdays, we always ended up standing at the bus stop together to ride to Main Campus." A shared organic chemistry class and a 15-minute bus ride led to daily conversations about Wolfpack baseball and soon, they were dating.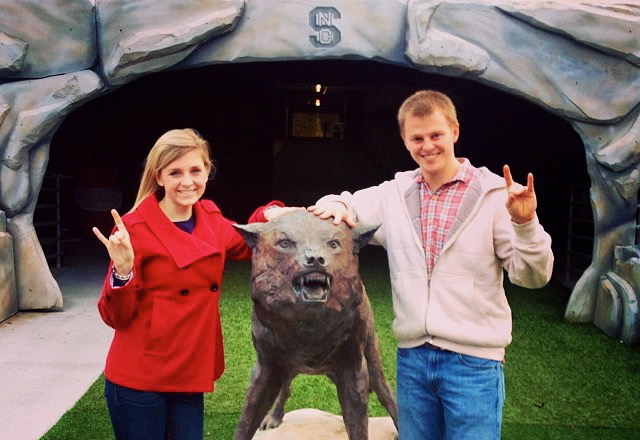 "My first impression of her was 'Wow'," says College of Agriculture and Life Sciences alumnus Mallie. He was drawn to her love for her community, her family, and of course, the Wolfpack. Kaitlyn recalls his stupid jokes, and how they never wanted to cut their conversations short to go their separate ways when the bus ride ended.
Their first date was at Tripp's on Gorman Street, where Kaitlyn met Mallie's sister. Together, Kaitlyn and Mallie experienced life at NC State, from attending Wolfpack sporting events to sledding off the 18th hole at Lonnie Poole Golf Course during a snowstorm.
It's really special to have NC State in common and NC State to come home to. It's a place where we grew as people and we grew together as a couple.
Kaitlyn and Mallie married about five years ago on Kaitlyn's family farm in the mountains of Western North Carolina. The place holds a special meaning for Kaitlyn, as her grandfather was also a CALS major at NC State and a lifelong dairy farmer. Of course, NC State was there — in the traditions they celebrated, the college friends who attended, the Mr. and Ms. Wuf cake topper.
The couple stays connected to their alma mater, returning to campus often to attend sporting events. "It's really special to have NC State in common and NC State to come home to. It's a place where we grew as people and we grew together as a couple," says Kaitlyn.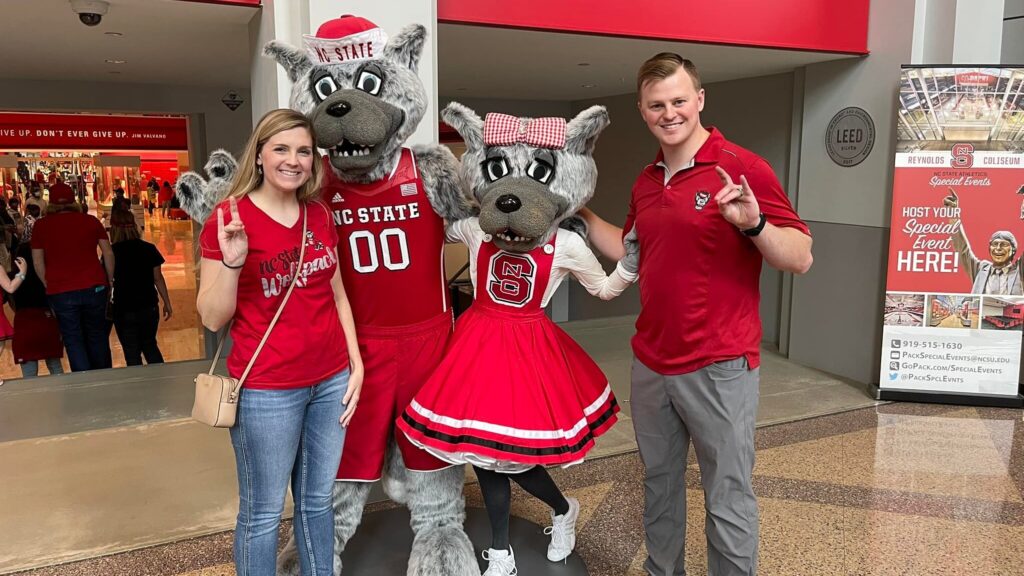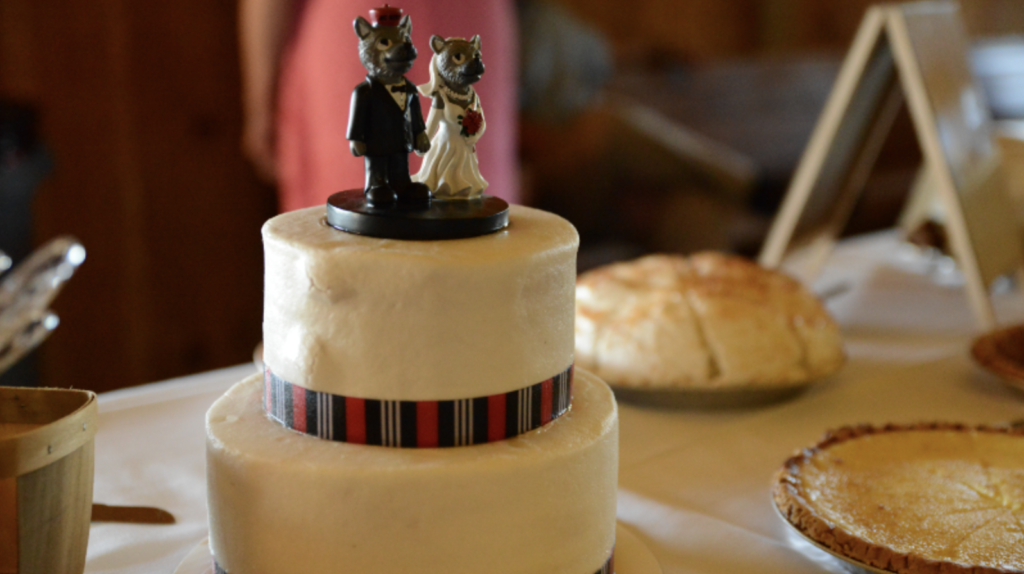 The sweetest part of their story? About a year into their relationship, Mallie came clean — it wasn't really a coincidence that they were standing together at the bus stop every day. "He actually went to the bus stop early and let other buses pass him by so that he could wait and ride with me," laughs Kaitlyn. "But I'm super thankful that he did."
Curtis Gautier '20 and Emily Barefoot '21, '22
Curtis Gautier and Emily Barefoot officially met in the fall of 2019, but Curtis took his time making a move. Curtis' friends gave him a mission to conquer his nerves — Operation New Flame: Talk to Cute Girl. Operation New Flame failed, but Curtis finally worked up the nerve to ask her out in the spring of 2020.
Both engineering majors, they bonded over Wolfpack sports and the workload of engineering classes during their first date at Benelux Coffee.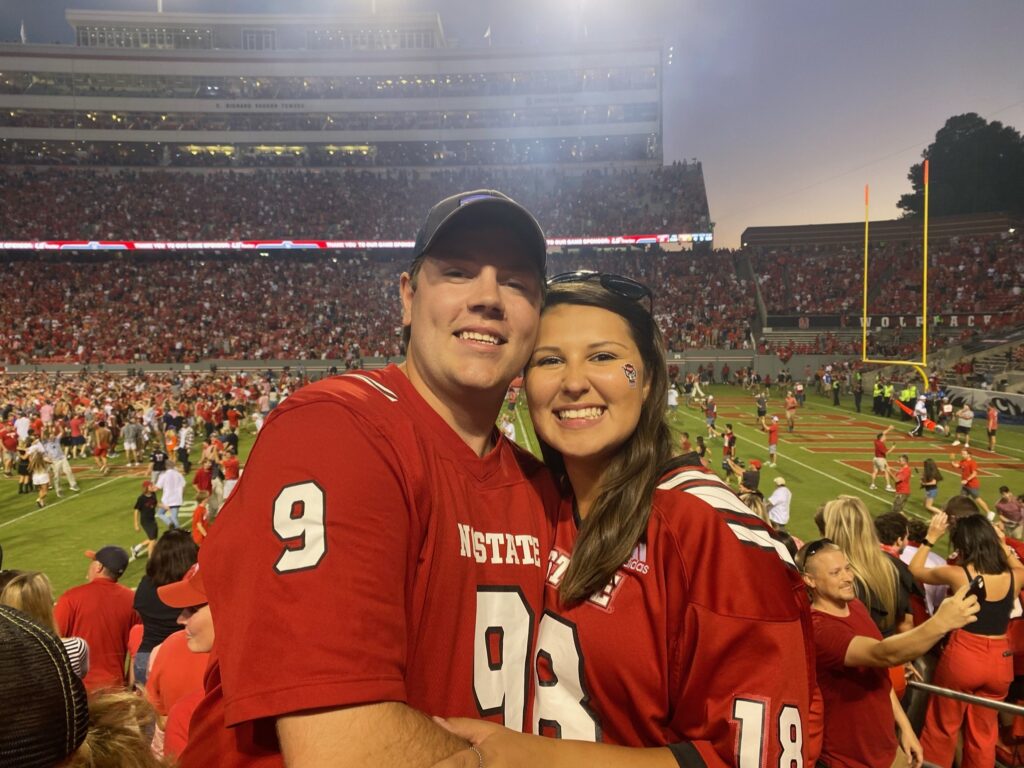 Curtis asked Emily to be his girlfriend in March, but then the COVID-19 pandemic hit. With social distancing restrictions, they had to get creative. "Our favorite dates became our strolls around the empty campus, starting at Reynolds Coliseum, crossing the Free Expression Tunnel, heading up towards the Belltower, and back to Reynolds. We learned a lot about each other during those walks, and as tough a time as it was trying to blossom a new relationship in a pandemic, those walks were some of my favorite memories."
On their 2nd anniversary, Curtis took Emily back to the Belltower. A year earlier, Curtis had gotten to hold the belltower keys and open its doors during the ring ceremony. Emily remembers, "He took me up to that door, got down on one knee, and told me, 'I once held the key to this belltower, and now I hold the key to my heart.' And proposed!"
NC State will be well-represented at the couple's wedding later this year — their guest "book" is an NC State jersey, and the tables will be named after special places, like Raleigh, NC State, Carter Finley, and of course, the Belltower.
John Noble '13 and Caitlyn West Noble '14
Growing up a Wolfpack fan — her dad graduated in 1986 — cheering on the Pack has always been a constant for Caitlyn Noble. So when the CHASS alumna found a partner to enjoy — or commiserate over — NC State athletics, she knew she'd found the one. "As the daughter of an NCSU alumni, I truly couldn't imagine spending the rest of my life without a fellow Wolfpack lover," she said.
John, a Poole College of Management graduate, and Caitlyn met in 2012 and instantly connected. As any true North Carolinians would, they went on their first date to the NC State Fair the next week. The couple was too nervous to enjoy the fair food, but they rode a few rides and walked the fairgrounds while getting to know each other.
Though they only had a short time to enjoy being on campus together, as John graduated the following December, they have fond memories of attending football and basketball games or grabbing a drink together at PR.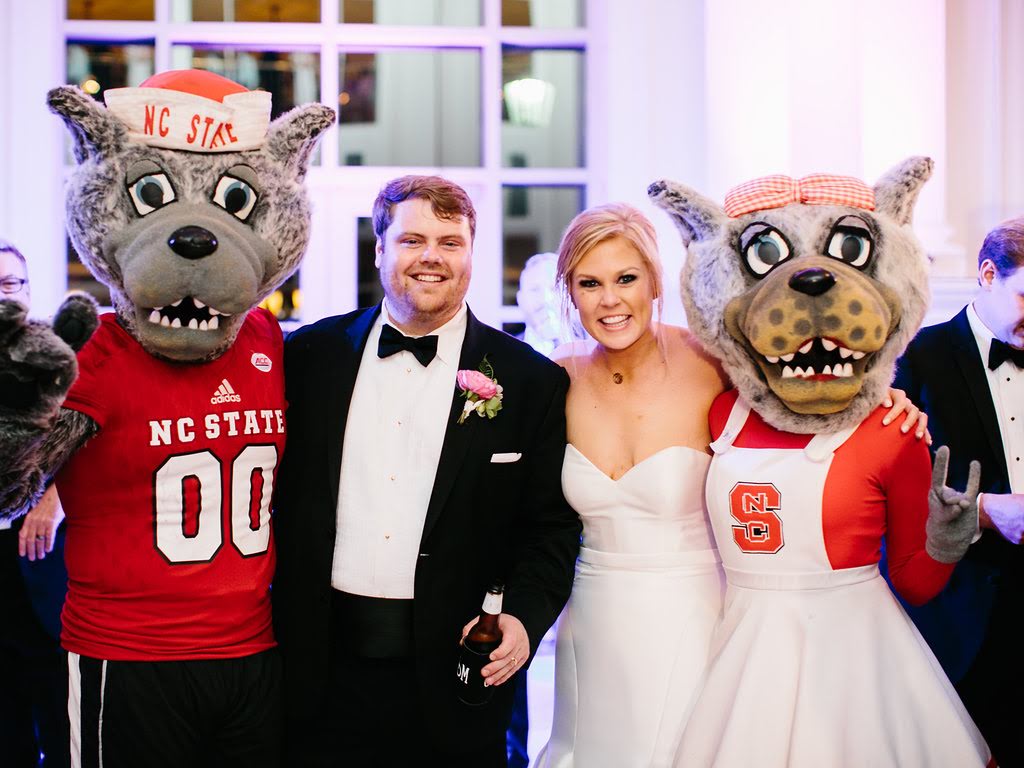 A few years after graduation, John and Caitlyn returned to the Belltower for a photo op — and a proposal. They were married at Park Alumni Center, with Mr. and Ms. Wuf in attendance.
Today, NC State athletics continue to play a major role in their life. The couple are members of the NC State University Club and attend all the home football games, men's and women's basketball games, and baseball games.
"We truly live and breathe NC State — the interior of our home is gray, red, white and black," says Caitlyn. "We have a room dedicated to NC State memorabilia from my dad's time at State through now. Our closest friends are State grads or die-hard fans. We cannot imagine surrounding ourselves with a better Wolfpack community."