Community
With Love, From the Wolfpack
NC State alumni share how their love stories were shaped by the Wolfpack.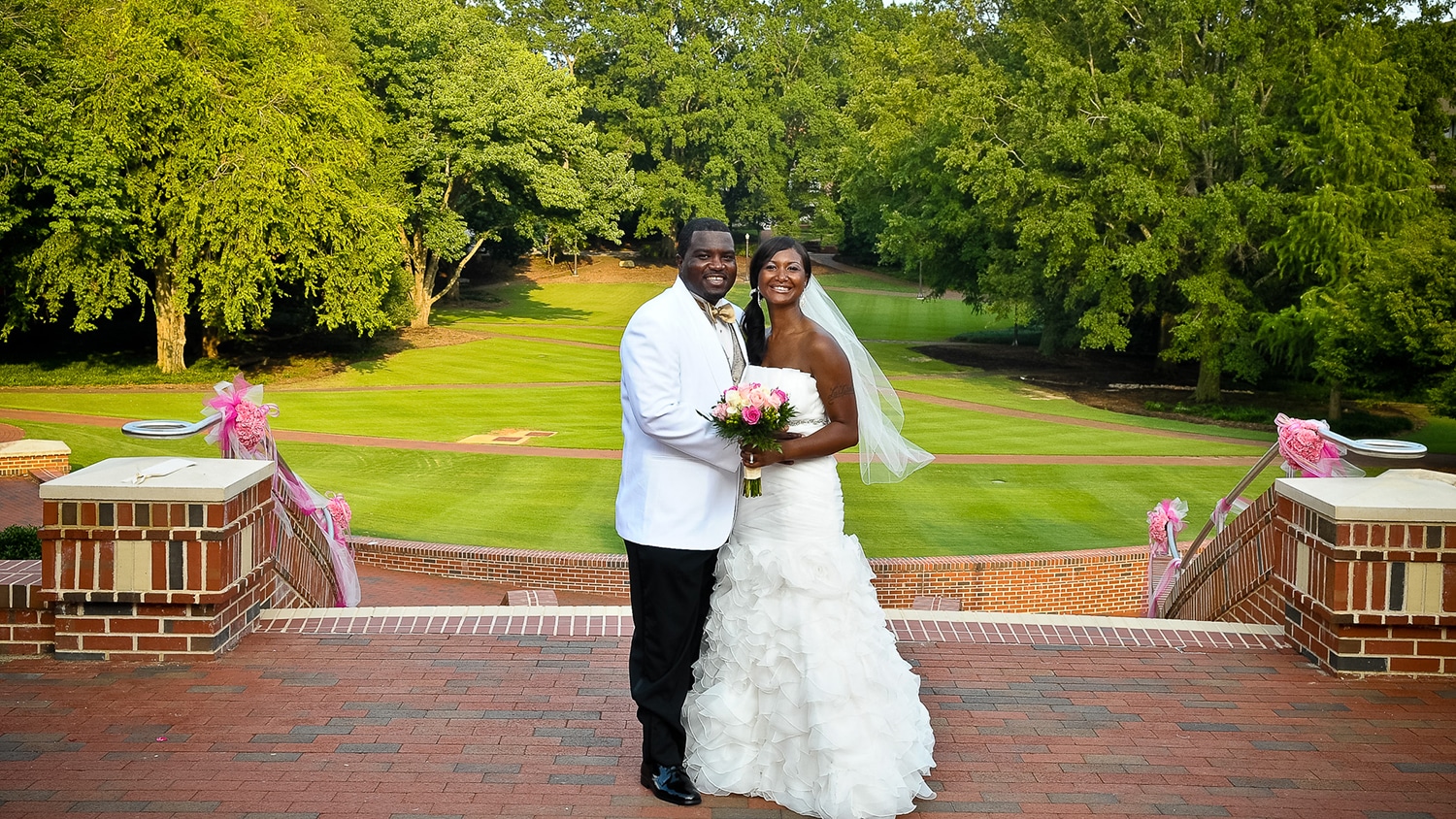 It's February, which means love is in the air at NC State.
Making fluttering eye contact across the stacks in D.H. Hill Library. Parlaying study sessions into dinner dates in Talley Student Union. Strolling through the Brickyard, hand and hand. Could anything be more romantic?
We spend lots of time touting our research wins and world-leading programs, but there's something else worth celebrating that begins on our campus: lifelong relationships. For Valentine's Day, we caught up with alums whose love stories were shaped by the Wolfpack. Now, as their relationships have flourished, their hearts ever hold NC State — and each other.
Building a Legacy
When McKinlay and LaTeisha Jeannis met, McKinlay took note of LaTeisha's intelligence and style. LaTeisha noticed that McKinlay went his own direction, never following a crowd. The two met in a genetics class in 2003, and both sensed some chemistry.
It wasn't until they learned they had each come to Raleigh from the same area of New York that the two became inseparable. They started dating that year, meeting between classes at the Court of North Carolina and chatting on AOL Instant Messenger. They graduated in 2007, McKinlay with a bachelor's degree in political science and LaTeisha with a bachelor's degree in business and marketing education.
NC State had played such an important role in their relationship that they decided to tie the knot at their beloved meeting spot, the Court of North Carolina, in 2011. They invited Mr. and Ms. Wuf, who happily attended.
"NC State gave me an opportunity to further my education and help me attain my career goals," McKinay. "It allowed me to reach my potential, and it brought my wife and I together."
The two have amassed a collection of degrees, all from NC State. McKinlay earned an MBA in 2014. LaTeisha earned two master's degrees — one in curriculum and instruction and one in school administration — and, in 2019, she received her doctorate in educational administration and supervision. McKinlay was the first in his family to receive a bachelor's degree, and LaTeisha was the first in her family to receive advanced degrees.
McKinlay is now a program manager in the tech industry and LaTeisha is a senior investigator in ethics and compliance at Georgia Tech. Although they live in Georgia, the Wolfpack remains close to their hearts.
"Our family unit was developed around the Wolfpack," LaTeisha said. "It's always something that's going to be here. We got married on campus, our professional goals are based on our time at NC State and we attend alumni events. I would hope that my daughter would go there. It's just something that's always going to be here and give us something to do as a family."
Our family unit was developed around the Wolfpack.
Now, the pair dream of their 8-year-old daughter continuing their NC State tradition and growing upon the strong foundation they've built.
"We each left New York out of high school, met on campus and became very educated and successful in our own rights," McKinlay said. "We continue to set a legacy for our daughter."
A Red and White (Re)union
Abe Washington and Alexis Corbitt Washington first met through mutual friends when Alexis was a freshman and Abe was a senior. But it was more than a decade later that their relationship kindled.
Abe had graduated in 2003 with a bachelor's degree in engineering and, after serving in the Air Force, settled in Washington, D.C. Alexis, a Park Scholar, had graduated in 2006 and become a dentist. In Washington, Abe became an Alumni Association network leader for NC State graduates in the area, helping host watch parties for sporting events and organize service projects. During one watch party in 2017, he and Alexis recognized each other. Sparks flew and they exchanged numbers, meeting up at other alumni events and parties.
"NC State, as Abe likes to say, gives you the 'warm and fuzzies,'" Alexis said. "The Alumni Association allows us to reminisce about those warm and fuzzy times when we became who we are at NC State."
Soon, their deep friendship turned into a romantic relationship, and in 2020, they became engaged. Abe had high hopes of proposing to Alexis at the Memorial Belltower, but it was under renovation to install 55 new bells. Instead, he proposed in Washington, and the two took engagement photos on campus.
They married on Dec. 31 in Alexis' hometown in St. Croix. Although the traditional New Year's Eve Carnival was canceled because of the COVID-19 pandemic, Abe and Alexis brought the festivities to their wedding, including soca music, dancers and feathered accessories.
"It was my dreams coming true, quite literally," Alexis said. "I'm marrying an awesome man on New Year's Eve with my close friends and family."
It took eight years for Abe to earn his bachelor's degree, as he dealt with injuries, changed majors and navigated scholarships. But those hurdles were worth it.
"Even though it took me eight years to graduate, I wouldn't change anything because everything had to happen to get me where I am now," Abe said.
"And he met me," Alexis added.
"That was the next thing I was going to say — if I had graduated on time, I would've never met Alexis," Abe continued. "Everything I went through at NC State happened for a reason."
This post was originally published in NC State News.