Extras
The Black Alumni Society's Clark-Witherspoon Scholarships Help Two Legacies Endure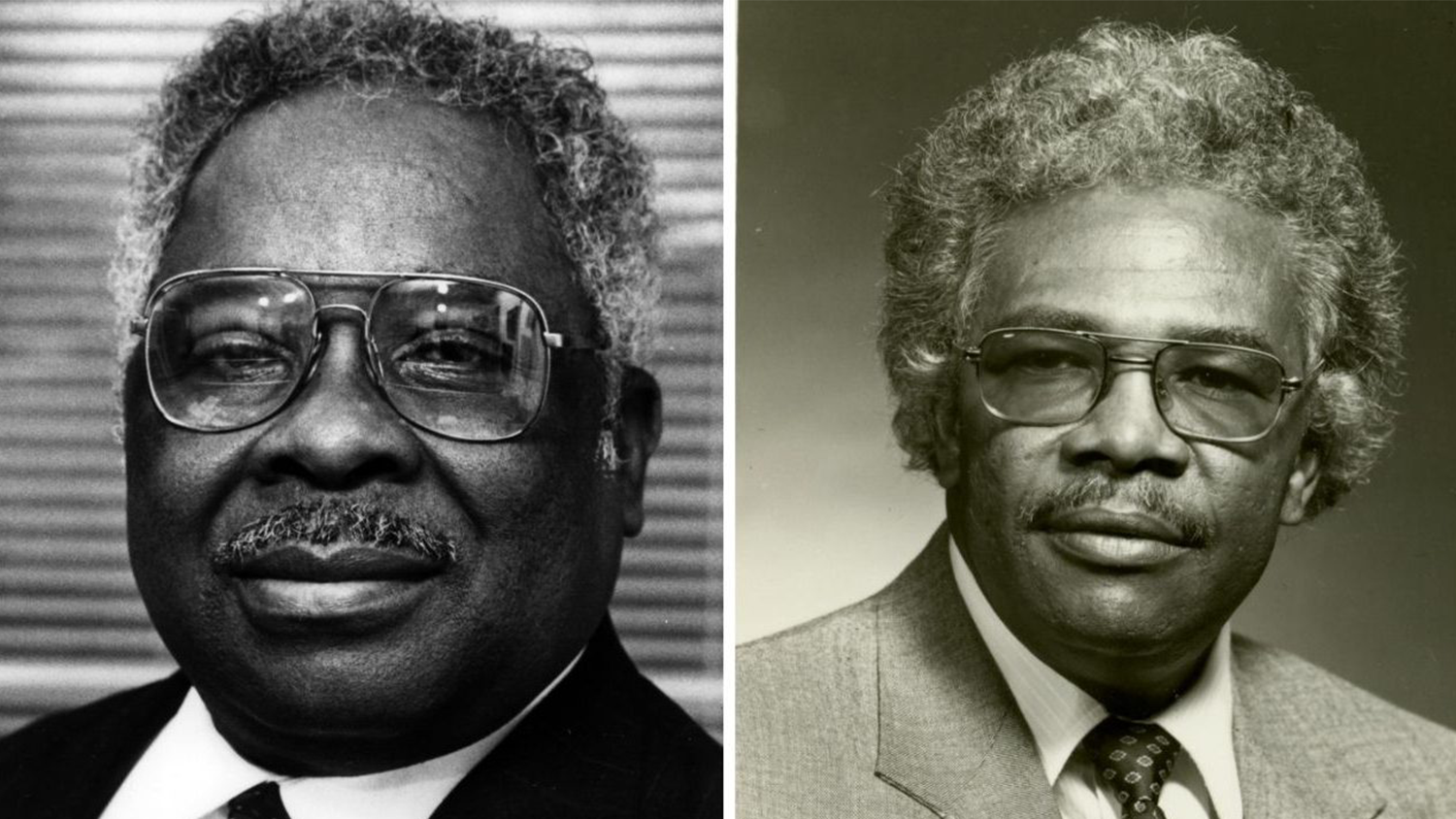 "You're standing on the shoulders of two great men, two great professors at NC State."
This is one of the messages Elwood Becton '73 has for current and future recipients of the Black Alumni Society's graduate and undergraduate scholarships, named for Drs. Augustus McIver Witherspoon and Lawrence Mozell Clark.
Over the course of five decades, Witherspoon, for whom the Witherspoon Student Center is also named, and Clark made history and shaped academic life at NC State and for Black students. These scholarships also have helped their pioneering influence — and their combined legacy — endure at the university for more than 30 years.
Forging a More Inclusive Path
Witherspoon arrived at NC State to pursue graduate studies in 1968, becoming the first Black student to earn a master's degree and the second to earn a doctorate. He joined the faculty as an instructor in 1971, eventually rising to the rank of full professor — the first Black faculty member to follow that path.
One of Witherspoon's botany students was Diane Hill Becton '73, who came to NC State from Brawley High School in Scotland Neck, North Carolina, which comprised 100% Black students.
"We were looking for a mentor, for someone to help us get through our just coming out of high school," she said of herself and her husband Elwood, who met as students at NC State.
Witherspoon filled that role, helping the Bectons and other Black students navigate the university not just as new undergraduates, but as young people facing systemic racism. "There were things we had to deal with as Black students that Dr. Witherspoon and, later, Dr. Clark helped us and others maneuver," Diane Hill Becton said.
Along with his wife, Cookie, Witherspoon often hosted students for meals and conversation. "They opened up their home to us many times. We had good fellowship with them, but also he helped us navigate our studies, do the right thing and stay on track to graduate," Elwood Becton recalled.
Witherspoon helped establish the first Black fraternity, the Eta Omicron chapter of Alpha Phi Alpha, at NC State. The national fraternity's members included such pivotal men as Martin Luther King Jr., Thurgood Marshall and Jesse Owens, and Elwood Becton was one of many for whom pledging was an honor.
Creating a Lasting Connection
When Clark arrived at the university in 1974 to hold the dual position of math professor and associate provost, he became the second Black administrator at NC State.
Elwood Becton returned to NC State in 1979 as student legal adviser and counsel to the then-Division of Student Affairs and volunteer, working to help create the Peer Mentor Program. He was pleased to meet Clark, and described him as an outstanding leader and wonderful mentor to students.
As Clark and Witherspoon continued to create meaningful spaces for Black students on campus, alumni were organizing. Diane Hill Becton wanted to feel a stronger affinity for NC State, and she and Elwood talked with fellow alumni about finding ways to stay connected within the university structure. The couple led the founding of the Black Alumni Group, as it was known then, in 1979. Clark and Bryce Younts, director of the university's Alumni Relations, helped the group become an affiliate of the NC State Alumni Association. Elwood served as the first president, and in 1996, the group adopted its current name: Black Alumni Society (BAS).
Clark was instrumental in implementing the university's affirmative action plans, too. He created the University-Community Brotherhood Dinner between NC State, Shaw University and St. Augustine's College, and, along with Witherspoon, he helped found the African American Cultural Center and African American Symposium, as well as establish a yearly trip to West Africa beginning in 1989.
Dr. George Adams '88 was another NC State student — and fellow Alpha Phi Alpha member — who benefited from the leadership of Clark and Witherspoon academically and within the fraternity.
"While walking on campus, I dare not pass by either without stopping and sharing conversation. Dr. Witherspoon would always speak about continuing my education to graduate school," Adams said. "Dr. Clark enjoyed sharing his wisdom with the young brother."
Scholarships Demonstrate Vision
The Black Alumni Scholarship was created in 1985 to benefit two to three undergraduates each year. Creating a scholarship was a natural fit for the society's goal of giving back to students and developing future engaged alumni.
"We also knew that a lot of African American students came to NC State with limited funding," Diane Hill Becton said. "Some of us in BAS were those students a few years before, so to be able to help was a great thing."
Seeing the success of the undergraduate scholarship — which was renamed to honor Clark in 2012 — the group decided to create similar opportunities for graduate students. In 1990, the Black Alumni Society established the A.M. Witherspoon Graduate Scholarship Endowment.
Adams also is a dedicated supporter of both funds. "Being an Alpha, giving to these scholarships is out of respect to these fellow brothers," he said. "Also, since I knew each one personally, giving is very dear to me, considering that I have been blessed through my years at NC State."
A Call for Support
The year 2020 marks the 35th and 30th anniversary of the scholarships' creation, and supporters of the funds hope to see the impact continue to grow.
"The current students are a reflection of each of us. For most of our students, the journey is controlled by their ability to finance their college education through scholarships, grants and loans. The Clark and Witherspoon scholarships are one avenue that you can support to lessen their burden," Adams said.
The society has heard from a number of recipients over the years about how the scholarship came along at just the right time, closing the gap and helping them graduate.
"It's working," Elwood Becton said. "And it can work even better if we have more donors. We can help more students and give more funds."
One of the ways to continue to grow the fund's impact is to reach beyond NC State's Black alumni, Diane Hill Becton noted. The scholarships serve as an extension of the university's land-grant mission to open the doors of learning and discovery. "We know there are many philanthropic groups and people who would be willing to give to these wonderful goals," she said.
Proud to be Part of the Family
Recently, the Clark and Witherspoon scholarships have added an additional component, which continues to reflect the impact of their namesakes: mentorship. Recipients of the scholarships are partnered with alumni mentors to round out the scholarship experience.
Kayelyn Simmons, a PhD candidate in the College of Sciences' marine, earth and atmospheric sciences department, is a current recipient of the Witherspoon Scholarship. She has found the mentorship aspect of the award particularly helpful as she works on her dissertation focusing on coral reef soundscapes and habitat complexity in the Florida Keys. The scholarship helps Simmons cover student fees and field expenses.
"I am so grateful to my mentors, George Adams, Spencer Johnson and Karen Johnson," Simmons said. "They take the time to call me, email me and make sure that I'm progressing through my program. It has truly been an experience to come this far and have the support that I have. It's really encouraging, and I'm so proud to be a part of both the Pack family and the BAS family."
Simmons' words echo the hopes of alumni supporters.
"In the Black Alumni Society, our students have an organization that cares about them," Elwood and Diane Hill Becton said. "We support them, we love them and we can't wait for them to become one of us, as alumni, and help change the world."
Are you a donor to the Clark and Witherspoon Scholarships, or a former recipient? Help us honor the anniversaries of the creation of these endowments by sharing your story.
This post was originally published in Giving News.