Profiles
'I Feel Full'
Former NC State men's basketball player Ernie Myers, a member of the 1983 NCAA Championship team, adds a player's eye and his own emotion to the NC State women's basketball radio broadcast team.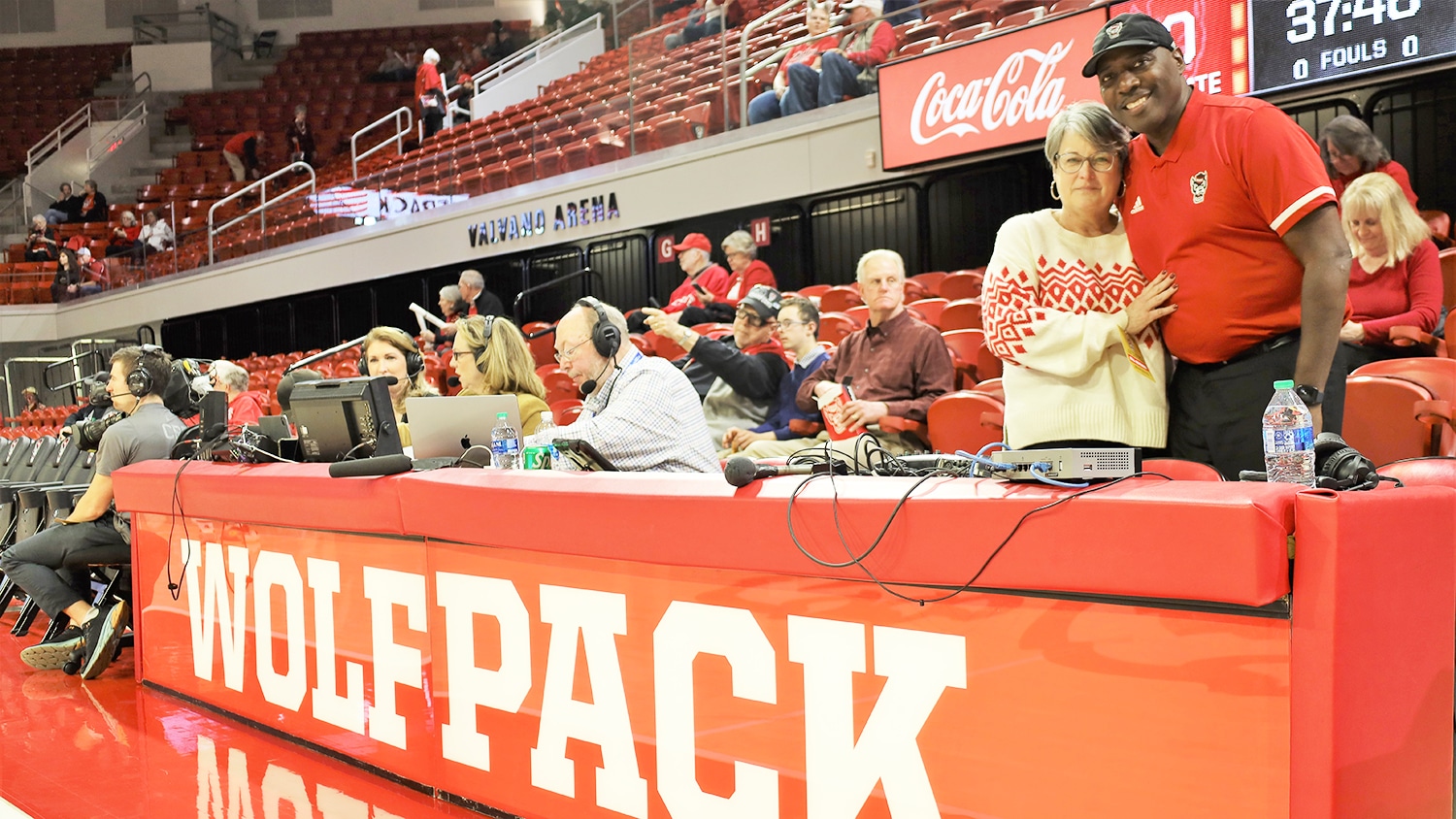 In the spring of 2006, Ernie Myers was walking down a New York City street, about as far removed from his NC State legacy as he could possibly be, when his cell phone rang.
On the line was a member of the NC State athletics department inviting the former Wolfpack guard to Raleigh to see his former teammate, Sidney Lowe, introduced as the school's next men's basketball coach.
Lowe's hiring was a momentous event for all the members of the 1983 Wolfpack that executed the unlikeliest run in NCAA Championship history, under the guidance of head coach Jim Valvano and the trio of talented seniors that included Lowe, Thurl Bailey and Dereck Whittenburg.
Myers was the only freshman on that team—which reunited last Wednesday at the Wake Forest game to remember that title 40 years ago—but he became an important component when senior Whittenburg suffered a broken foot in early January and Valvano needed a replacement in the lineup.
Against Clemson in his first game as a starter, Myers scored 25 points. Against Duke, he set an ACC freshman record that still stands by scoring 35 points against the Blue Devils.
He had other big nights that season during Whittenburg's absence, but saw his time dwindle in the postseason when his teammate returned and the Wolfpack went on a nine-game winning streak to claim the 1983 ACC and NCAA championships, leaving in its wake hall of fame players like Michael Jordan, Ralph Sampson, Clyde Drexler and Hakeem Olajuwon.
Famously, Myers climbed to the top of the backboard and sat on the upper edge while teammate Cozell McQueen stood on the rim while the rest of the team took turns cutting down the nets.
They were literally at the top of the basketball universe.
Myers spent another three years playing for Valvano, putting up solid numbers but not reaching the same pinnacle of three consecutive city championships at Manhattan's Tolentine High School or the ACC or national title he won his first season with the Pack. The former McDonald's All-American spent a year as a graduate assistant, then returned to his hometown. He had a son, Ernest Myers IV, and raised him as a single father while pursuing a corporate sales career.
At the time his phone rang 17 years ago, he wasn't exactly disconnected from his NC State roots, but he wasn't part of the day-to-day activities of his alma mater either.
That changed almost as soon as he traveled to Raleigh for Lowe's press conference. While hanging out with his former teammates, Myers went over to say hello to legendary NC State women's basketball coach Kay Yow, a mentor figure during Myers' playing days.
"Ernie, how are you doing?" Yow said. "I'd like you to meet someone."
An Empty Feeling
There's part of Myers' personal story that he kept to himself for nearly 40 years, to protect his family's privacy. He didn't tell it publicly until Bailey, his college teammate, wrote a memoir about the 1983 championships two years ago.
During his freshman season – one of the most written-about and celebrated years in the university's history – Myers was dealing with something that could have turned his part of the celebration into a personal crisis: both his mother and his stepfather were serving time in a federal penitentiary, and his father was no longer part of his life.
That left the young player, a talented kid from the streets of Spanish Harlem, by himself to check on younger siblings, to worry about their well-being, to make sure everyone was OK.
While many of his teammates celebrated each successive victory, culminating with a 54-52 win over top-ranked Houston in the national title game, Myers was alone. He was embarrassed and humiliated. He was more than a little envious of the tight family bonds everyone else seemed to have.
Even after celebrating with the larger Wolfpack community at Reynolds Coliseum the day after the title game, Myers didn't feel the same connection with his teammates.
"Throughout the year, I saw all the other players with their parents and families," Myers says. "I had to remain focused that whole year because I had sisters and a brother younger than me to take care of.
"My family life was terrible, but I still had to play. I took all that frustration I had out on the court."
In many ways, Myers' struggles were no different than students today. Away from home. Isolated. Desperate. A bad decision around every corner. He knew he had to overcome the most mentally challenging year of his life.
"I told myself I had to survive," he says. "I have to get through it for my family. I couldn't say, 'Woe is me.' I had to double down on my basketball skills."
That's how he survived growing up in New York, where participating with a church basketball program kept him off the streets and away from the alcohol that grabbed his birth father and never let loose.
In Raleigh, he found solace not with the help of his coach but with Yow. When he was overcome by the weight of his emotions, he would go nap on a couch in her office or talk to her about what he was going through.
"She would tell me,' he says, "'Ernie, keep working hard. You can do this. Stay focused.'"
Through the rest of his playing career, Myers found comfort in Valvano's catch-phrase, "Never give up," though not exactly in the same way the coach intended it. It's still a philosophy that he and every other member of the '83 championship team carries with them.
"This may be a little corny because of the Coach V thing, you do have to focus on what you are here to do," Myers says. "Life can be challenging. You can't give up on yourself. Things will get better. You'll get through it. Don't give up on yourself, on your family, on your friends.
"I was at the lowest anyone could be and I was still able to focus and get a college degree from a major university, a kid from a bad situation in Harlem who became a survivor."
A New Life and Career
When Yow and Myers reunited for Lowe's introductory press conference, the coach wanted the former player to meet Annabelle Vaughan, NC State's assistant athletics director for media relations. She thought they might make a good match.
The two connected over a freelance magazine story she wrote, then went on a first date at a Waffle House in Durham. Afterwards, they went to visit a young player at Duke Hospital that the Wolfpack men's basketball team had adopted through the years as he struggled with cancer.
It was the opportunity for both to reveal the character and personality. Six months later they were married.
Myers and his son moved back to Raleigh and he began working in sales again. He volunteered his time with a local podcast, joining another Wolfpack legend Chris Corchiani for a weekly show at Amedeo's Restaurant on Western Boulevard, hosted by NC State graduate and former Technician editor James Curle.
One day, when Corchiani was unable to work as an announcer for an ESPN streaming basketball game, he suggested that Myers take his place. Myers was unprepared, but showed a flare for sharing his emotion about the game. He vowed to get better.
He got more assignments through the years and eventually put his NC State communications degree to use doing more television broadcasts and an occasional radio broadcast. Like Whittenburg, who has worked for the athletics department for more than a decade, and former teammate Terry Gannon, a national network broadcaster for golf, figure skating and other sports, Myers is sharing his connections to the community and his voice to his alma mater.
Last year, he began a regular stint as the radio color commentator for NC State's women's basketball, the team Yow coached for 35 years and a program that was at its height of success under coach Wes Moore, with three consecutive ACC titles. He's even done a few men's games with fellow NC State graduate Tony Haynes.
Though not a trained broadcaster, he is now much more prepared than his first game and adds a dash of emotion that connects with his listening audience, according to broadcast partner Andrew Sanders.
"I was once given the advice that on the radio, the listener can tell if you are smiling," Sanders says. "If you've heard Ernie on call a game, you know that's true. He has a genuine passion for the game and a love for NC State that helps him connect with the audience.
"He brings his energy, analysis and humor to every broadcast."
Now, remembering that championship feels more like a celebration than it did 40 years ago. He's back in Raleigh and – quite literally – married to the department that helped him get through the most difficult year of his life.
"Now I'm back in Reynolds Coliseum, the place where two coaches who I loved used to coach," Myers says. "They aren't here anymore, but I feel their presence. I don't take that for granted. I feel like I'm blessed.
"I feel full."
This post was originally published in NC State News.