Community
A World Full of (Plant) Opportunities
Horticultural Science alumnus Locke Rosser spent a year learning about plants internationally thanks to friendships he made at NC State.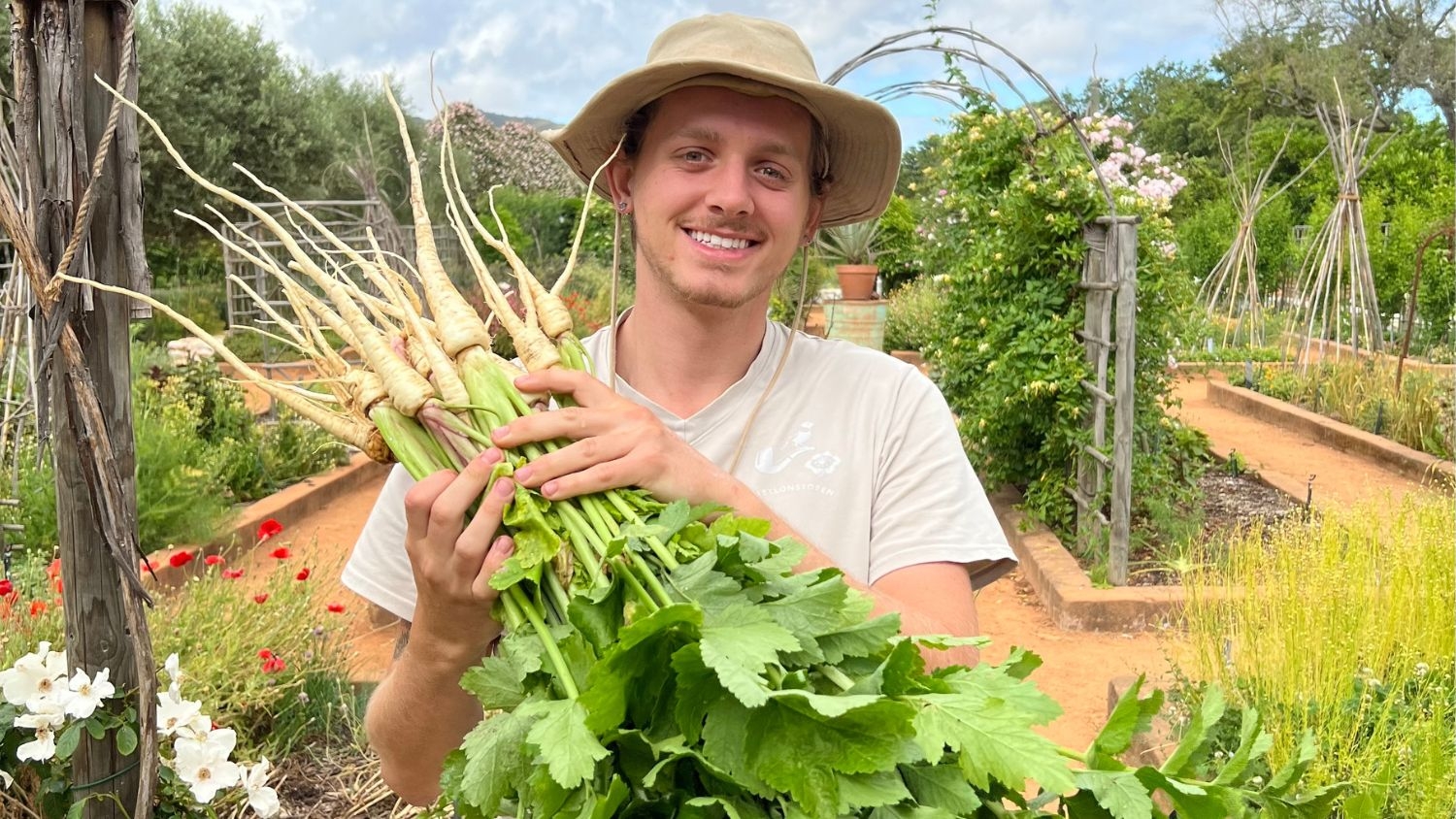 Locke Rosser's horticultural curiosity led him to visit two continents and learn about hundreds of kinds of flora after graduating from North Carolina State University in 2021.
"I knew I wanted to travel abroad to observe horticulture practices in other countries," Rosser says. "I like to push myself to travel to places where English isn't the primary language and the flora is unfamiliar to me."
The travel was possible because of the friendships he made at NC State.
Exploring India
Rosser earned a bachelor's in horticultural science with a concentration in landscape design, gardens and urban environments in December 2021.
"The landscape design program gave me the skills to analyze a site and think of innovative ways to evoke nature while making the most of textures, colors and plant variety," he says.
He also interned with JC Raulston Arboretum and Juniper Level Botanic Garden while at NC State. After graduation, Rosser became a landscape designer at Kiefer Landscaping and Nursery, but when he was invited by a friend to visit his home country of India, he couldn't pass up the opportunity.
Rosser started his trip in Delhi, India, and then traveled across the country, visiting the Jim Corbett National Park in the lower Himalayas. Because of the frequent rain during the monsoon season, the landscapes were lush. There, he was able to see Cedrus deodara — a large evergreen conifer — in its native habitat, as well as turmeric and ginger.
The same park also brought him full circle back to college.
"I was on a motorbike driving past waterfalls in search of our hotel," Rosser recalls. "I started seeing Sauromatum — also called Voodoo lily — and I was losing my mind. Only a few moments later, I saw an Amorphophallus — or a corpse flower — and then I kept seeing more! Seeing these aroids that I first learned about during my internship at Juniper Level Botanic Garden was one of the highlights of my trip."
He also traveled to Jodhpur in western India, which is in the desert, as well as Sanjay Gandhi National Park north of Mumbai and Guhagar on the western coast.
"I spent my days wandering around the village exploring the beaches and flora," Rosser says. "My host brought me to many local farms to see how they were prov cessing their mango into various exportable products."
Rosser also visited a nearby agricultural university and saw how they cultivate crops like yams, cassava, arrowroot and sweetpotatoes.
Interning in South Africa
After exploring India, Rosser traveled to South Africa for an internship he found out about from a friend.
"While working at Juniper Level Botanic Garden, I met a great friend," Rosser explains. "He visited Babylonstoren while interning for GreenPop, a nonprofit in Cape Town that specialized in reforestation and urban greening."
Babylonstoren is a world-famous hotel with restaurants, a spa, vineyards, orchards and gardens. Rosser was invited to join their 50-person garden crew from October to January, but he extended it for another month.
"I was really feeling at home on the farm," Rosser says.
During the internship, he rotated through three teams: nursery, fruit and vegetable. The nursery team manages indigenous plants on the property, the fruit team manages the orchards, and the vegetable team provides produce for the farm-to-table restaurant.
"Besides the bountiful produce that hails from the garden, the layout itself and the constantly flowing water make any nook of the farm feel like paradise," Rosser says.
Returning to Raleigh
After wrapping up his internship, Rosser returned to Raleigh because he missed his family, friends and the state's plants. Now, he's working as a landscape designer for Durham-based Garden Environments, a native plant-focused design and installation company.
"Plant identification courses have given me the skills to observe and make sense of the plants I encounter at home and abroad."
Rosser credits his professors at NC State for showing him horticulture careers that relate to his interests and for teaching him about how people interact with natural environments and how to design landscapes to make those connections stronger.
"Julieta Sherk and Anne Spafford have taught me so much about landscape design and the plethora of uses for plants in every type of space," he says. "Their experience and knowledge have allowed me to grasp the design process and form my own style of work."
He's also grateful he was able to learn how to identify so many different kinds of plants.
"Plant identification courses have given me the skills to observe and make sense of the plants I encounter at home and abroad."
This post was originally published in College of Agriculture and Life Sciences News.