University News
Herb Bales '84 Honored with Distinguished Alumni Award
Herb Bales '84 was among those honored by the NC State Alumni Association during this year's Evening of the Stars.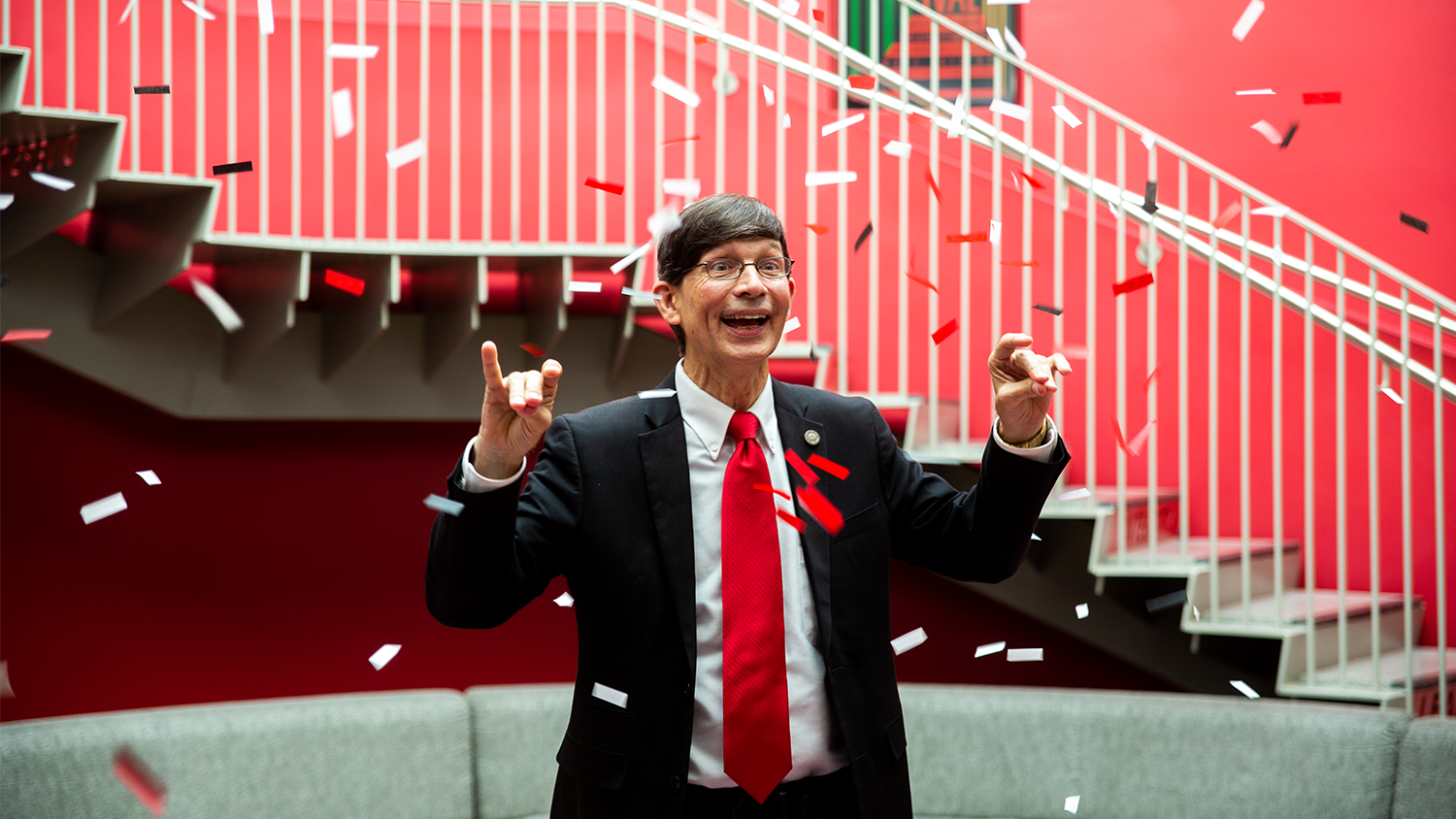 By Lea Hart
Herb Bales '84 was among those honored by the NC State Alumni Association during this year's Evening of the Stars, held virtually due to the COVID-19 pandemic.
Bales received Poole College of Management's Distinguished Alumni Award. He graduated Poole College with a Bachelor of Science in accounting and a Bachelor of Science in business management.
Though this year's format was different due to the pandemic, the Evening of the Stars event is rooted in NC State tradition. It dates back to the early 1940's when the Alumni Association began recognizing noteworthy graduates. As the number of extraordinary alumni has grown over the years, so has the celebration, with NC State colleges and the Wolfpack Club joining in the recognition of alumni who excel in their fields and have enriched NC State's history and increased the value of an NC State degree.
Herb and his wife, Elizabeth, who is also a 1984 graduate, endowed the Herb and Elizabeth Bales Scholarship, awarded to students studying business or accounting.
Herb Bales is a long-time mentor to students at NC State as well, a calling that he said comes from his own meaningful experiences with professors at the university during his time as a student.
Bales served in the U.S. Air Force prior to enrolling at NC State. As a member of what was then known as the Air Force Security Squadron, he was stationed in Berlin where he became fluent in German and Russian.
Following that assignment, he worked in Washington, D.C. for a North Carolina Congressman, which is where he first heard about the business program at NC State.
Impactful professors
Bales applied and was accepted to NC State. Part of the requirements at the time involved taking one course in the various study areas, from marketing to statistics to accounting. Bales found his passion in the accounting course.
"I was very much impacted by my professors at State," Bales said. "There were professors that really invested in me, and helped with my courses."
In particular, he noted the impact of Gil Zuckerman, professor of accounting, and the late Bob Peace, Professor Emeritus at NC State.
"I always maintained close relationships with my professors, even after graduating," Bales said. "That was primarily the reason that Elizabeth and I became interested in giving back to NC State – these professors had invested in us, advised us on what courses to take, and gave us advice on career paths.
"We really benefited from their guidance and counsel, and by the way that they mentored us."
In the more than three decades since, Bales has applied his accounting degree in the Real Estate field. Today, he serves as Chief Financial Officer (CFO) for Atlantic Investment Management (AIM), which manages and operates commercial buildings from Charlotte to Wilmington.
Bales said the useful, practical knowledge from his accounting degree has been essential to his professional success over the years.
"What I learned at the business school, and particularly in the accounting courses, really provided a springboard for my career," he said.
Giving Back
When he and his wife decided to give back, the first person Bales floated the idea to was Zuckerman, who helped put them in touch with the right contacts at Poole College to establish their endowment. In the years since, the two have had the opportunity to meet many of the students who have benefitted, which Bales calls a highlight of their experience.
"These students are so inspiring," Bales said. "They're already working to implement what they're learning in the courses and what they know about business.
"It has been rewarding for Elizabeth and me to meet the students."
Bales noted his transition from the military to NC State meant depending the GI Bill and piecing together other ways to support himself through college, and said he can see himself in some of today's students.
"That's exactly the kind of benefit that we hope to provide to students – if they're going through difficulty and they need some help, the scholarship is there for them," Bales said.
NC State's Impact Extends Beyond Graduation
Bales reflects on his time at NC State with much to be thankful for. First and foremost, he notes that the university allowed him the opportunity to meet his wife.
"She's just been incredible," he said. "We have really enjoyed being together all of these years."
The relationships he built with professors and classmates were another highlight, as has been the opportunity since for lifelong learning that NC State provides to him, such as the PNC Leadership Series and the Wells Fargo Executive Leadership Series.
And while those memories and experiences are highest on his list, he's also quick to note that he was lucky enough to be a student when the men's basketball team won the NCAA National Championship in 1983.
"That was absolutely thrilling and fantastic," he said. "Jim Valvano and the whole experience just was out of this world."
When he visits campus today, Bales said he's constantly impressed by the university's place as a pioneer in technology and innovation. The Think and Do the Extraordinary message rings true to Bales, who said it "raises NC State far and above the other educational institutions in the state."
"This phrase, it calls on us individually to do our best, and to look at every situation in front of us as an opportunity – to take the problem and to squeeze the problem until what we get is a solution that works," he said.
He gets excited when he talks about Poole College's Leadership and Innovation Showcase, where undergraduate and graduate student teams present innovative solutions to business and social challenges across a variety of disciplines.
"These students are coming up with solutions in a way we should all approach things in life – what are the bottlenecks, where are the inefficiencies, and how can we think and do the extraordinary to come up with a better way of doing business," Bales said.
An Opportunity to Say Thank You
The receipt of this year's Distinguished Alumni Award allows Bales a way to say thank you for his own student experience.
"The most significant thing that stands out is that the award allows me to say thanks to all the people who have advised me and counseled me at NC State," he said. "It allows me to say thank you to North Carolina State."
"I understand that it's for me, but really it's only because other people have poured so much time and energy and investment into me that I now have the opportunity to turn around and let that overflow back to the university."
This post was originally published in Poole College of Management News.