Profiles
Have Horse, Will Travel
Eventing team at NC State eyes continued growth.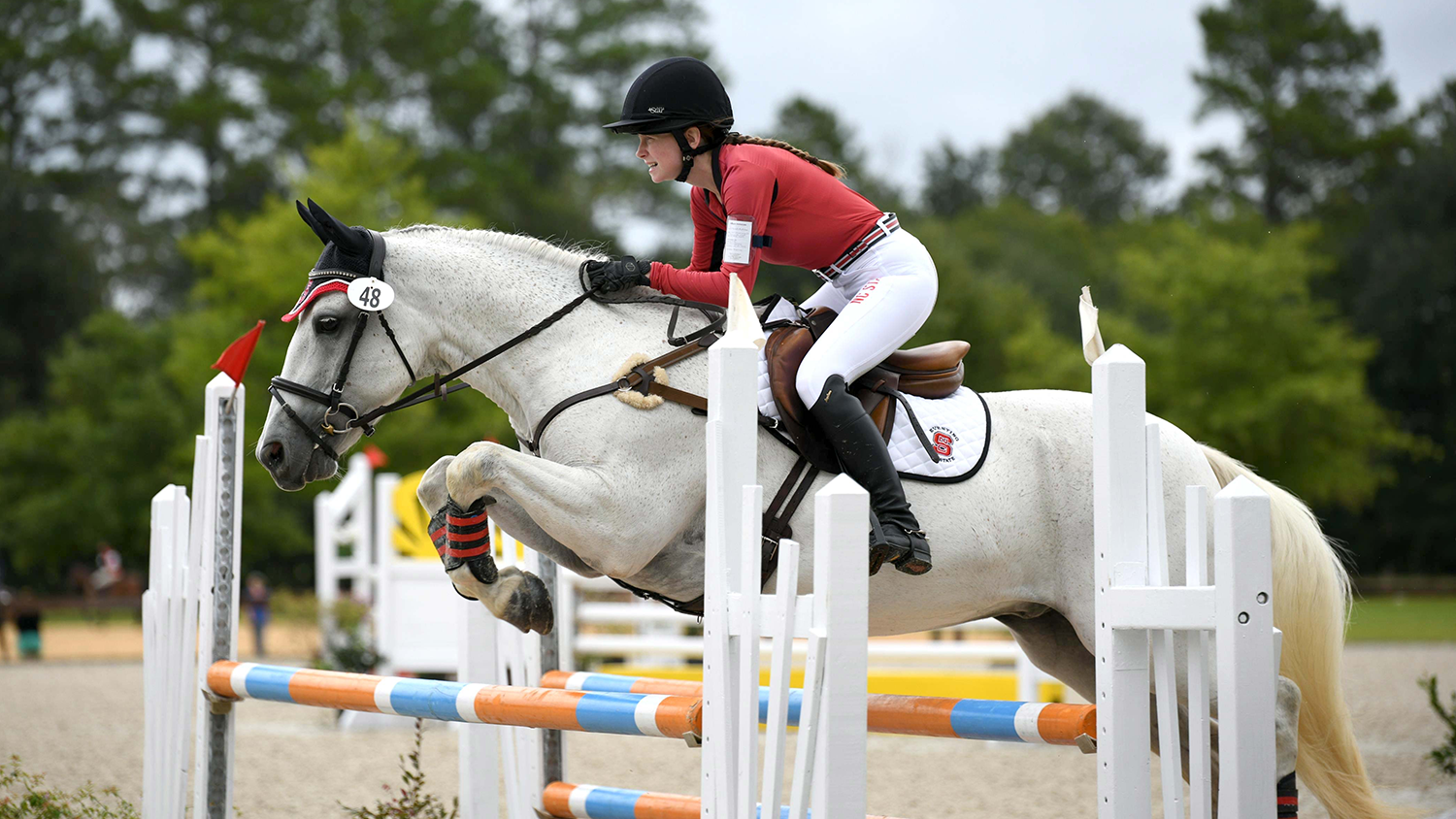 Most sports require some amount of specialized gear, such as cleats, rackets — or, if you're a member of the eventing team at NC State, a horse. Members of the four-year-old equestrian team must either own a horse or have access to one to train and compete. "To do the sport we do, it requires a lot of time with the same horse," says team president Katie Younce, a biochemistry and human biology major from Charlotte, N.C., set to graduate in December.
An Olympic sport since 1912, eventing features three events — dressage, cross country and show jumping. During dressage, the rider leads the horse through a series of movements inside an arena. The pair moves to outdoor terrain for cross country, where they gallop and jump over natural and man-made obstacles in woods and fields. Then it's back to the arena for show jumping, where the rider guides the horse over man-made fences. Scoring is based on skills like speed, form and accuracy.
"The goal is to have the lowest score at the end of the three days," says team co-founder Sarah Davidson '17, who lives in Raleigh and works as a business analyst. The team is a student organization, but leaders are in the early stages of applying for club-sport status, which would make it eligible for extra funding through NC State.
Today, the team boasts nearly 20 members and a growing base of alumni, who sometimes cheer on the team or compete at the same events in alumni divisions. Members train at the team's home barn in Clayton, N.C., about 30 minutes from campus. "It's a stress reliever for a lot of us," says Younce, who rides five or six times a week.
Davidson hopes the team continues to grow. Soon after it launched, she got phone calls from prospective NC State students who wanted to learn more about the organization.
"That was really motivating," she says, "knowing I helped start that and it was going to change the college path for a lot of people."
— Sarah Lindenfeld Hall
Photograph courtesy of NC State eventing team
This story appears in the summer 2020 issue of NC State magazine. Members receive the award-winning publication in their mailboxes every quarter.