Alpha Phi Alpha Celebrates Milestone Anniversary by Giving Back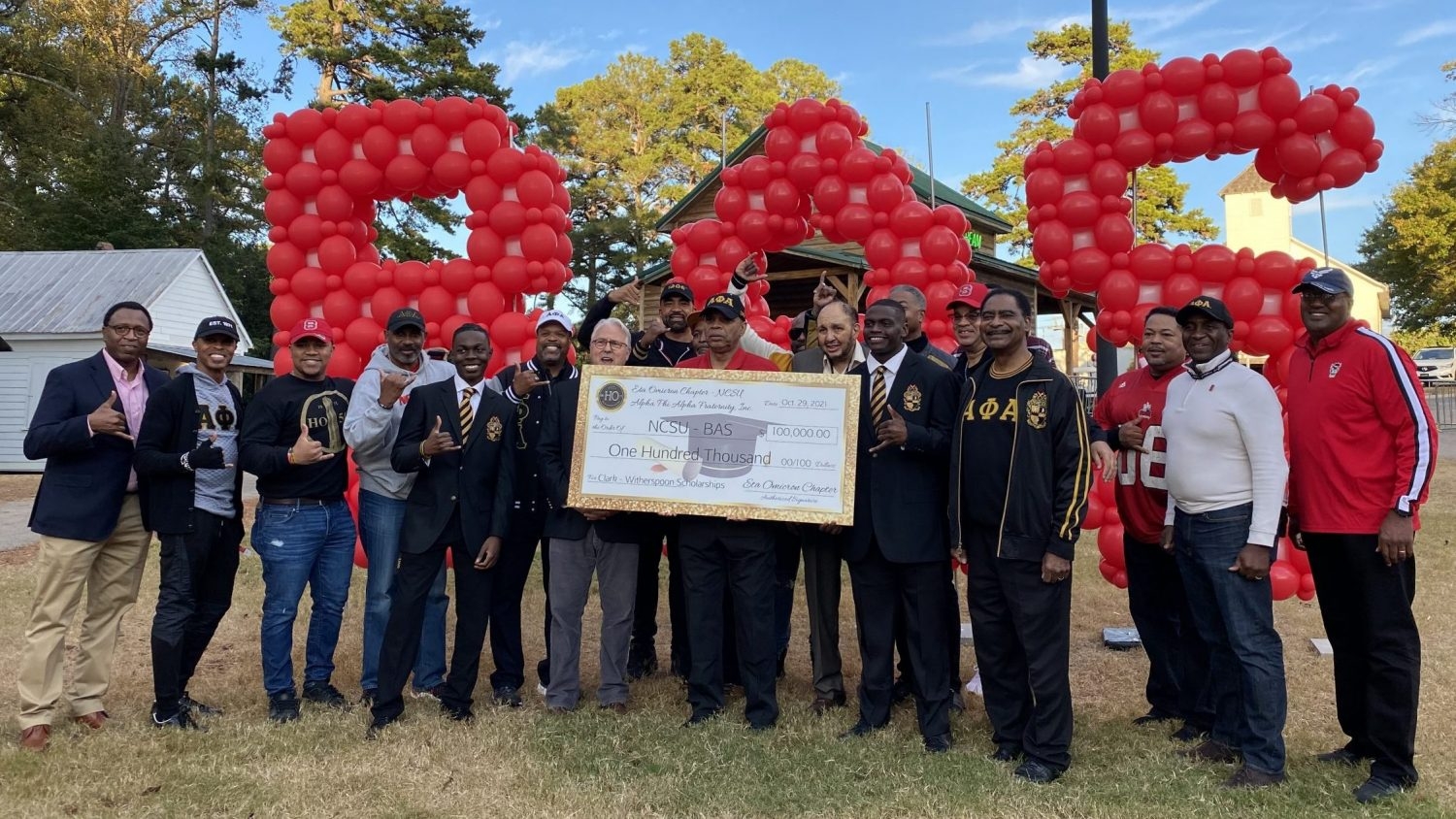 Garnering support for the Witherspoon Scholarship at NC State has been a cause close to the heart of Brigadier General (Retired) Leodis Jennings for nearly half his lifetime.
So when the Eta Omicron chapter of Alpha Phi Alpha, the fraternity he joined as a student at the university, came together for its 45th reunion, he knew exactly the challenge he wanted to put forth to his brothers: raise $50,000 by their 50th reunion to support the Black Alumni Society's first two graduate and undergraduate scholarships, which are named for the late Drs. Augustus McIver Witherspoon and Lawrence Mozell Clark.
"I knew Dr. Witherspoon; he was like a father, a mentor for me," Jennings said. "It's because of the reverence I have for him that I've worked to support this endowment."
His fraternity brothers answered the challenge, and then doubled it.
Alpha Phi Alpha marked its 50th year at NC State in 2021 and announced during Red and White Week last month that more than $100,000 has been contributed by its members to support the Clark and Witherspoon funds.
"We thought it would be a good way to give back to the fraternity and the school, but also to show recognition for those two brothers," said Ken Vereen, who headed up the Alpha Phi Alpha committee to raise the scholarship funds.
Witherspoon, the namesake of Witherspoon Student Center, and Clark made an impact at NC State over the course of five decades, shaping academic life for the university and for minority students. Alpha Phi Alpha Fraternity, Inc. – Eta Omicron Chapter was the first Black Greek organization on campus. Its members recognize the impact that Witherspoon and Clark had on them, on their classmates and on future generations.
Each of the two scholarship endowments has been in existence for more than 30 years and has positively affected the lives of students by providing financial assistance that has helped make their educational dreams a reality.
"I went to NC State; I struggled at NC State because of finances," Jennings said. "Everyone who's accepted to NC State has shown the capability to be successful, but the biggest impediment is finances.
"If a student or individual does not have financial concerns, they will do better academically."
The fundraising effort was a collaboration across generations of his fellow Eta Omicron alumni. Some, like Jennings, knew Clark and Witherspoon as professors and mentors. Others like Byron Burst, who graduated in 2004, know they stand on the shoulders of those who came before them. Burst said he wanted to bridge the space between the trailblazers and current generations of students.
"While I was at NC State, a couple older brothers from the chapter had direct contact with Drs. Clark and Witherspoon; I knew how much that meant to them," Burst said. "I knew younger people today wouldn't have that same connection, but we could all help maintain the connection through the scholarship and the legacy of Drs. Clark and Witherspoon."
What's more, Burst said Alpha Phi Alpha has always been at the forefront of progress at NC State, specifically for the African American community, and it's important to support continued progress as well.
"A lot of firsts came directly from individuals in this chapter," he said. "We don't want to just rest on that legacy. Now that they've broken down barriers, how do we continue to make progress in all those areas and beyond?"
Scholarship support is central to that idea of progress, Vereen said. Enrollment numbers for Black men at NC State remain lower than Alpha Phi Alpha members want to see, and financial barriers are a significant reason, he said.
"My son applied to NC State and was accepted," Vereen said. "He received a full scholarship from almost every school he applied to, but no financial support from NC State."
Increasing philanthropy is about closing the gap in funding and endowments to ensure NC State is capable of offering more financial support and competing at the same level as other schools, he said.
Once those students enroll, Vereen admits, "It's also a selfish desire to see them become Alpha men if they're qualified."
"We need to pass on the legacy of what we learned through the fraternity while we were in school," he continued. "Then, as we get into the workforce, we need to give back."
Surpassing $100,000 in contributions gave the Alpha Phi Alpha brothers another reason to celebrate as they came together for this year's Red and White Week festivities. Burst helped head up the committee to plan reunion events.
The group gathered to support NC State's Black Alumni Society events and held a number of events of its own. Members enjoyed a dinner celebration at Raleigh Memorial Auditorium, where the formal announcement was made that they had exceeded $100,000 in scholarship contributions. At least three charter members of Alpha Phi Alpha attended, something Burst said he hoped would make an impact on younger generations.
In his mind, Burst said the fundraising announcement could and should inspire others to get involved as alumni and in giving back.
"We were the first Black Greek letter organization [at NC State], but there are others right behind us that will be celebrating their own anniversaries," Burst said. "I hope this can inspire them and others to give back – for them to see how they can move things forward at the university.
"This is great for us, but it's almost as important to figure out how to keep it going. I don't want this to be a point in time, but instead a time to think about what's next."
Thanks to these funds, Jennings said more students will be able to take advantage of the Clark and Witherspoon scholarship opportunities. And he, too, acknowledges that even more is possible in the future.
"This endowment will, and has, provided an opportunity to be successful at NC State," Jennings said. "If you're successful at NC State, then you're going to be successful in life."
This post was originally published in Giving News.