Community
Wilson College Alumna Credits Hours in Knitting Lab as Key to Expertise, Career Success
Zoë Newman, Ph.D., now serves as a knit product developer, consulting with companies at Stoll by Karl Mayer.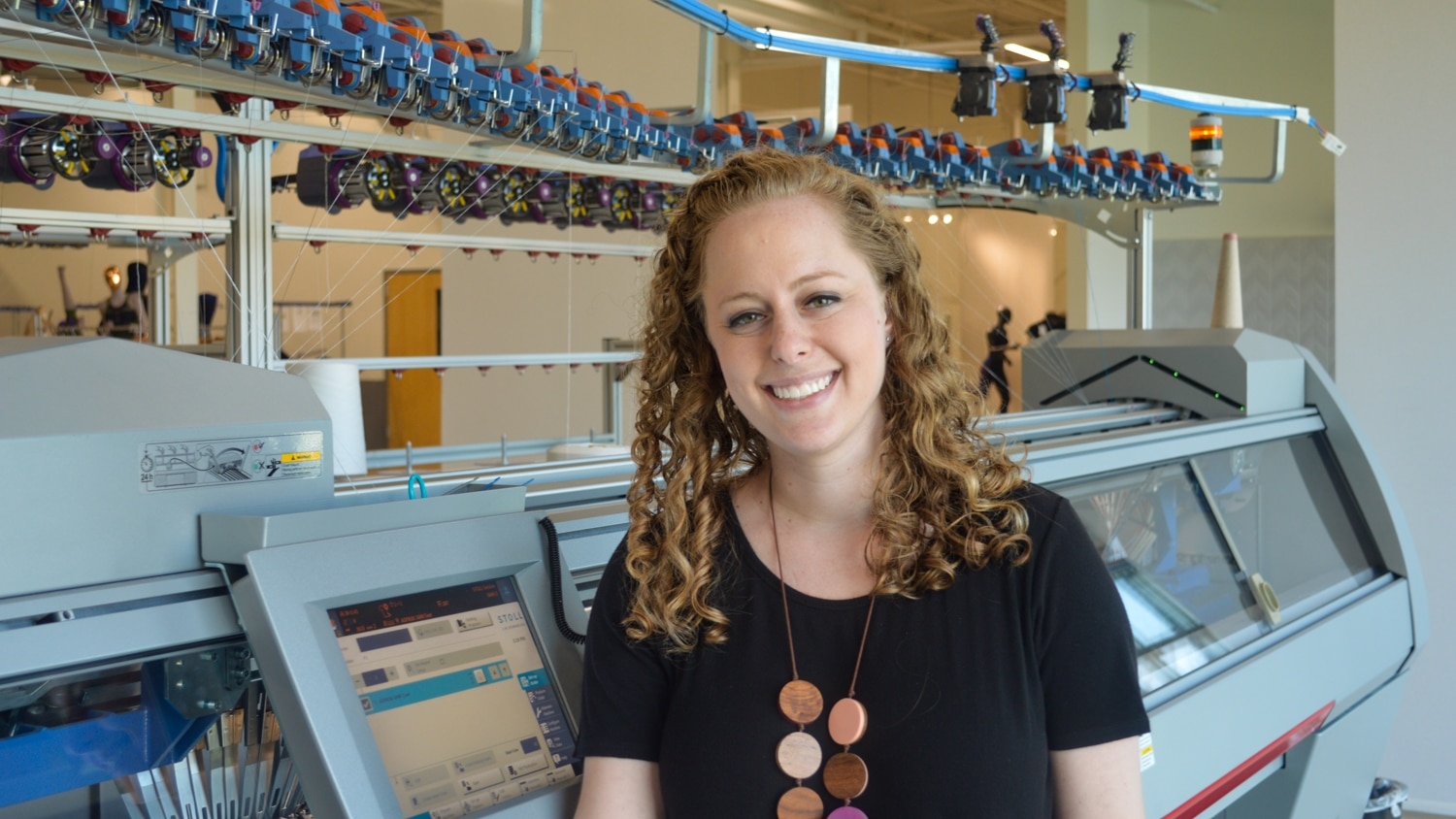 By Sean Cudahy
It's been nine months since Zoë Newman earned her Ph.D from the Wilson College of Textiles. But her work to understand the science of knitting and fabrics — and to push the boundaries of what's possible with each — is far from over.
"It's not like once I finished my Ph.D. I was done learning," Newman says. "It was really the beginning of honing in on my interest."
Today, that interest has her working with corporate clients at Stoll by Karl Mayer, a Greensboro-based industry leader in developing textile solutions. Her work includes  collaborations with clients on everything from footwear to athletic apparel, medical textiles and fashion-oriented products.
Newman has her hands in a wide range of projects at Stoll. She'll spend two to three weeks at a time advising a company as it develops and refines a new product concept.
"I'll help them understand the basics of knitting," she says. "And following any developments in our TexLab, where we work on prototyping, we will then send the clients to locations that carry our machines, where they can scale up what they want to make."
It's a push for textile innovation that, in many ways, defined Newman's academic career.
Pursuing a deeper understanding of fabrics
Newman's interest in the field of textiles took off as a high schooler when she participated in NC State University's Summer Textile Exploration Program (STEP) camp — a weeklong immersion that introduces rising high school seniors to concepts ranging from fashion to engineering, polymer science and business marketing.
For Newman, that early exposure to the Wilson College's curriculum served as a launching pad of sorts — one that led her to the fashion and textile design program as an undergraduate student beginning in 2015, and eventually, the Master of Textiles graduate program.
During her graduate education, she began to deepen her research, integrating hemp fibers into knit footwear during for Master's thesis work.
Weighing a potential teaching career as she earned her master's degree, Newman elected to remain at NC State to pursue her Ph.D in Textile Technology Management.
The decision would ultimately make her the first-ever B.S. in Fashion and Textile Design alumna to earn a Ph.D. at the college.
The strongest force behind Newman's pursuit of deeper understanding in her field?
Curiosity, she says.
"I'm really interested in why fabrics perform the way they do … which has sort of driven me all throughout my education," she says.
The key to Newman's success, though, may be even easier to see with the naked eye.
It was, she now says, the hands-on experience she had in college's Knitting Lab.
Hands-on Knitting Lab work served as springboard
Since she served as a teaching assistant during her doctoral candidacy, Newman had access to the Knitting Lab and its state-of-the-art equipment to serve the textile industry and the educational and research needs of students and faculty.
This allowed her to assist in knitting fabrics in the lab for industry and students. This was no small arrangement: it allowed her to amass an untold number of hours experiencing, up-close, how a fabric is made, she says.
She even served as one of the principle operators of the lab's so-called 'sock robot' after it arrived in 2021.
"Actually being in the Knitting Lab, making the fabric … that was huge for me," Newman explains.
Altogether, the hands-on experience helped springboard Newman to a newfound reputation as an expert in knitting, as evidenced by the companies that sought her knowledge as a consultant.
It also aided her in her own innovative research along the way — most notably as she developed a unique concept for footwear that expands as children's feet grow. The idea: to simultaneously save parents money, and ensure kids are wearing appropriately-sized shoes…critical to their long-term health.
"Shoes should appropriately fit children while also being affordable," she wrote in her dissertation, noting ill-fitting shoes can affect posture and gait while costing parents a lot of money in the process. 
As part of her project, Newman conducted market research into the concept, which helped bolster her understanding of the business side of the industry.
Learning 'never stops'
Today, that combination of experiences has served Newman well in her first full-time role, as she works with companies hoping to develop their own innovative concepts.
What Newman still enjoys most, though, is the learning; as she astutely points out, it never stops.
"There are so many variables that can be changed to create a knit product a certain way," she says. "When you're doing that, there's so much opportunity to create what you want, and that's what's really inspiring to me."
This post was originally published in Wilson College of Textiles News.