Community
Wide Open Spaces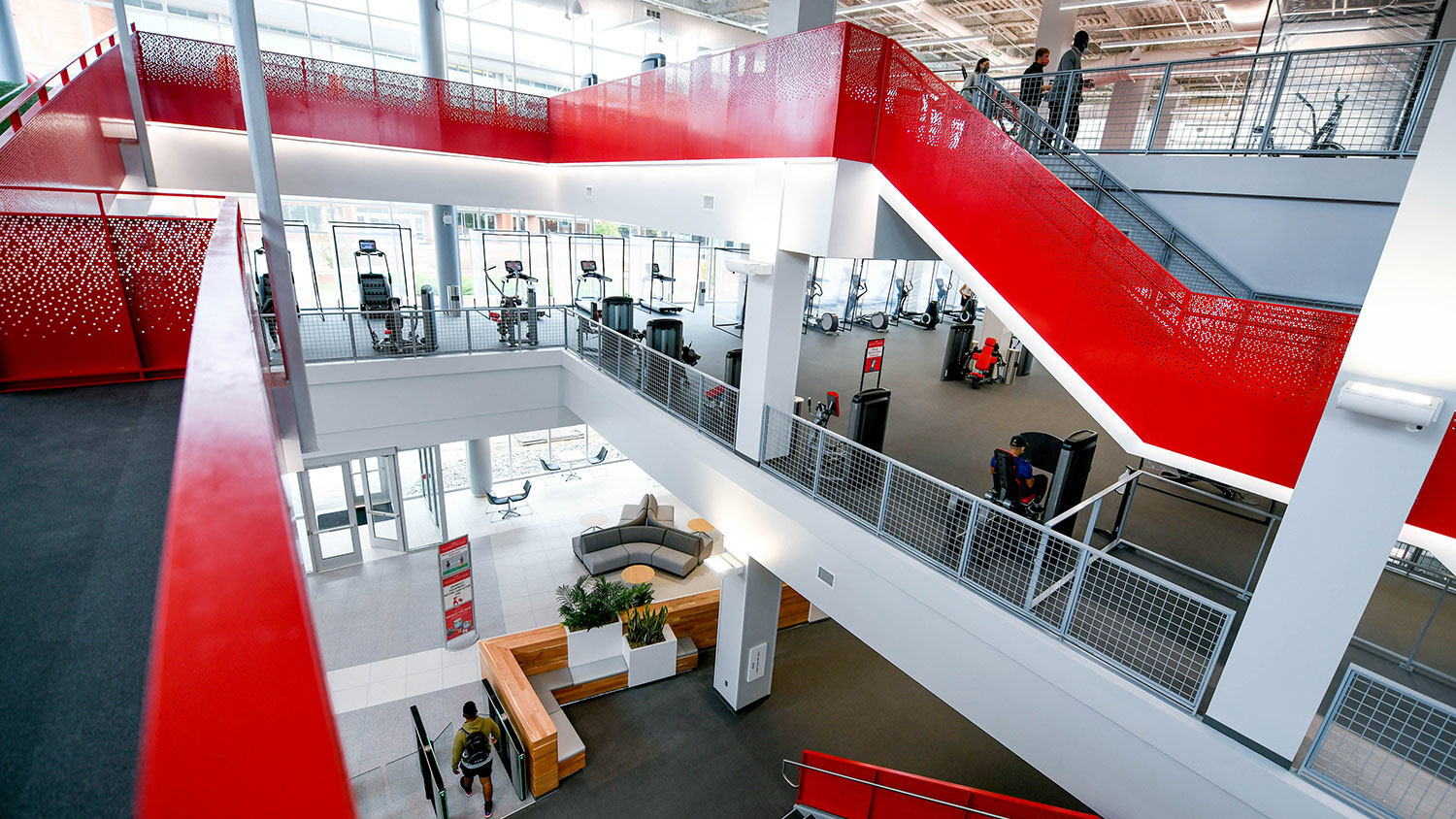 Walking into the university's new Wellness and Recreation Center, you can't help but look up.
Gigantic windows invite light to flood the sprawling, airy space, and glass railings allow views of all four floors.
At almost 92,000 square feet, the new center adds tremendous capacity — and state-of-the-art features — to the Carmichael Gym.
These include indoor and outdoor functional training areas, a climbing center with bouldering cave, a fully-functional teaching kitchen designed to educate users on nutrition and healthy cooking, and a multilevel turf sprint ramp that transports you straight to the 50-yard-line at Carter-Finley Stadium.
All this in addition to cardio and weight-lifting machines, free weight stations, and multipurpose space for yoga and other group fitness classes. When the weather permits, you can even take your workout outside onto a top-floor terrace that offers one-of-a-kind views of campus.
The $45 million facility — funded largely by student fees and continuation of a 2007 construction bond — also houses offices for Health and Exercise Studies faculty and Wellness and Recreation staff.
"It's surreal," says Adam Sardhina, Wellness and Recreation marketing and communications specialist. "Five years ago, this facility was just a concept, and now it's finished. It's amazing to see it come to life."
Thoughtful Design
Where walls once stood now exist access points that allow users to pass between the new center and existing recreation and fitness spaces (speaking of, check out the basketball courts' new floors).
This thoughtful design is one of the facility's defining features, says Associate Director Jason Spivey.
"You can see so much inside the center without having to move around, and you no longer have to go outside to get from one part of the facility to the other," he says. "It was key for us in design to create openness and connection to existing buildings, as well as visual connections to spaces so you can see what's happening in other areas and where you want to go."
The new center also pays homage to the ground upon which it stands, in the form of design features in the main entrance lobby. A large portion of the wood used there is from oak trees that had to be removed to build the new facility.
"It was really important for us to reuse that wood in some way in the building," Spivey says.
Each floor of the new center houses equipment and space designed to meet every fitness level. So, whether you're tackling a new year's resolution on the treadmill or aiming to enhance your current strength training regimen, you'll be at home in the new center.
In fact, the fourth floor offers 20,000 square feet of functional training space that allow users to create their own workouts. Functional training involves weight-bearing exercises that strengthen the core and equip individuals to maintain an active lifestyle more easily and without injury.
"The functional training areas have a combination of synthetic turf and rubber sports floor to give users different options," Spivey says. "The garage doors open up and allow us to bring the outside in. You can run 40 yards from inside the facility outside to the rooftop turf and continue your workout there on nice days."
Much of the building's design can be attributed to students past and present, says Executive Director Eric Hawkes.
From the outset of the project, the planning team consulted with students to incorporate their thoughts into the design process. They also took a group of student leaders to tour facilities at other southeastern universities to gauge what they liked and didn't like about each one.
"I really do feel like we've achieved all the goals that the students laid out during the design process," Hawkes says. "In fact, I recently went back in my notes and looked at those design principles. And now walking through the center today, I feel like we really hit the mark.
"It'll be interesting to see how the space works once we're at full capacity," he says. "It was designed to be very open and collaborative, and we're excited to see what that looks like."
The COVID Effect
Unfortunately the pandemic squashed plans for a grand opening event this fall, forcing the center to start operations quietly and at reduced capacity.
Because of COVID-19, appointments are required to use the new center. Just download the Wellness and Recreation app (Android or iOS) to reserve a time slot. The center will operate in 75-minute sessions, with breaks in between for cleaning and disinfection.
The center currently operates at 25% capacity, based on square footage, so all of the equipment is spaced apart accordingly. And, of course, there are far fewer machines in the building than there will be when it opens at full capacity.
For extra protection, plastic "pods" surround each cardio machine to create physical barriers between users.
"We are doing more than what is required because we want people to be comfortable and know that this is a safe space to work out," Sardinha says.
Five Years in the Making
The project took root in 2015 when student government leaders approved the concept. Then it traveled through a number of review committees, as well as various levels of university leadership, before design could start.
Hawkes, who joined NC State nine years ago, says the process was lengthy but necessary — and rewarding.
"I've been on major projects like this at other universities, and this has by far been the most positive experience I've had," he says. "The contractor and architecture team, and the university folks from the project management side of the house have been terrific to work with.
"Often when you get into big projects like this that are very complicated, conflict can happen. But for the design and construction of this center, everybody really came together and solved problems as a team. It really has been an amazing journey."
Also amazing is the fact that faculty and staff can enjoy the new center (and the entire 430,000-square-foot complex) for just a few dollars more each month than the current membership fee. Starting July 1, 2021, the employee fee will increase from $20 to $25 a month. This change aligns with the original agreement made with student leaders at the outset of the project.
"They said, when the building opens up, we just ask that faculty and staff memberships are equal to the fees students are paying," Hawkes says. "It's still the best deal in town."
Looking Ahead
The first few weeks of operation have gone well, Spivey says, with just a few minor hiccups that come with the territory of such a big construction project. Most importantly, the Wellness and Recreation team has been able to get a feel for operating the building, "which will help us in the future," Spivey says.
"We're excited to see it with all of the new equipment in and at full capacity," he says. "I am also eager to see how the facility can be used as a multi-use space. Because of the flexibility of the building, we have the opportunity to invite in campus partners to serve as resources for students, faculty and staff who use the facility."
The building's forward-looking design also will allow it to adapt to user demand and emerging fitness and recreation industry trends for years to come.
"It just feels amazing to have been part of something even greater than I could ever have imagined before I took this job," Hawkes says. "It's really fantastic."
This post was originally published in NC State News.