Community
Valvano Elected to Hoop HOF
Jim Valvano, the legendary coach who led NC State to a pair of ACC titles and the memorable 1983 NCAA championship, was elected as a contributor to the Hall of Fame, joining three other NC State legends: men's basketball coach Everett Case, player David Thompson and women's coach Kay Yow.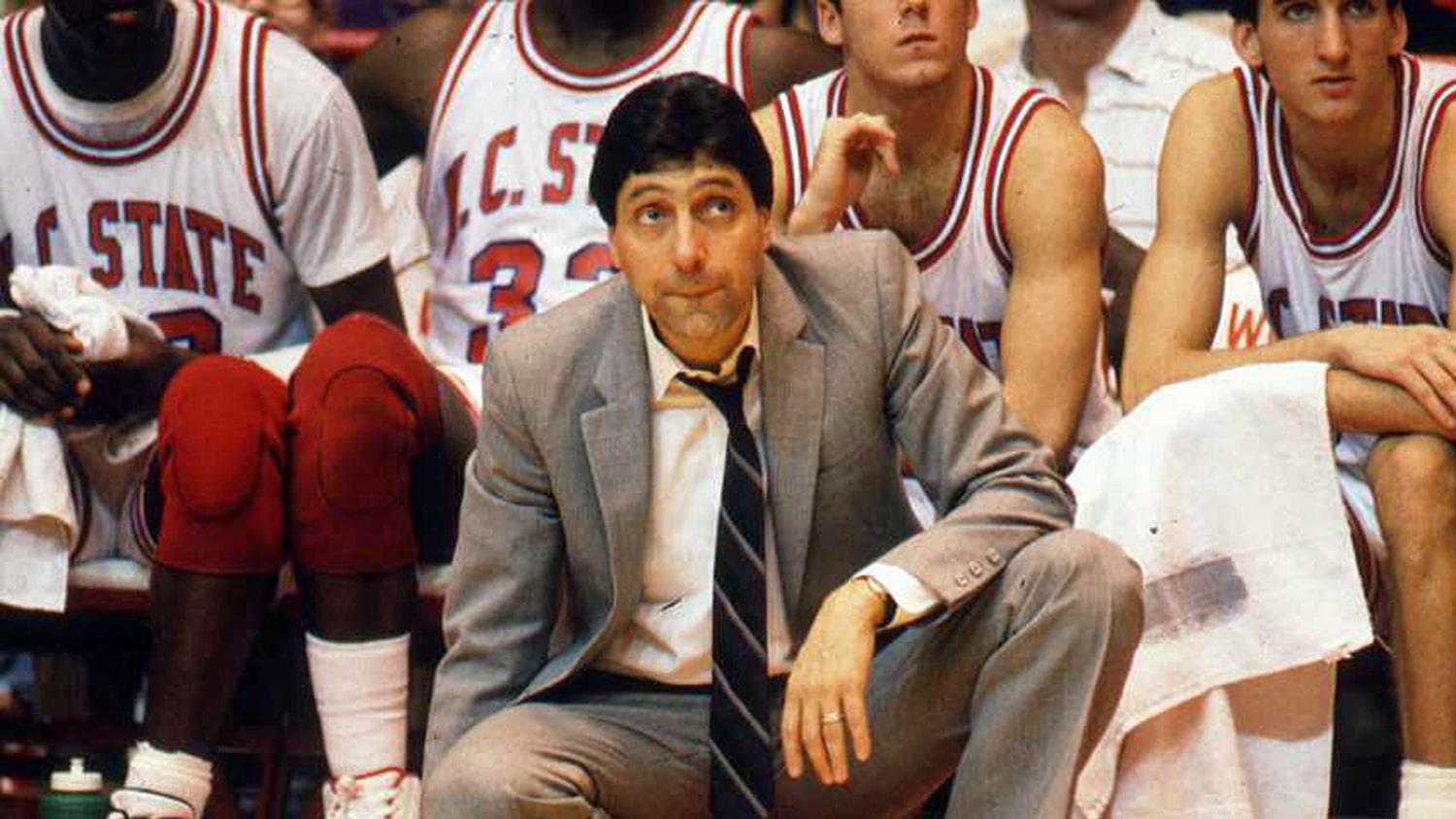 When former NC State basketball player Vinny Del Negro was a little-used freshman guard for the Wolfpack in the fall of 1986, head coach Jim Valvano took him home to Springfield, Massachusetts, to play in college basketball's best-known early season game: the Peach Basket Tip-Off Classic.
That's where Del Negro grew up, going down the street just about every weekend to play in some kind of pickup game, youth clinic or tournament at the Naismith Memorial Basketball Hall of Fame. It's a place where Del Negro's basketball-veteran father once worked, and a place where every young athlete in town could recite the famous story of how an International YMCA Training School director named James Naismith invented the game in the winter of 1891.
On Nov. 23, 1986, Del Negro had a spectacular collegiate debut in the Tip-Off game, scoring 17 points against Navy and its All-America center David Robinson in college basketball's first game with a standardized 3-point shot, which was 19 feet, 9 inches for every game.
That kicked off a successful career in which Del Negro became a Wolfpack star and a two-time All-ACC selection who won the Everett Case Award as the ACC Tournament's Most Valuable Player at the 1987 tournament in Landover, Maryland.
After his graduation from NC State in 1988 with a degree in speech communications, the wiry guard with a deadly shooting touch went on to have a decorated professional playing and coaching career, including jobs as the head coach of the Los Angeles Clippers and the Chicago Bulls.
Yet every time he went home to Springfield, Del Negro believed there was something significantly missing from his hometown's basketball shrine: a plaque honoring Valvano for the life he'd devoted to basketball.
That changed earlier this week, when the coach who led NC State to a pair of ACC titles and the memorable 1983 NCAA championship was elected as a contributor to the Hall of Fame, joining three other NC State legends: men's basketball coach Everett Case (1982), player David Thompson (1996) and women's coach Kay Yow (2002). All four were inaugural members in the NC State Athletic Hall of Fame in 2012.
"With those four people, you'd be hard pressed to find an institution or organization that has contributed more to the game of basketball," Del Negro says.
In all, the Hall of Fame announced 12 new inductees among its 2023 class this past weekend during the NCAA Final Four in Houston.
For the last two years, Del Negro has worked tirelessly to make sure Valvano earned his spot in the hall. It started last year, when a granite legacy bench was erected in Valvano's name in the Naismith Coaches' Circle Exhibit, one of 44 granite edifices located in a courtyard outside the hall's 40,000-square-foot facility.
Valvano, a Rutgers point guard who led his team to the NIT semifinals in 1967, was a valuable player, an accomplished coach and an entertaining personality during his cancer-shortened broadcasting career, but he likely did not have the merits for election on those accomplishments alone.
However, Valvano's dying wish was to help find a cure for the cancer that took his life, as well as the lives of Case and Yow. In the 30 years since Valvano established the V Foundation for Cancer Research, with significant support from ESPN and Nike, it has raised more than $310 million, giving most of its funds as grants to cancer researchers nationwide.
"To me, Coach Valvano embodied what sports are all about: leaving a lasting positive impact on the lives of those who play and who watch," Del Negro says. "Coach did that as a player, as a coach, as a broadcaster and especially with his idea to begin the V Foundation charity.
"I believe he would have been a Hall of Fame coach had he not died so early, but he still left a legacy that has continued until now and will continue forever."
Enshrinement Weekend is scheduled for Aug. 11-12 at the Hall of Fame in Springfield.
This post was originally published in NC State News.