Community
Ringing True: Legacy Families and the Class Ring Tradition
Legacy families spanning generations shared in the NC State tradition of leaving class rings inside the Belltower overnight.
For the Hunter family, being a part of the Wolfpack is second nature.
"We definitely have a sense of pride," said Dawne Hunter '93. "We have enough red, black and white clothes in our family that no one ever questions who we root for."
Their family's Wolfpack legacy spans 57 years. Three generations celebrated together by participating in a time-honored tradition: placing their class rings inside the Shrine Room of the Memorial Belltower.
"The ceremony wasn't around when Dad and I were here, so it's really special that we're allowed to put all four of our rings together in the Belltower overnight," said Dawne.
Olivia '21 and Grace '23 not only get to share their college experience as sisters, but also as teammates on the NC State gymnastics team.
"It's something you don't think about, but it makes you so proud now just knowing the grit that it takes for these girls," said their grandfather, Russell Daniel '70. "I think I was the academic version of Survive and Advance my first two years."
Now, Reynolds Coliseum is the place on campus that holds memories for the whole family. Russell has gone from seeing concerts as a student and Dawne's graduation ceremony in 1970 to watching his granddaughters compete in the space.
"Having them be on the campus that I was on, and I guess walk on the same bricks that I walked on. It's just the thought that they followed in my footsteps," said Russell.
---
In Memory of the Pack
Lana Camille '21 arrived at the Belltower with more than just her own class ring, but her late uncle's as well.
A die-hard Wolfpack fan to everyone who knew him, Johnny Elmore is celebrated by his family every year with a memorial tailgate.
A second tradition was born when Lana's older sister, Gus Camille '16, included Johnny's ring with hers during a 2016 Fellowship of the Ring ceremony. This time, it was Lana's turn.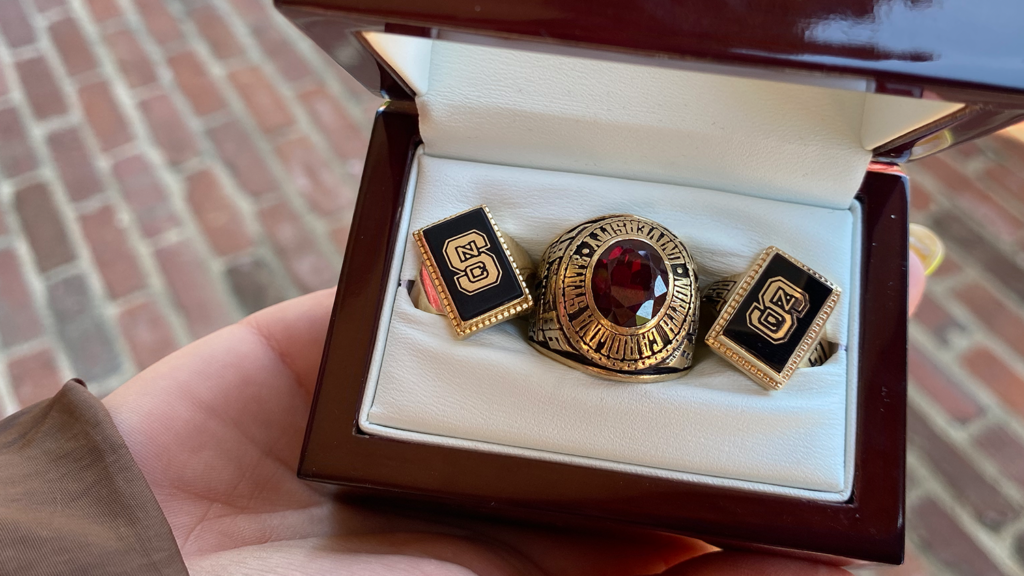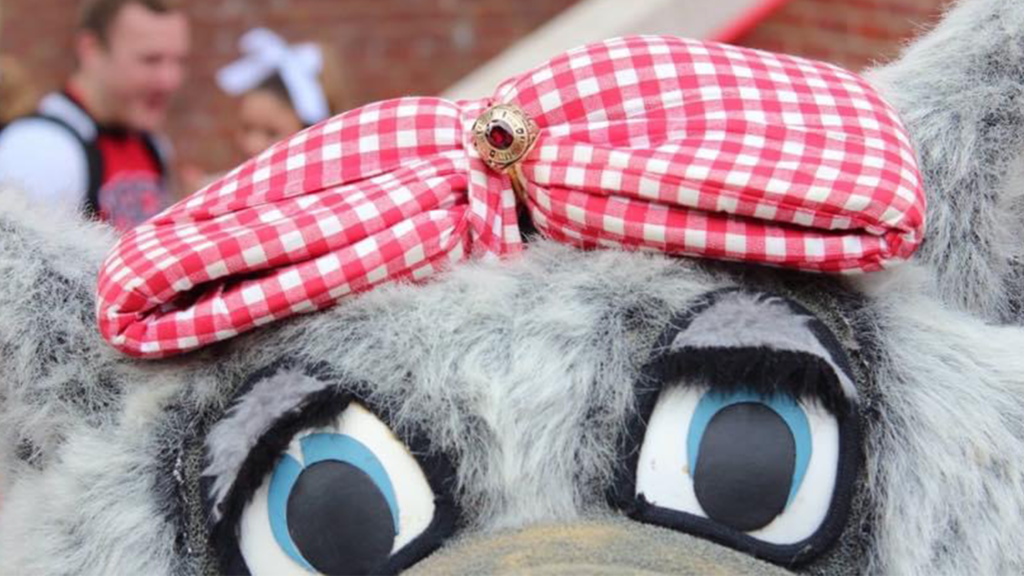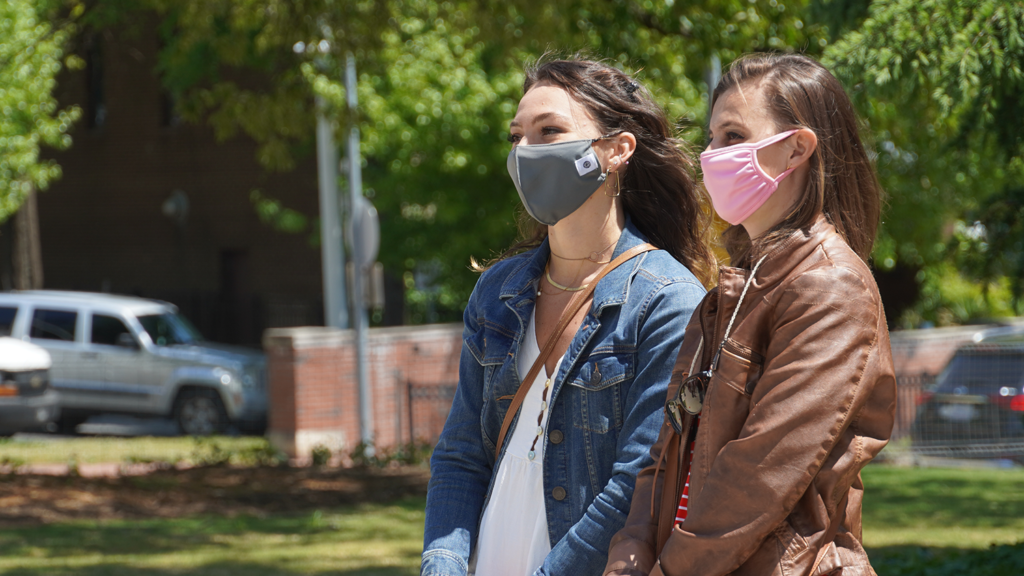 "We figured we'd continue to honor him and put it in the Belltower since he didn't get to do it. He'd be super proud of everybody and getting to spend the night in the Belltower twice," said Lana.
Before spending two nights in the Belltower, Johnny's ring had a unique view for hundreds of NC State events and traditions. As Ms. Wuf, Gus was able to choose a signature piece to wear with her outfit and added her uncle's ring to her bow for three years.
---
Wolfpack Connections
For many families, class rings are the cherry on top of years tied to the Wolfpack — a symbol of the time and spirit dedicated to the university.
State Mates Harry Nicholos '81 and Sarah Noell '84, '87 began their love story on campus and continued their Wolfpack legacy as employees with the NC State Office of Information Technology.
Both Harry and Sarah have spent over 30 years working for the university, experiencing the growth of the Pack firsthand — including the addition of their daughter, Emily '21.
With Dr. Stafford, the family entered the Belltower together to place Harry and Emily's rings side by side.
"I want to give Tom Stafford credit because he really makes this event that much more special. He does a great job of making you feel like a part of NC State," said Sarah.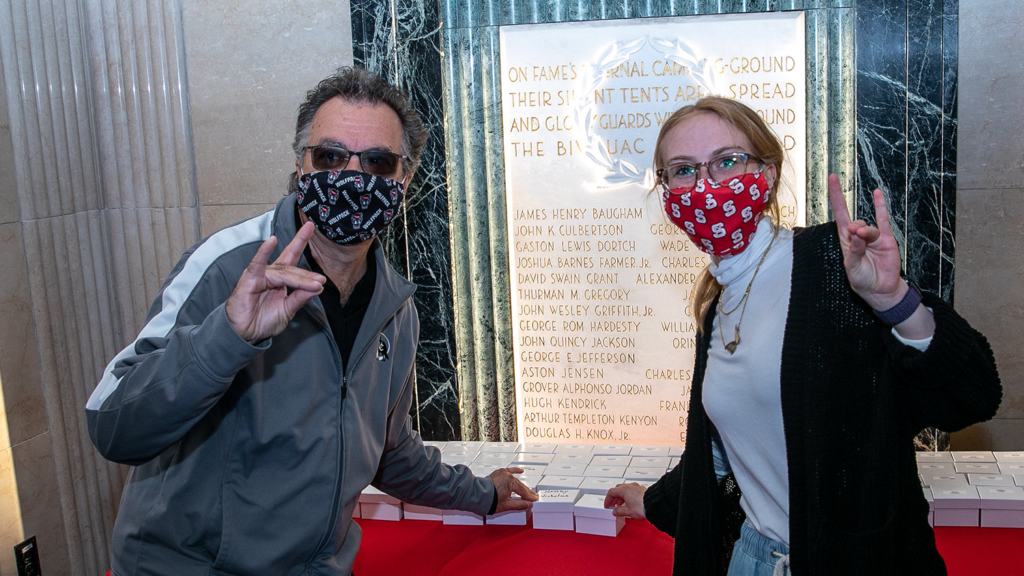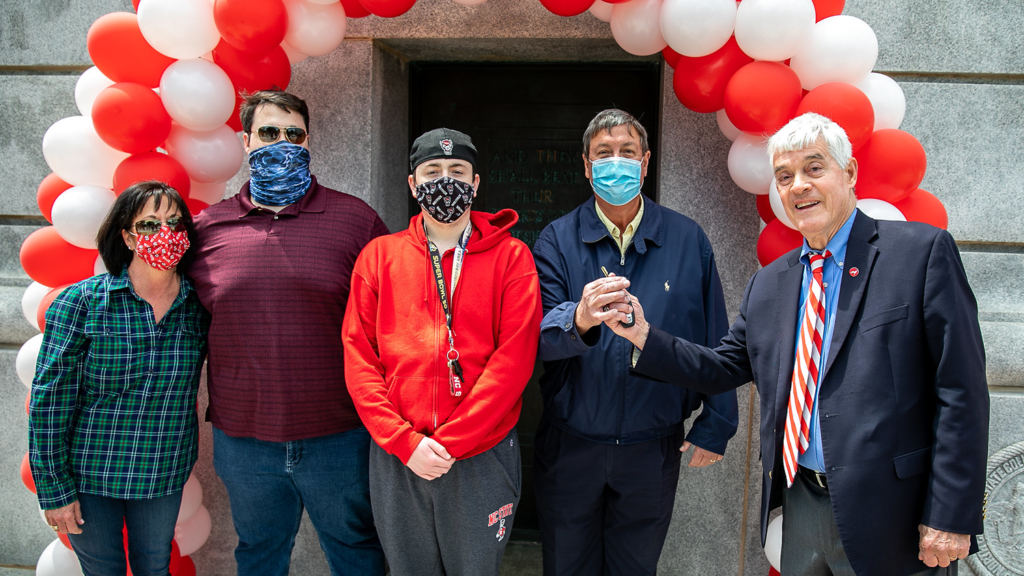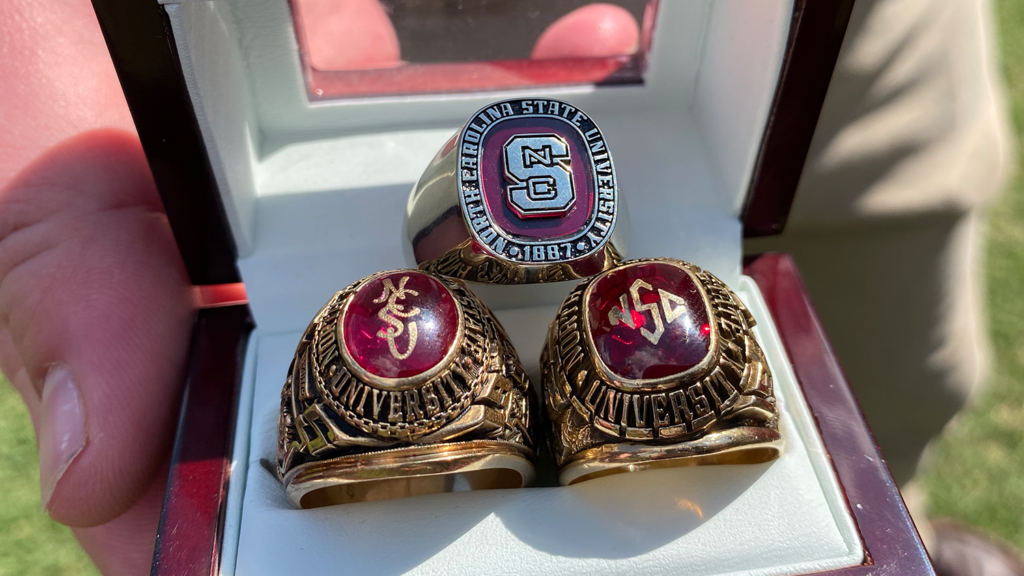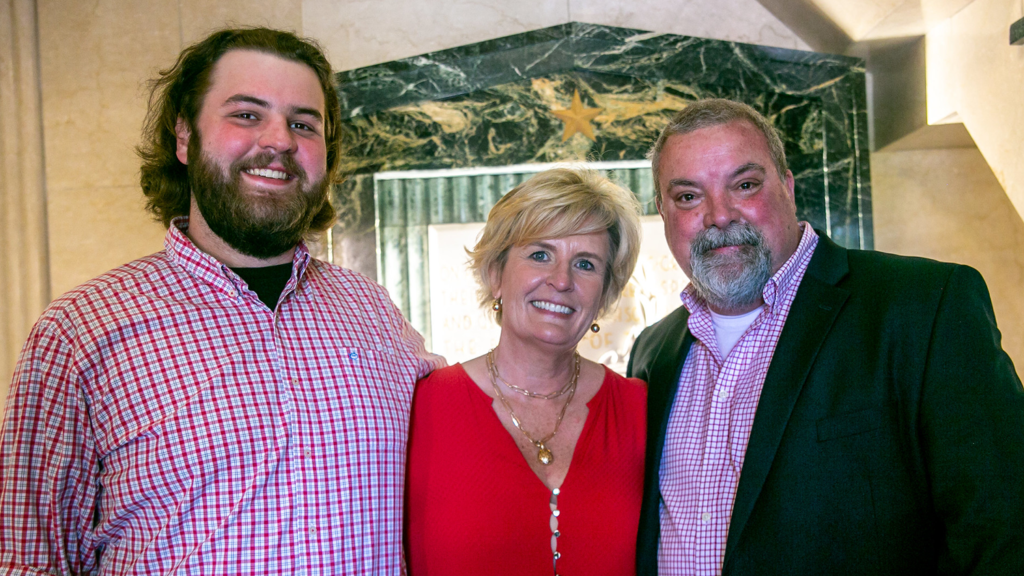 Paige Harris, former president of the Alumni Association Board of Directors and current leader of the Beaufort County Alumni Network, supporting the Wolfpack has always come naturally.
She returned to campus for the Fellowship of the Ring ceremony with three generations of the Harris family legacy: Simon '21, Scott '94 and Randy '68.
"It's the spirit of the Wolfpack. Once you're a part of the Pack you're always part of the Pack, so keeping that tradition and keeping that mindset going — especially now that we've got the whole family here for it," said Simon.
More than being a legacy family, Bill '81 and Frances Henry have left a permanent legacy on NC state's campus. It was their transformational gift that allowed the university to complete the beloved Belltower.
The project included the installation of 55 bells and upgrades to the surrounding plaza, which has been named Henry Square. The dedication of the Memorial Belltower at Henry Square will take place in May 2021.
Bill and Frances' son, William Henry '21, joined the tradition of placing his ring inside the Shrine Room with his family during the Fellowship of the Ring ceremony.
"Something like this really shows the amount of work I've put in and is the outcome of all the time I've spent up here," said William. "It's really nice to have sort of a trophy I can wear and show people my heritage here."
---
Family Heirlooms
Even though placing a ring inside the Shrine Room is a newer tradition, commemorating a degree from NC State with a class ring has been done by students for decades — and some of those rings found their way back home this semester.
Jack Edmondson '68 remembers picking out his ring inside the Erdahl-Cloyd Student Union.
Over 50 years later, that ring was placed inside the Belltower this semester by Jack's grandson, John Edmondson Jr.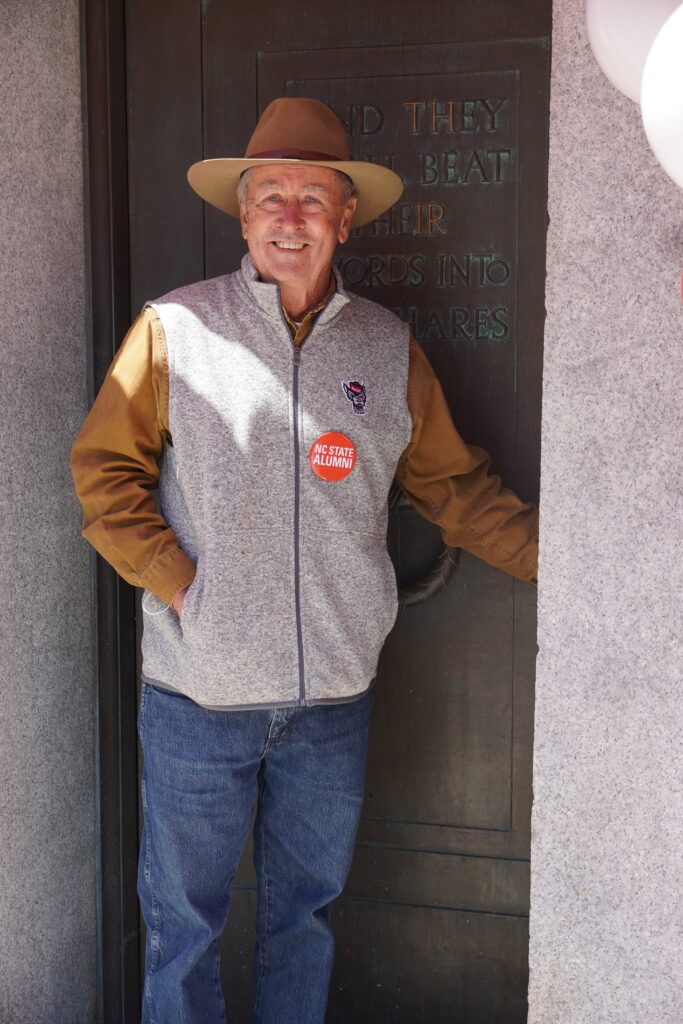 Like John, Grace Shields '21 also opted to place a family ring inside the Shrine Room. After the ceremony, she'll add her own graduation year to her mom's ring.
"It is so cool [to be here]. They didn't do this in the old days. Instead of buying her a new ring, she's got my ring," said Lisa Shields '86.
---
Lasting Tradition
The ritual of placing an NC State ring inside the Belltower has lasted over a decade, and legend states that when a ring emerges the next morning, it's infused with the spirit of the Wolfpack and the strength of past alumni.
The Fellowship of the Ring ceremony takes place every semester and is hosted by Dr. Tom Stafford, former vice chancellor of student affairs, and Benny Suggs, executive director of the Alumni Association.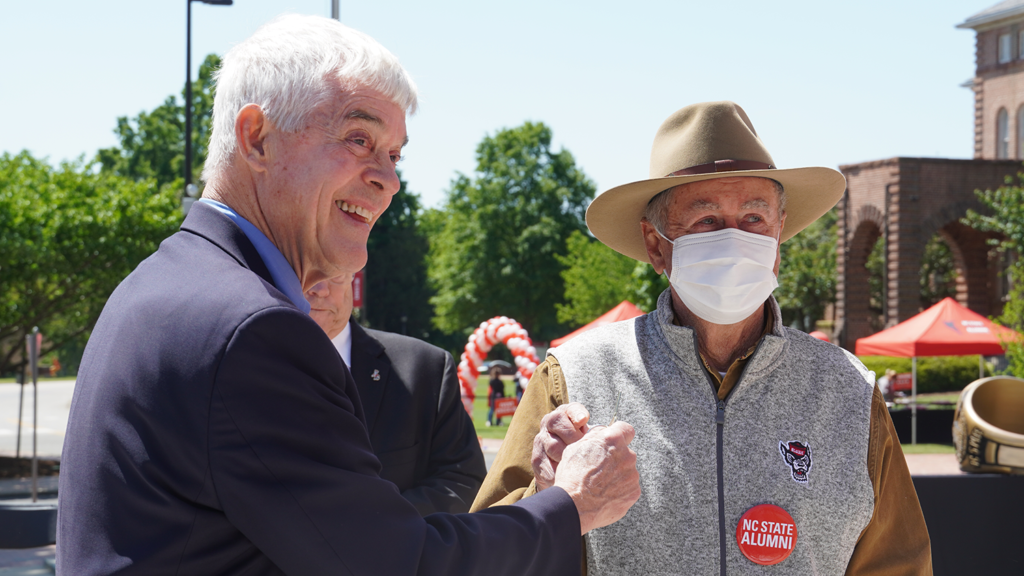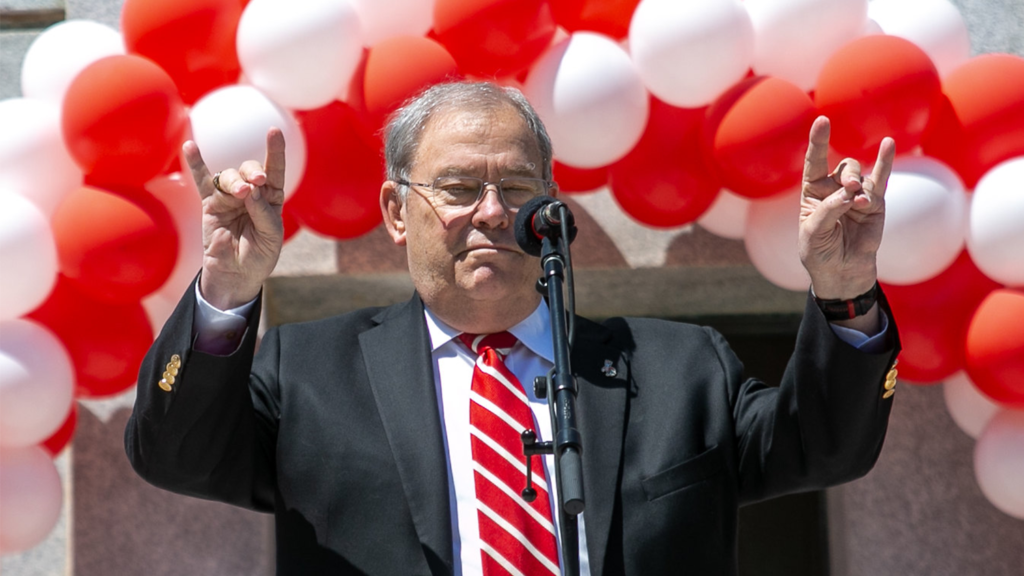 After the class rings have spent the night inside the Belltower, they are returned to students at a second ceremony. It's there that they see the rings for the first time and put them on. Due to the COVID-19 pandemic, this semester's ring ceremony was held virtually a few days after the Fellowship of the Ring event.