Community
Ringing in a New Chapter
The Memorial Belltower is NC State's most iconic landmark. For some alumni couples, it represents their commitment to the university — and each other.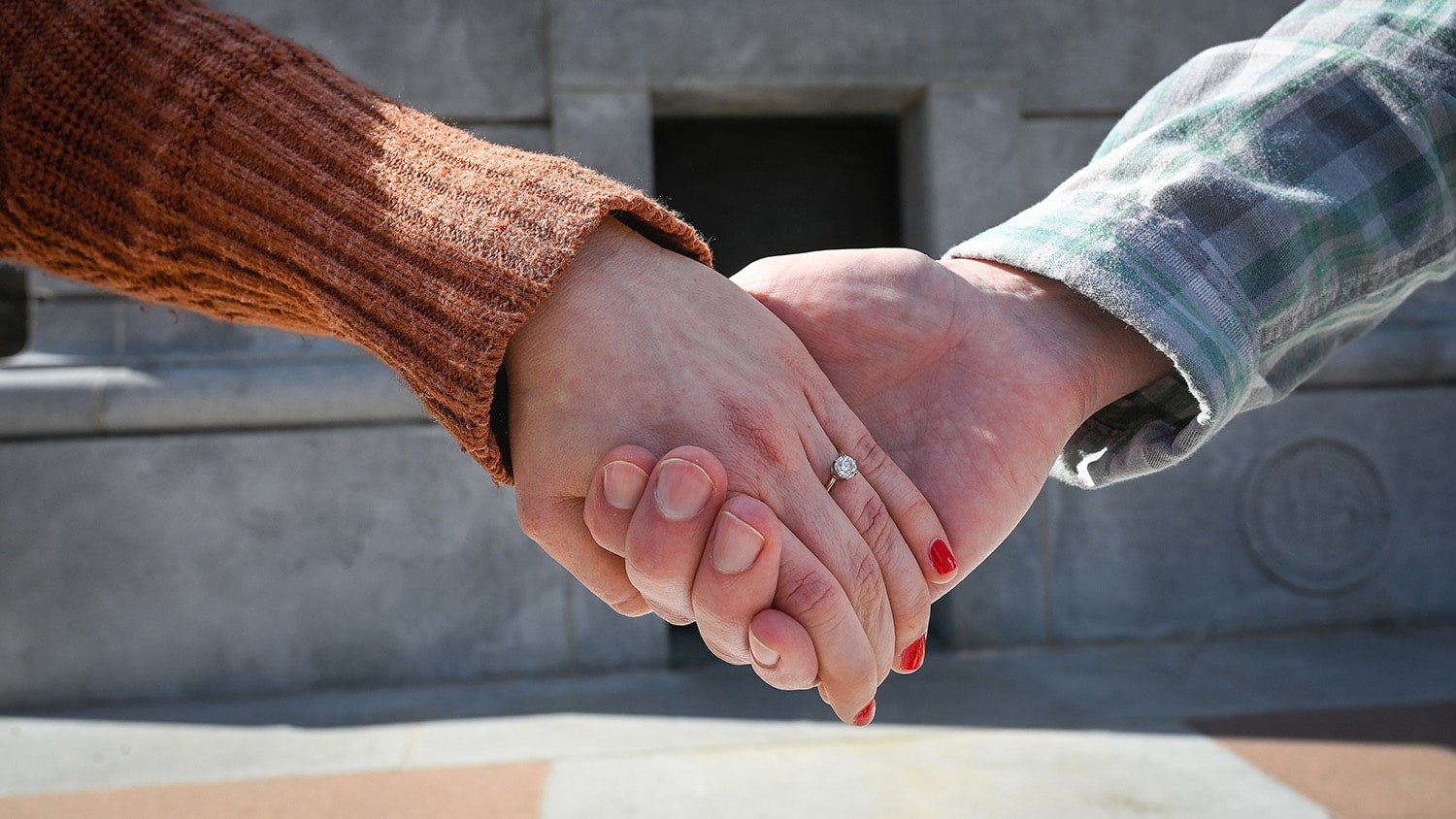 There's no better place to fall in love than NC State. Thomas Stafford, who served as vice chancellor of student affairs for nearly 30 years and now serves as NC State's unofficial Memorial Belltower tour guide, firmly believes that. He's even played a key role in several NC State love stories. Over the years, Stafford has helped coordinate seven proposals inside the university's iconic landmark. It started several years ago when a young alumnus asked his permission to propose to his girlfriend at the Belltower.
"I told him he didn't need anyone's permission to do that," said Stafford. "But I could offer him something that might be a little bit better."
He met the alumnus the day before the proposal and took him inside the Belltower. They left the engagement ring sitting overnight below the memorial plaque — which honors the 34 NC State alumni who lost their lives in military service during World War I — so it could soak up the spirit of the Wolfpack. Stafford met with him again the next day to hand off the key so the alumnus could propose in the Shrine Room.
"After I'd done two or three proposals like that one, I began to include those stories in my Belltower tour," said Stafford. "Over the years, hundreds and hundreds of people have heard me tell those stories, and they've spread through word of mouth. That's why I still get requests to do it."
Nick and Olivia: A Key Proposal
Nick Livengood '21 is one of the people who heard the proposal stories during one of Stafford's Belltower tours. He met his now-fiancee, Olivia Bradley '20, at Bragaw Hall when they were both first-year students at NC State. Last fall, when he was brainstorming proposal ideas, he knew he had the perfect spot.
"NC State is a place that formed the first couple of years of our relationship," he said. "The Belltower isn't going anywhere anytime soon, so I figured it could serve as a memento to us of, 'Hey, that's where we got engaged.'"
About two weeks before the proposal, Livengood told Bradley he'd signed them up for a Belltower tour. On the day of the supposed tour, he arrived early to pick up the key from Stafford.
When she arrived, Bradley was surprised to find she and Livengood were the only ones there.
"I handed her the key and said 'I was able to pull some strings. Why don't we go inside and take a look?'" said Livengood. "It worked out really well the way Dr. Stafford and I planned it, where the Shrine Room was nice and dark when Olivia and I opened the door."
When Livengood turned on the light that illuminates the plaque, Bradley saw her engagement ring sitting right in front of it. Livengood got down on one knee, and the rest is history.
There's a feeling of community at NC State that's unique compared to other college campuses.
Stafford says that when a ring — whether it be a class ring or an engagement ring — spends the night inside the Belltower, it becomes imbued with the unique characteristics of NC State. These characteristics — commitment to service, leadership and excellence — are what Livengood and Bradley love most about their alma mater.
"There's a feeling of community at NC State that's unique compared to other college campuses," said Livengood. "There's an unspoken theme of looking out for each other and being respectful. I believe that theme has been carried right into our relationship."
Mackenzie and Amber: Snow Place Like Home
In seventh grade, classmates Amber King '19 (nee Black) and Mackenzie King '19 used to Skype about wanting to go to NC State together. In a full-circle moment, they got engaged at the Belltower in 2018.
NC State is where we reconnected and became who we are as adults.
They had lost touch after ending up at different high schools. But during her sophomore year at NC State, Amber came across a Facebook photo of Mackenzie wearing an NC State meteorology T-shirt.
"I ended up messaging him on Facebook, and it turns out he'd just transferred from Appalachian State University that year," said Amber. "I asked him to get coffee, and we've been inseparable ever since."
They would often go on walks together around campus; Mackenzie would pick up Amber from class at Poe Hall and they'd pass the Belltower. One snowy January day during their junior year, Mackenzie asked Amber to go on a walk. He picked her up at Wolf Village and they headed toward the Belltower. But she sensed something was different this time.
"He kept fiddling with his pocket, and I knew it wasn't his keys," said Amber. "I could tell I was making him nervous because I kept asking what was in his pocket."
When they arrived at the Belltower, with snow swirling and students strolling all around them, Mackenzie popped the question.
"Being a meteorology major, the hectic weather was the perfect way to ask her to spend the rest of her life with me," he said.
The two got married in October 2019 and have gone on to pursue careers in public education and meteorology, but NC State is still their special place.
"It's where we reconnected and became who we are as adults. It's where we decided to start our lives together," said Amber. "And Mackenzie's family is from Raleigh and they're NC State born and bred people — they watch every football game and every basketball game. So it's home for us."
Jacob and Lauren: Drumline, Please
Jacob Weber '20 and Lauren Wright '13 both started school at NC State in 2009, but their paths wouldn't cross — at least not directly — for several years.
Weber, who was in the Army at the time, left school to serve in Afghanistan and returned in 2016 to complete his degree in civil engineering. In 2017, he met Wright on a blind date.
"A coworker of mine was dating one of his really close friends, so she set us up," said Wright. "But when we met, we were both like, 'You look so familiar.' We swear we had to have crossed paths at least once in the Brickyard. We're convinced."
They still bond over their shared love of NC State.
"We just love it. We love the close-knit community, the people we've met through State and our education. We wouldn't be where we are without it," said Wright. "NC State is in everyday conversation for us. We love going to games and keeping up with what's going on on campus."
Throughout the Belltower restoration project, she would send Weber updates about the anticipated arrival of the real bells. When he was preparing to propose last November, he knew the steps of the Belltower would be the perfect place to take the next step in their relationship.
To keep Wright's suspicions about the proposal at bay, Weber told her he was taking her on a day date. On their way to downtown Raleigh, he told her he wanted to make a quick stop at the Belltower to check out a new plaque honoring veterans that had served in Afghanistan.
"He tricked me. I know it's an alumni military memorial, so I didn't think much of it," said Wright. "When we got there, I was circling around the Belltower searching for this plaque that didn't exist. When I came back around, he got down on one knee."
I loved the proposal because NC State has always been a big part of my life.
That wasn't the only surprise Weber had for her that day. After the proposal, the NC State drumline came out and played. Wright, who was in the drumline for two years, was thrilled.
"I started jumping around and dancing when I heard the drums. This is always my reaction for NC State's drumline and marching band," she said. "Once Jacob told me they were there specifically for us, I cried. It was so exciting and special."
It's a moment she'll never forget.
"I loved the proposal because NC State has always been a big part of my life," said Wright. "My older sister and my dad also went to NC State. I got my class ring from the Belltower. And now I have my forever ring from the Belltower."
'The Most Sacred Place at NC State'
For Stafford, seeing a Belltower proposal never gets old.
"To me, these proposals make the Belltower an even more special place," he said. "It is the most beautiful, the most iconic and the most sacred place at NC State. People know that the tower represents NC State."
Stafford has been married to his high school sweetheart for 59 years and he wishes each couple that gets engaged at the Belltower an equally long, happy and productive marriage. He also hopes they continue to keep NC State close to their hearts.
"I hope they never forget their alma mater. The experiences they had at NC State have such a significant impact on the rest of their lives and careers," said Stafford. "The extent to which they developed here to become better people, better leaders and better spouses — all that happened right here on this campus while they were students."
This post was originally published in NC State News.