One Alumnus' Journey From Natural Resources to Social Media
Meet Eric Evans II, a 2017 alum who went from majoring in sport management to working as a social media specialist for NC State.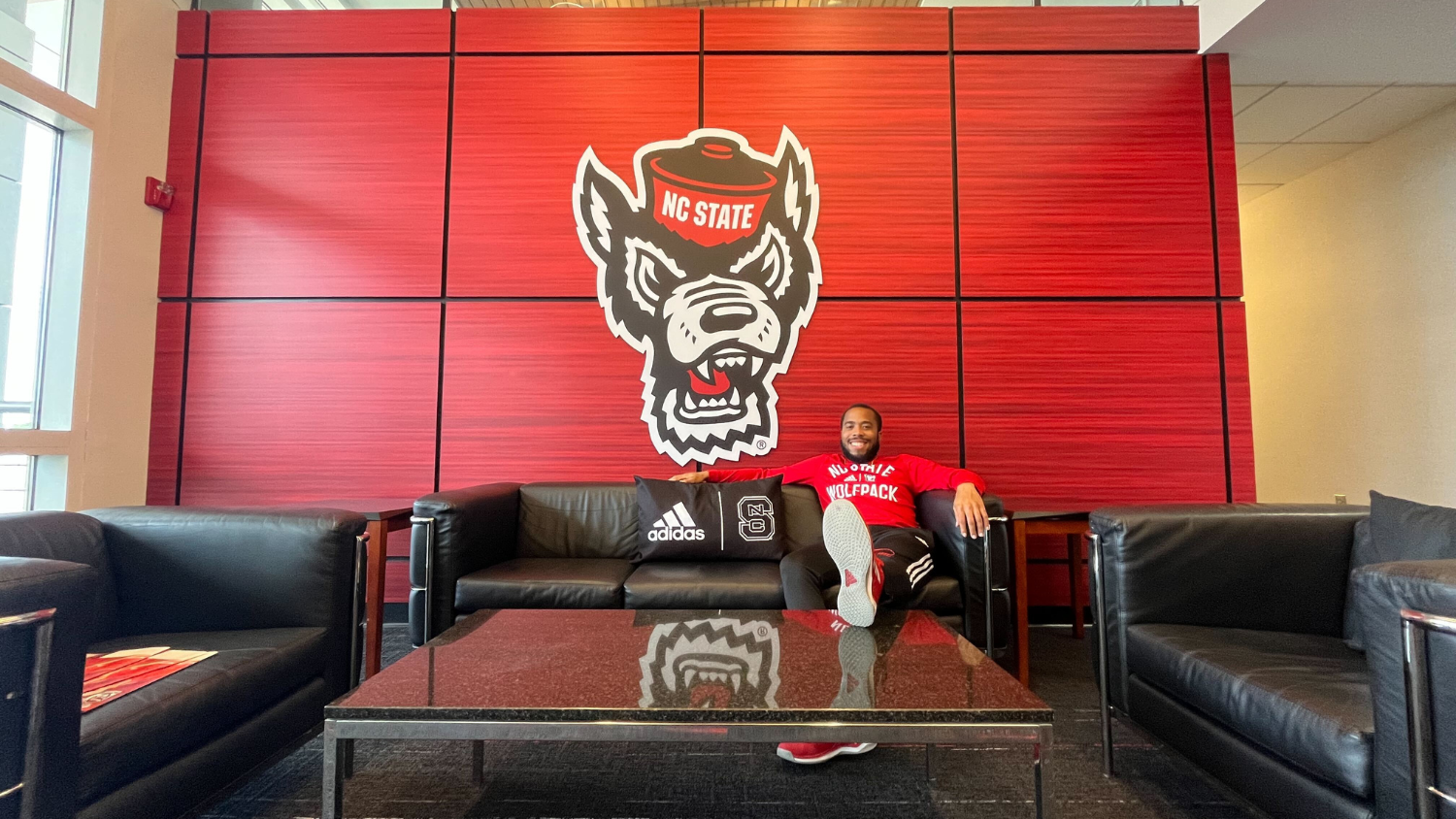 Making people smile and feel good about themselves has always been one of Eric Evans II's primary goals in life. Combine that with a talent for communications and a passion for sports and you have the unique career trajectory that the sport management alum took after graduation: becoming a social media specialist for the NC State College of Education.
"My favorite part of doing social media is seeing whoever I post's reaction," said Evans II, a 2017 graduate of the NC State College of Natural Resources. "When you do posts about students, especially graduation, they're all smiling and all happy. I'm a happy person and I love making others smile; I love interacting with people. If there's something I know I can do behind the scenes just to make a student, a professor or an alumni's day better, that makes me smile."
Finding a Place in the Pack
Growing up, Evans II really loved sports. "My first word was 'ball,' actually, so I kept that love throughout my life," he said.
When he was in elementary school, Evans II participated in the Durham Bulls Youth Athletic League and church league basketball, in addition to playing on his school's team. By the time high school rolled around, he started to explore career options with his school counselor. Evans II said he had an interest in civil engineering but wasn't so fond of science. And while he knew he loved all types of sports, he still wasn't sure what he wanted to do post-graduation.
After talks with his counselor, Evans II began researching careers in the sports industry and discovered athletic marketing and communications. Afterward, the decision to explore schools with a sport management degree was a no-brainer. "I started to look up sport management programs and saw that NC State College of Natural Resources had the best sport management program in North Carolina at the time, and I was like, 'Why not shoot for the stars?'"
When he started at NC State, Evans II joined the Engaging Leaders Program. The program aims to equip students in the College of Natural Resources with the confidence to collaborate with diverse communities. Each year, up to 20 students are selected to participate in the program.
"That program really emphasized the power of networking," Evans II said. "I would have to go to different events and network and go to different volunteer places to network. I would then take what I learned in the Engaging Leaders Program and apply it to the classroom because a lot of assignments in sport management require you to go out and get field experience."
For Evans II, this meant anything from attending a sporting event to writing a recap for his speaking and writing class to creating a risk management plan for his class on sport law. Learning to talk to people has been a crucial skill in his current role because he has to attend various student events to shoot photos and videos for social media. The program especially helped him gain the confidence to speak to strangers, which has proved beneficial when he has to interview alumni and students.
Discovering a New Path
While Evans II was still an undergraduate student, he volunteered with NC State Athletics. He started off assisting with marketing and eventually branched off into communications, where he discovered he really enjoyed social media. "I handled the social media for different athletic teams and I was able to be courtside to do stats," Evans II said. "This was a great combination of my love for social media, numbers and sports so I ended up going into athletic communications."
A couple of years after he graduated from NC State, Evans II was fortunate enough to come back and work for his alma mater, where he served as assistant athletics communications director for NC State Athletics. For the year he worked there, Evans II served as the primary contact for a variety of sports, including volleyball, rifle and softball, and he got to hone his skills in media relations, photography, and most importantly, social media.
While he enjoyed his role, the work-life balance with sports can be tough and he discovered he wanted a position that was more heavy on social media but that also gave him the ability to still support athletics. "I found that the Social Media Hub at NC State had an opportunity with the College of Education and I knew that they had an Education Appreciation football game, so I was like, 'This could be a good position for me to leave sports but I'm also still in social media and still get to interact with students.'"
Supporting the Future of Education
At NC State, there is a unit within University Communications known as the Social Media Hub. Here, many colleges and units each have a designated social media specialist, from the NC State College of Education to the NC State Division of Academic and Student Affairs.
Growing up, Evans II was one of those children who truly enjoyed school, so the role with the College of Education was a godsend. "I was one of those people who enjoyed most of my homework assignments, and it was fun to learn new topics," he said. "I knew the College of Education was all about teachers, principals and administrators making sure the education system continues to grow."
A typical day for Evans II starts at 8 a.m., when he reviews his emails and schedules social media posts out for the day in a social media management platform known as Hootsuite. He typically plans out content a week in advance and finalizes graphics for day-of posts. His next priority of the day is working on next-day content or whatever social media content is pressing at the moment. The rest of his day revolves around editing video for various social media channels.
With his role with the College of Education, Evans II has one of the most video-intensive roles in the Social Media Hub. It requires a lot of dedicated time to edit videos with audio, clips and b-roll footage, which becomes an Instagram reel or a polished "Ask the Expert" video for YouTube.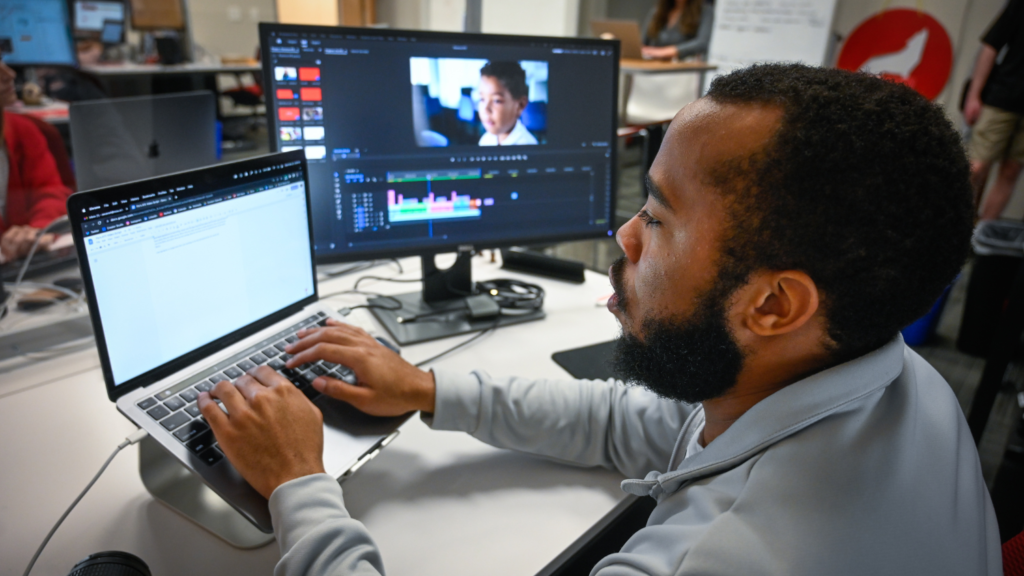 On other days, Evans II will walk around campus for "photo walks," where he essentially visits places like Poe Hall, home to the College of Education, and captures photos and/or quick video clips. Some of this content includes clips of students going to class and a visit to the college dean, as he never knows when he will need a photo or video clip for a social media post.
Event coverage is another essential aspect of Evans II's role. During a typical academic year, he attends university events like Wolfpack Welcome Week, Red and White Week and graduation ceremonies. "Every time I go to an event, I like to try to find some students who look like they are outgoing and I like to get them on camera first so other students can see what I'm doing," he explained.
Evans II's favorite part of his role is posting success stories of students and alumni and sharing about students receiving scholarships. He enjoys making students feel welcome and making sure they feel they belong in the college. He said it's important to show students, faculty and alumni that their hard work truly matters.
Making the Most of the Journey
In sport management and similar fields, gaining as much experience as possible during your undergraduate years and fostering lasting network connections is crucial, according to Evans II. As a student in the College of Natural Resources, Evans II said he visited his advisor's office frequently to talk about his degree plan and internship opportunities. Going to university athletic events and trying different departments within sport management, such as operations, marketing and communications, is also key.
"Really get in tune with and talk to your professors," Evans II said. "I really felt like my College of Natural Resources professors wanted the best for me, whether that was me staying in sports or leaving sports. They were always there to help me when I had a question."
Making sure you are attending different events held by the college is instrumental as well. Evans II said he encourages students to network with other students because they just might meet someone who knows of another internship or job opening.
"Go out and volunteer as much as possible," he added. "Yeah, you want to live the college life and you want to have fun, but it's something to show when you have a lot of experience, and in the sports world, it's really about who you know and who knows you. In athletics, if you work hard, I promise you people will put your name out there."
This post was originally published in College of Natural Resources News.