Our podcast continues the tradition of NC State magazine's rich storytelling through interviews with members of the Pack making the world an extraordinary place.
Go behind the scenes of our magazine stories and go more in depth with alumni, students and faculty sharing their achievements and unique experiences.
Scroll to listen to our most recent episodes. Subscribe to access all previous episodes of Hear the Howl.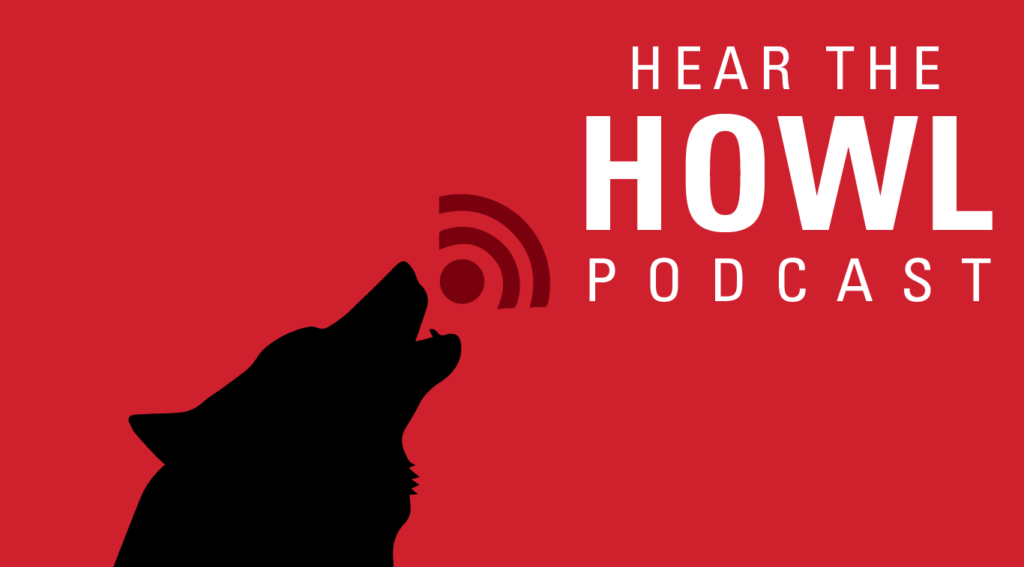 Season Two
Last Days of the Rhino
Documentary filmmaker David Hambridge '09 found the source for his first feature-length documentary in Kenya, following the last male northern white rhinoceros and the caretakers who protected him until his death in 2018.
Space Stories
Lisa Withers, a PHD student in the public history program, is no architect — but she is all about buildings and spaces around North Carolina. For the last year, she's been searching for sites that appeared in the Green Book, a publication designed for African-American travelers during the Jim Crow era. Photo credit: Linda Fox/North Carolina Department of Natural and Cultural Resources.
Big Cheese
Hannah Skillestad knew early on that her future was in food and the conquests associated with it. She won a Jell-O-eating contest as a kid. And as a student at NC State, the now-program assistant in Annual Giving took home the title in a pancake-eating competition put on by Owen Hall. However, no victory tasted as sweet–or, in this case, as savory–as the one she captured back in June at Cary's Pimento Cheese Festival. There, she was crowned champion and self-proclaimed Little Miss Pimento Cheese 2019.
Here to Volunteer
Courtney Simpson, the senior director of student support services programs at NC State, found a valuable sense of community after graduation. Learn how the Black Alumni Society (BAS) has played a major impact in her life and how it became one of the Alumni Association's strongest constituency groups, as they celebrate their 40 year anniversary this year, connecting some 15,000 members.
Dog Days and Double Plays
Donald Moore is in his 18th year as president and GM of Minor League Baseball's Greensboro Grasshoppers. Such a long tenure proves he knows how to sell a ticket to get people to First National Bank Field. He does it with the help of man's best friend. On this episode, Moore talks about what made him introduce the black Lab Miss Babe Ruth, pictured here, to Grasshoppers' fans and why he carries on her legacy with bat dogs at the ballpark.
Just The Beginning
Jim Prim spent his early days at NASA training astronauts for Project Mercury. He went on to serve as a crew integration engineer for the lunar module in the historic Apollo 11 mission in 1969. As we celebrate the 50-year anniversary of the U.S. putting the first man on the moon, this episode features Prim talking about working with astronauts and the time he even played one on television.
Going the Distance
Determined would be an understatement to describe Jean Driscoll, executive director of development for the College of Design. Born with spina bifida and having used a wheelchair for the last 30 years, learn how Driscoll's determination lead her to earn 12 Paralympic medals, two Olympic medals and compete in eight Boston Marathons.
Season One
Access our full catalog of alumni stories and tales from the NC State community by subscribing to Hear the Howl — available on all podcasting platforms.
Written and hosted by Chris Saunders, associate editor of NC State magazine.
Produced by Molly Donovan, NC State Social Media Specialist.