Community
NC State University Foundation Honors 2022 Godwin, Menscer Winners
Dewayne and Adama Washington and Fred and Barbara Wilson were honored for their extraordinary philanthropy and dedication to NC State.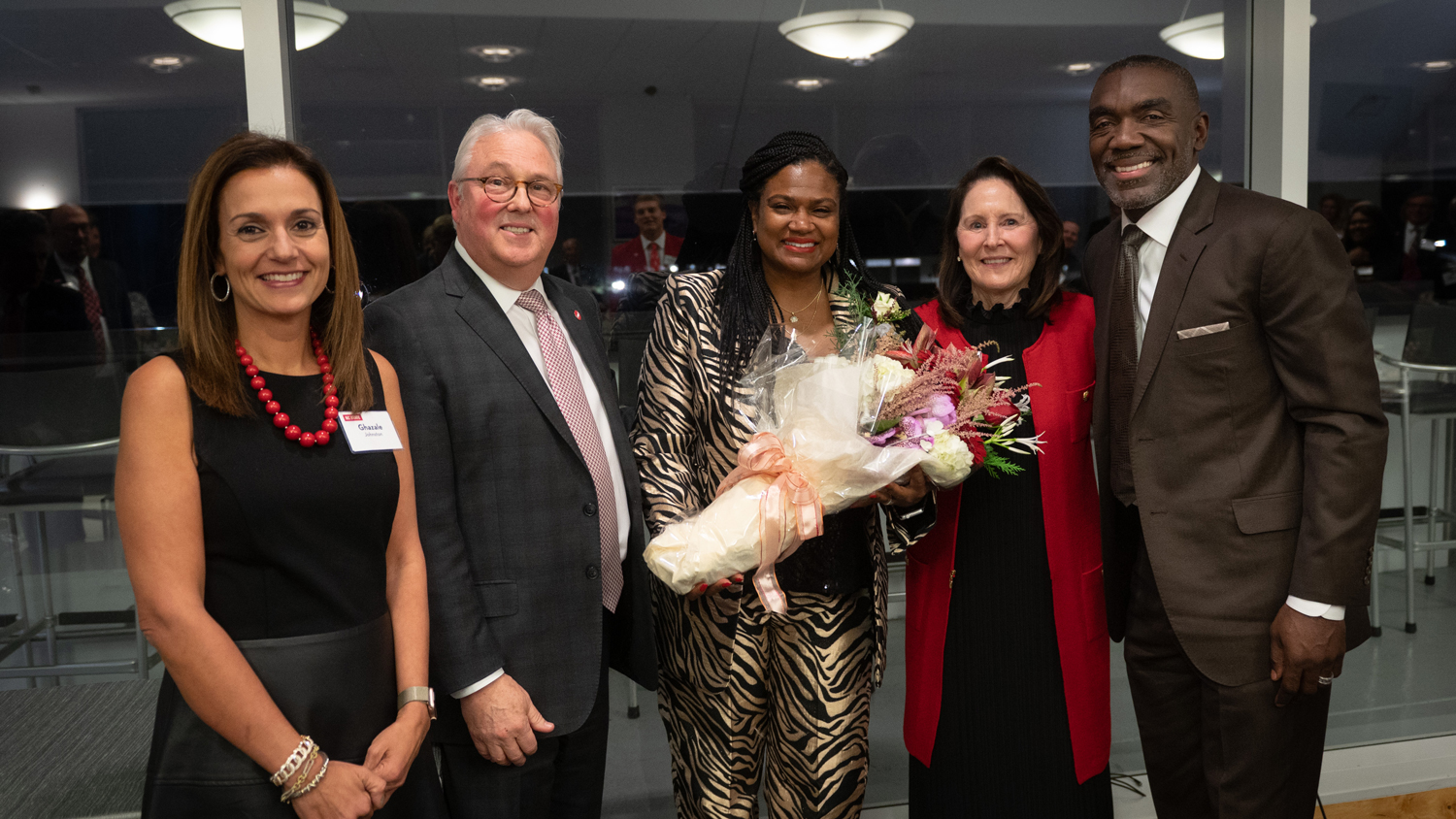 The NC State University Foundation held a special joint ceremony Dec. 8 to celebrate the 2022 recipients of its Jerry and Elizabeth Godwin Red Torch Award and its Menscer Cup Award. Dewayne and Adama Washington were the recipients of the former, with Fred and Barbara Wilson receiving the latter.
The event was held in Carter-Finley Stadium's Dail Club and was attended by the couples' friends and family members, college deans, faculty members and more.
Brian Sischo, NC State's vice chancellor for university advancement and, as part of that role, president of the NC State University Foundation, welcomed the attendees and gave a brief history of the awards before introducing Ghazale Johnston, chair of the NC State University Foundation Board of Directors. Johnston recognized previous recipients of the awards who were able to attend before inviting Chancellor Randy Woodson to the podium.
"It's an honor to be here tonight to help shine the spotlight on two couples who have truly gone above and beyond to help NC State," Woodson said. "Dewayne and Adama Washington and Fred and Barbara Wilson have not just given transformational gifts to areas of our university that are important to them; they have encouraged others to give by providing them with a lasting example of selfless support."
After dinner, Johnston and Woodson presented the awards and the recipients spoke.
The Washingtons
A native of Durham, North Carolina, Dewayne graduated from NC State in 2001 with a bachelor's degree in multidisciplinary studies from the College of Humanities and Social Sciences. A star cornerback on his high school football team, Dewayne was also an All-ACC selection and a three-year starter for NC State's football program.
Dewayne became a first-round draft pick and All-Rookie team member with the Minnesota Vikings in 1994 and eventually played for the Pittsburgh Steelers, the Kansas City Chiefs and the Jacksonville Jaguars before retiring in 2005. He served as the CEO and managing partner of the D. Washington Group and, later, the asset manager for Greenfire Development before beginning his current position as a partner at NSV Development.
Adama is a native of Lawndale, North Carolina, and graduated from NC State's College of Humanities and Social Sciences with a bachelor's degree in social work in 1997. She earned a master's degree in social work from the University of Pittsburgh in 2000 and is currently pursuing a doctorate in educational equity from NC State.
Adama has held several positions in the field of social work. She has been a Volunteer Guardian with the North Carolina Guardian Ad Litem program, which equips community volunteers to serve abused and neglected children by advocating for their best interests in court, and currently volunteers in local public and private schools. She is also a lecturer in NC State's School of Social Work.
Together, Dewayne and Adama have raised three children. Their son, DJ, graduated from the University of Miami in 2020 and works for JP Morgan in Miami. Their daughter Demi is a senior and basketball player at Vanderbilt University. Their daughter Delaney is a freshman at Georgetown.
Dewayne and Adama met while they were students at NC State and credit the university's extraordinary community — especially the small but tight-knit group of Black students who were enrolled at that time — with providing a strong sense of home for them on campus.
As a result of that bond with the university and their ongoing desire to build community, the Washingtons have given to numerous funds benefiting its current and future students, faculty and staff, including:
the Student Emergency Fund,
the Performance and Retention Fund,
the D. Washington Fund and Endowment,
the Washington Family Endowment,
and the College of Humanities and Social Sciences.
They have also supported the Wolfpack Club for 20 years.
The Washingtons' commitment to NC State Athletics and the College of Humanities and Social Sciences led them to make a $1 million gift during the university's Think and Do the Extraordinary Campaign that, through a bequest and current-use funds, will greatly impact these areas near and dear to their hearts.
The Washingtons' pledge is establishing the Adama Tyndle Washington Graduate Award Endowment and the Adama Tyndle Washington Undergraduate Scholarship Endowment, each of which will provide need-based awards to School of Social Work students, with preference for recipients who have demonstrated an interest in equity, diversity or social justice.
The Washingtons are also creating the Washington Family Scholars Network Endowment, designed to help the College of Humanities and Social Sciences enhance diversity and be purposeful in its recruitment, retention and support efforts — particularly initiatives focused on the Black and African American community. This endowment can also underwrite summer transitional programming for students, speaker events, career and professional development, stipends for faculty mentors or graduate student assistants and more.
The Washingtons' gift also named the Dewayne Washington Football Locker Room within the Murphy Football Center and supports student-athlete scholarships in the football program.
The Washingtons have generously given their time and talents to NC State as well.
Dewayne is serving a second term on NC State's Board of Trustees and has previously been a member of the Board of Visitors, the Alumni Association Board of Directors and the NC State University Foundation Board of Directors.
Adama has served on the CHASS Dean's Board and the Chancellor's African American Community Advisory Council, and she was a founding committee member of the Wolfpack Women in Philanthropy and Wolfpack Women: Strengthening the Pack initiatives.
The Washingtons are members of NC State's Peele and Pullen giving societies and previously received the Black Alumni Society's prestigious Becton Award, which is named in honor of Society founders Elwood and Diane Becton.
The Wilsons
A native of High Point, North Carolina, Fred graduated from NC State in 1961 with a bachelor's degree in textile chemistry. He went on to become chairman of the board of directors of Piedmont Chemical Industries Inc., a family-owned and -operated chemical manufacturer headquartered in his hometown. The business was founded by Fred Wilson Sr. in 1938 to support the local textile industry and, in addition to other products, manufactures a wide array of textile chemicals to address the wet processing of fiber, yarn and fabric.
Today, Piedmont Chemical is a global firm with production sites in North Carolina, South Carolina and Tennessee, additional manufacturing partners serving the Caribbean, Central America and Asia, and a diversified portfolio of products.
Together, Fred and Barbara are generously philanthropic to a range of educational and community efforts including NC State, High Point University and more.
Fred's son Frederick "Rick" Eugene Wilson III followed in his academic footsteps in 1987, graduating with a bachelor's degree in textile chemistry from the Wilson College of Textiles. Two years later, Cres Wilson Calabrese joined her father and brother in the ranks of the Wilson College of Textiles' alumni with her own bachelor's degree in textile chemistry.
Rick is now the CEO of Piedmont Chemical, and Cres is its vice president and chief strategy officer.
The latest member of the Wilson family to graduate from NC State is Fred's grandson Frederick "Rede" Wilson IV, who, in 2016, broke the mold just a bit by graduating from the Wilson College of Textiles with a bachelor's degree, not in textile chemistry, but in polymer and color chemistry.
Needless to say, NC State, and the Wilson College of Textiles in particular, has meant a tremendous amount to the Wilson family.
They, in turn, have given a tremendous amount back to their alma mater.
The Wilson family's history of philanthropic support for the university includes numerous gifts to:
the Dean's Textiles Innovation Fund,
the NC State Student Financial Aid Association,
the North Carolina Textile Foundation Support Fund,
NC State Athletics,
and more.
The Wilsons' generosity is perhaps best known by a truly transformative gift that was made in 2018 during the university's Think and Do the Extraordinary Campaign. The Wilsons were invaluable leaders of that historic fundraising effort through their $28 million naming gift to the Wilson College of Textiles — the largest in the college's 123-year history.
The distributions from the Wilson endowment are having a profound impact on the college's work. Just a few examples include:
enabling the college to pursue an embedded counselor to assist the college in strengthening its wellness programs;
providing professional development opportunities for students, staff and faculty members;
establishing collaborative research and innovation spaces;
and supporting the building of unprecedented community college collaborations.
The gift also led to the establishment of the new Wilson for Life program, which supports the college's 11,000 passionate alumni. Launched in August, the initiative is a collaborative effort that highlights the college's commitment to providing lifetime support to its students and alumni with differentiated, continuous and impactful learning and training, professional development and career support and worldwide networking experiences.
This incredible example of philanthropy goes far beyond its monetary value, though. Because of the Wilsons, the Wilson College of Textiles will continue to be a vital, vibrant leader in education, discovery and practical application of textiles innovation for years to come.
And it will proudly bear the family's name in perpetuity as NC State's second named college.
"When Fred informed us that he and his family had decided to gift our college with an unrestricted $28 million, perhaps even he didn't know the full impact they were about to have on thousands of people's lives," Dr. David Hinks, dean of the Wilson College of Textiles, said. "The Wilsons' transformational gift ensures the perpetual existence of the only remaining college or school of textiles in the Americas, which means that Wilson College will be forever supporting the U.S. textile and apparel industry, with its more than 500,000 workers.
"The Wilsons' passion for supporting local and North Carolina-focused causes and programs that they care deeply about sends a message to us all during the upcoming holiday season: that kindness and compassion and helping others is what truly lifts our communities," Hinks added.
The Wilsons have also played a major role in NC State's Guardian Wolves program. When the COVID-19 pandemic forced the cancellation of most public events in 2020, collegiate athletics programs all across the country faced serious financial challenges. A group of Guardian Wolves contributed at a significantly high level in order to keep NC State Athletics financially solvent and to balance the budget during that critical period.
About the Awards
The Jerry and Elizabeth Godwin Red Torch Award is named for Jerry and Libby Godwin, dedicated NC State donors who established an endowment for its support in 2007. The award recognizes former members of the NC State University Foundation Board of Directors, and members of their family, who have contributed their expertise, counsel or resources to further the mission of NC State.
Taking the total impact of a former board member's work into consideration, current or former board members may nominate that person by submitting a detailed rationale for the selection. The Foundation's Awards and Grants Committee then reviews the nominations and recommends an award winner.
The Menscer Cup, established in 1997 and also supported by an endowment, is presented by the NC State University Foundation each year to individuals or families exemplifying the extraordinary philanthropy, dedication and leadership of the foundation's former board chair Darrell Menscer and his late wife, Carolyn.
Individuals who have demonstrated outstanding philanthropy or fundraising leadership at NC State may be nominated for the award. Nominations may come from anyone associated with the university and must include a detailed rationale for the selection. Award recipients are then chosen by the Foundation's Awards and Grants Committee.
To learn more about the NC State University Foundation and these awards, visit giving.ncsu.edu/foundation.
This post was originally published in Giving News.