Community
More Than Money
To honor her late mother, alumna Alyssa Bowker and her husband are supporting students faced with challenging emotional and financial situations.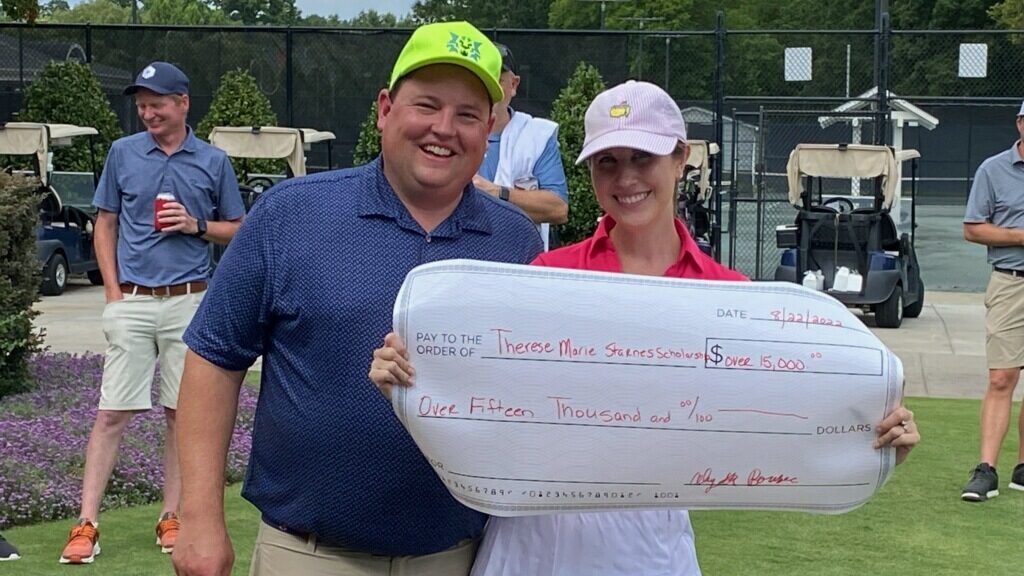 For most NC State freshmen, the first week on campus follows some typical patterns: meet new people, map out the buildings where each class takes place, maybe discover the best spot on Hillsborough Street to grab a quick bite to eat.
Alyssa Starnes Bowker, however, remembers that first week of college in a very different way — as the week her mother, Therese, passed away from breast cancer.
Therese Starnes, a former member of the U.S. Air Force, later worked diligently as an accountant and then a teacher. Most of all, Alyssa remembers her as a truly courageous and caring woman who relished her role as a mother to her and her sister.
"Everything about my mom was very charitable," Alyssa said. "Any time we could help someone, we did, whether it was just visiting them in hospitals or taking food in a time of need. Whatever we did or didn't have, it was always about what you could do for someone else to be there for them as that support."
The memory and inspiration that Therese left behind after her second battle with breast cancer shaped Alyssa into who she is — and what she values — today.
Years later, that inspiration would lead Alyssa and her husband, fellow NC State alum Kyle Bowker, to pay it forward with a scholarship to support students at the university facing challenges similar to those Alyssa once did.
Not Letting Anyone Fall Through the Cracks
Following her mother's death, Alyssa made the tough decision to stay enrolled in classes that first semester. However, with the sudden change of losing a parent, she found that coursework and even simple tasks became much more difficult.
Her family faced a major financial impact as well. High insurance deductibles and incidentals appeared quickly, while the luxury of financial support faded away.
Two caring professors played a key role in helping Alyssa make it through those early days in college, thanks to their kind words and actions. Largely on her own, though, Alyssa was able to push through and ultimately thrive during the rest of her time at NC State.
Not long after graduating with accounting and economics degrees in 2011, she met Kyle, who had received his construction engineering and management degree in 2008. With a shared love of the Wolfpack, the two were married in 2016. They took some of their wedding photos at the Memorial Belltower at Henry Square.
Their NC State degrees helped Alyssa and Kyle reap success early in their careers. When the time came to create their wedding registry, the couple made a pivotal decision by linking back to that generous spirit of Therese. In lieu of traditional gifts, the future Bowkers asked family and friends to donate toward creating a named endowment at NC State.
The endowment was christened the Therese Marie Starnes Scholarship. Once fully funded, it would be awarded annually to a student in the Poole College of Management or the College of Engineering, with a preference for a recipient who has, or has had, a parent battling cancer or another life-threatening illness.
This was a layered decision. Alyssa was acutely aware of the difficulties that surrounded losing her mom while in college, a major one being the financial impact. Kyle joined her in wanting to keep Therese's memory alive and include her in the celebration of the couple's marriage.
"[Kyle] actually had the idea to honor my mother, who he never got to meet, and help other students that were in situations like mine," Alyssa said.
Because of the unpredictable nature of cancer and similar illnesses, sometimes normal avenues of financial assistance cannot help students until a full year later. There is often a mid-year impact, as was the case with Alyssa, that is not taken into consideration.
The Bowkers recognized this specific and critical hole in funding that was created by an issue that had touched their lives. And they felt they could help fill it.
"It seems to be an underserved community of people that could really use the financial assistance that might not otherwise be recognized," Kyle said.
'I wish I'd had somebody to help me'
With the intent to speed up the funding process and grow the endowment, the couple started a charity golf tournament in 2017 in Charlotte. This tournament quickly became a successful vehicle for raising funds and growing awareness for the scholarship. The most recent iteration of the event in August 2022 raised over $20,000.
The Therese Marie Starnes Scholarship was fully endowed in 2017 and benefited its first scholarship recipient in 2018. To date, five scholarships have been awarded to three different students.
One of those students was Taylor Pellerin, a 2020 alumna of the Poole College of Management. Pellerin's mother passed away in 2016 from lung cancer. Through the difficulty of that time, she began looking for a fresh start and a new community.
When Pellerin transferred to NC State in 2017 after a year at another college, the change proved to be what she needed. She loved the campus and the community in Raleigh. She joined a sorority, met a lot of people and made many good friends. Her past experience, however, made it hard to open up fully to those around her.
"Losing a parent is not the first thing that you say when you start meeting new people," Pellerin said. "So when I came in and started making all these new friends, I felt like I had this secret that I wasn't sharing."
She was awarded the Therese Marie Starnes Scholarship in fall 2018, as its first recipient. For her, the scholarship was about so much more than just the funding.
"Obviously, with the money that I was awarded, I was able to provide textbooks or any other materials that I needed to help me get through," Pellerin said. "But emotionally, it was the first thing that I remember feeling connected with when I went to NC State."
Taylor and Alyssa were able to meet for lunch in Raleigh. Through their backgrounds, and made possible by means of the scholarship, an important connection was made.
"I wish I'd had somebody to help me or to talk to at NC State when I was going through it," Alyssa said. "The fact that I can connect with these other students and say: 'life will be OK, it does get better. I was able to do it, you'll be able to do it too'… it's comforting."
Through the decision of one couple — inspired by a loving mother's charitable spirit — current students are able to feel more at home with the Wolfpack. The Bowkers chose to embrace hard circumstances by giving back — and by doing so helped create a community within a community.
"I don't know that the impact is really measurable," Kyle said. "I mean, yeah, dollars and cents, but I don't think that's the way we're really measuring the impact."
And that's not how Pellerin measured it either.
Scholarship money is important on a variety of levels. But sometimes money is only one part of the equation.
"[Generosity] really spoke to who [my mom] was and I think it definitely shaped who I am in life and drives a lot of my decisions," Alyssa said. "It's very important to us what kind of legacy we are leaving and who we are helping."
This post was originally published in Giving News.