Community
Mira Abed '12, '19 Celebrates Multifaceted Passions with Big Impacts as Senior Chemist for L'Oréal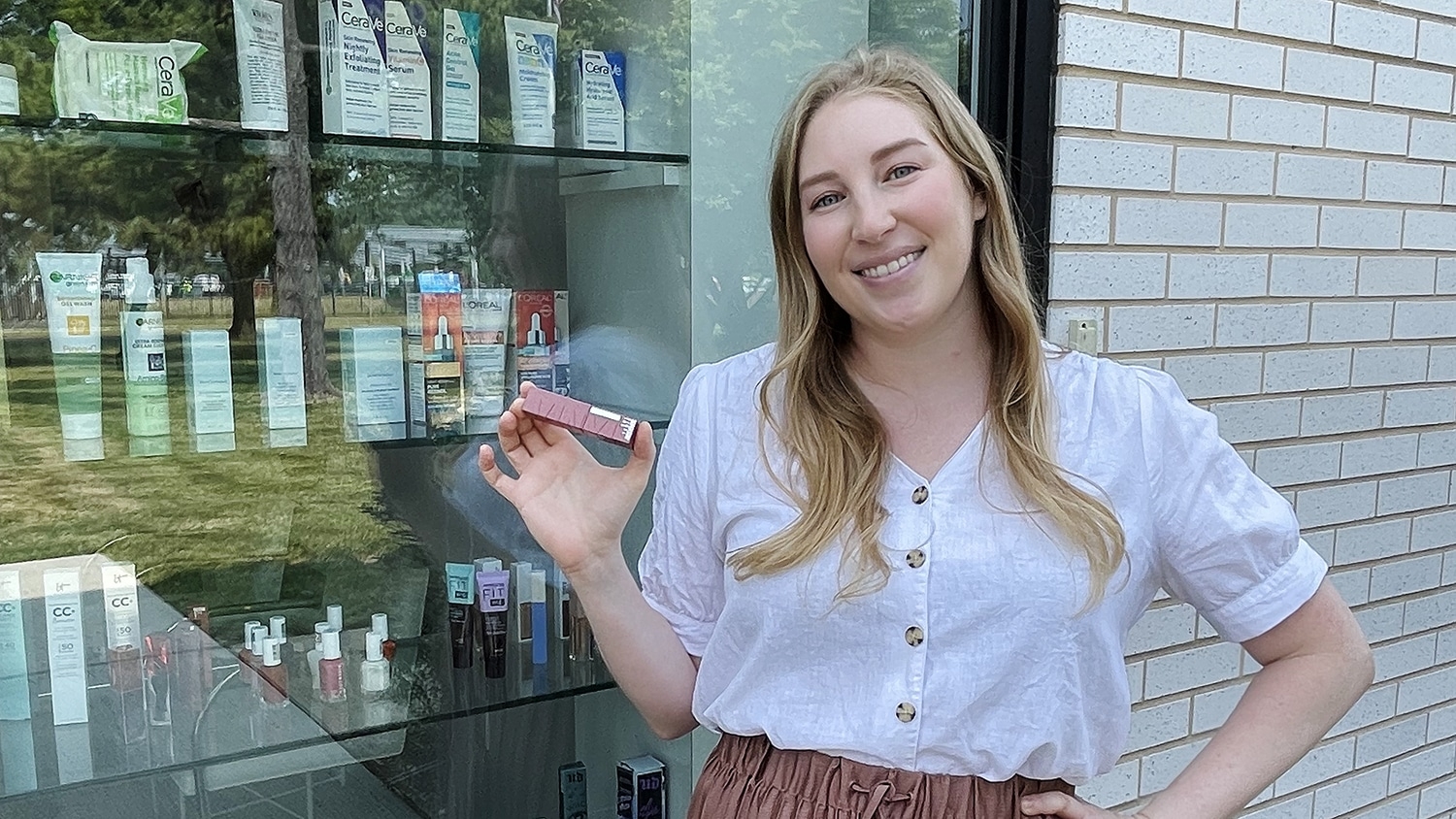 By Elyse Boldizar
For Mira Abed, the question of "What do you want to be when you grow up?" has always been changing. From politics and cooking to fashion and interior design, Abed has many interests. It was not until graduate school that she started pursuing cosmetic science, landing a role as a senior chemist for L'Oréal.
While this might seem disadvantageous to some, Abed is empowered by her multifaceted passions. With undergraduate degrees in international studies and polymer and color chemistry (PCC) as well as a Ph.D. in Fiber and Polymer Science under her belt, Abed credits NC State University and the Wilson College of Textiles for spurring her interests and showing how they are all interconnected.
Abed is a senior chemist for L'Oréal's makeup team, where she supports the formulation of all categories of makeup including foundations, mascaras, lipsticks and lip glosses. She uses her technical knowledge of cosmetic chemistry to help chemists analyze formulas and ensure a high level of quality for products before they are launched.
Tell us a little about your role as a senior chemist at L'Oréal. Why do you enjoy working there?
As a senior chemist at L'Oréal's campus in New Jersey, I get to work on all categories of makeup — foundations, mascaras, lipsticks, lip glosses, you name it. It's a lot of fun because we get to not only play with the texture, but also try to understand why the texture feels that way or why and how it looks that way.
After I started working, L'Oréal announced the L'Oréal for the future program which is a huge sustainability initiative, basically trying to respect planetary boundaries and make a lot more of our products from renewable resources and biodegradable materials. It really makes me excited and proud to work for a company that's doing things like that because I really value that the outcome of my work is used for good.
Did you always know you wanted to go into cosmetics?
I've always loved playing with makeup and cosmetics. Even before I started working at L'Oréal, I had a lipstick collection of between 100 and 200 lipsticks and lip products at any given time.
But I've gone back and forth between interests. I started out in high school wanting to go into interior or fashion design. I always liked doing things with my hands and I liked being creative. I also have always had this super intense curiosity; when something didn't make sense, I just really wanted to know why. That was the part of my personality that I just couldn't seem to shake.
I started my time at the Wilson College majoring in fashion and textile management because I was so fascinated with design and color, but I ended up switching my major to polymer and color chemistry because I realized that the underlying origins of color were so incredibly fascinating to me.
Later, in grad school I worked on a research project involving the sustainable dyeing of cotton with Dr. Ahmed El-Shafei, the program director for PCC. That's when I realized I wanted to start working on industrial technology and science that had a big impact.
Cosmetics is something that everyone uses every single day. What better place to have an impact on sustainability than something like the personal care that everybody needs?
How does your undergraduate degree in polymer and color chemistry relate to your role at L'Oréal?
Polymers are everywhere. Those fundamentals, even though you're learning them in the context of textiles, relate to every other industry that uses polymers.
The specifics are all different, but the general underlying principles are the same, and they translate incredibly well. I think that if I didn't have a background in polymer science, it would have been a lot harder for me to really understand cosmetics.
How did the Wilson College of Textiles prepare you for your career?
One thing I love about the Wilson College of Textiles is that the college is so focused on the industry and applying what you learn. Students are taught to really think about industrial factors, not just fundamental chemistry. So much of the industrialization process is thinking about your logistical constraints.
At the Wilson College, we learned from the very beginning to think about those things. Whereas I think in a traditional chemistry program, you really focus on the chemistry and you don't always think about industrial relevance. That focus on industry and the application really helped set me up for success.
What should students do to prepare for a career in cosmetics?
Be a consumer of cosmetics and understand what it is that you want as a consumer. The more you know the industry, the more you know what the consumer experience is like, the more you know what direction the science should go in to get the desired formulation.
Once I got into cosmetics, I realized how much being a consumer put me ahead of the game. I already had an idea of what certain textures should feel like. I knew the difference between a really light weight foundation and a really heavy full coverage foundation that you would put on for a wedding versus If I had never used those things before I wouldn't have known what to look for as a chemist.
What advice do you have for Wilson College students?
Take full advantage of where you are. The Wilson College is really an incredible place. You have really amazing faculty who are also incredibly down to earth and willing to get to know their students. One thing that I didn't really appreciate enough while I was in college is that you really get to mingle with people who are completely different from you, especially at the Wilson College.
You have so many chances to get to know other people from those other backgrounds and really learn from each other. You have chances to do collaborative projects, and those things just don't happen nearly as easily in the real world. So I would say take full advantage of all of the opportunities that you have.
This post was originally published in Wilson College of Textiles News.