Community
Meet the 2021 Mathews Medal Winners
The Mathews Medal recognizes graduating seniors who have made NC State a better place. Meet this year's recipients.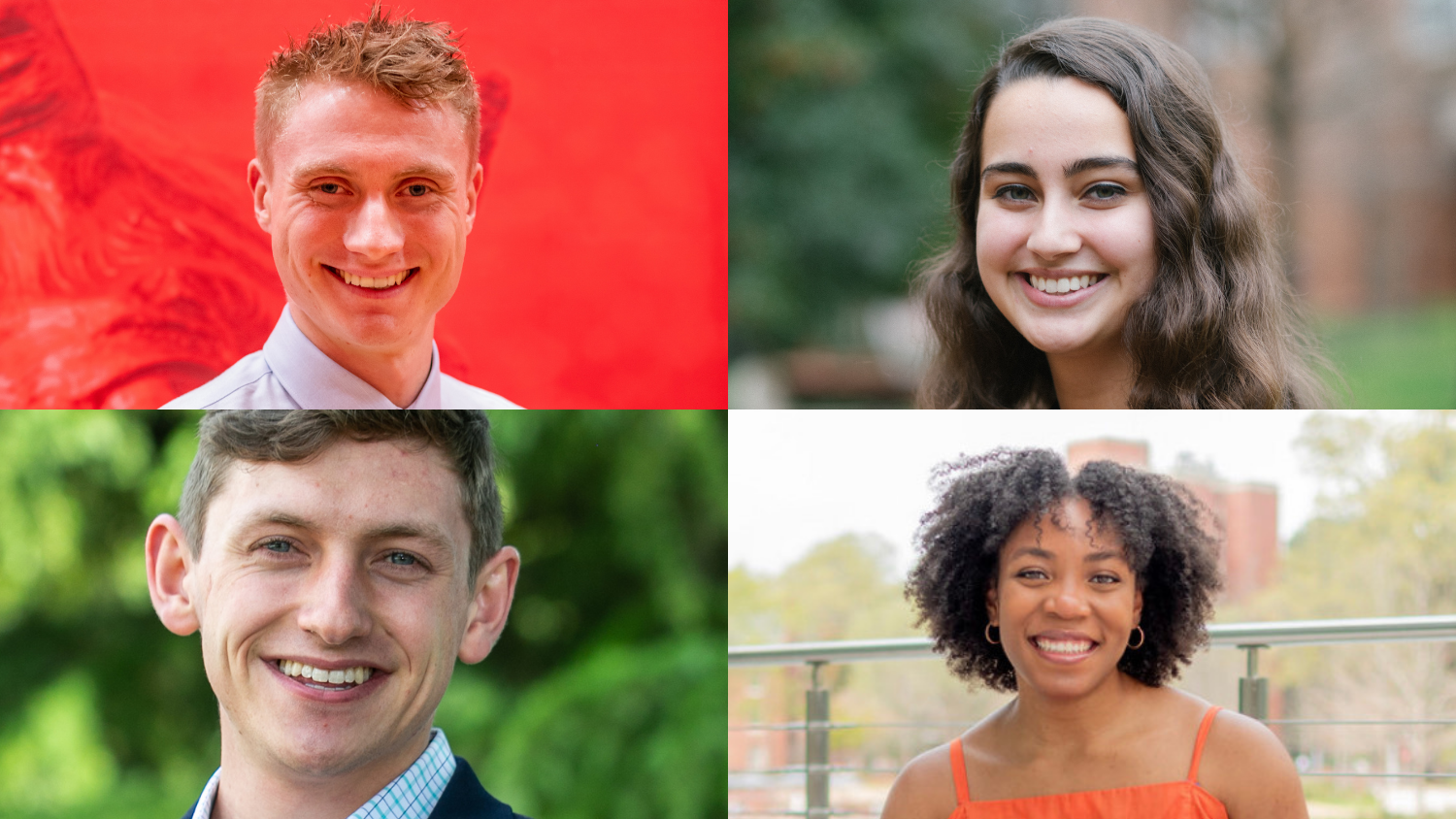 Named after Walter J. Mathews — the first student to arrive on the campus of the North Carolina School of Agriculture and Mechanic Arts in October 1889 — the Mathews Medal honors graduating seniors who have served NC State as student leaders and created a lasting legacy.
When the Alumni Association Student Ambassadors launched this student recognition, they chose Walter Mathews because of his lifelong involvement with NC State. The Mathews Medal has been awarded since 2006 to 61 students, including this year's recipients.
Loulou Batta
As a Goodnight Scholar, Loulou Batta has already embodied the scholarship's mantra: Pay it Forward. Her NC State resume is steeped in leadership with key roles on the UAB Diversity Activities Board, National Pan-Hellenic Council, Student Government, African Student Union, Alpha Kappa Alpha Sorority and Goodnight Scholarship Program. In her roles, Loulou has promoted student diversity and inclusion, and inspired others with her humility. She did all of this while serving as a teaching assistant and undergraduate researcher in the chemistry department.
"[Loulou] is one of those unique students who is both highly analytical and data-oriented, and also very intuitive and people-oriented. She demonstrates an incredible love of learning, curiosity and passion for using her talents to help others. She takes her responsibilities seriously, and can be counted on to exceed expectations for any task that is given to her. She demonstrates professionalism beyond her years," said Dr. Allison Medlin, director of the Goodnight Scholars Program.
Leon Krapf
Leon Krapf, a native of Germany, is the starting goalkeeper and captain of NC State's men's soccer team. And while his prowess on the field and in the classroom have earned him numerous athletic honors, Leon has made his mark at NC State through leadership. He has served as president and vice president of NC State's Student Athletic Advisory Committee and on similar committees with the ACC and NCAA. He provided student athletes a stronger voice in the activities and rules that govern them. He joined fellow campus athletes to form Pack United, a movement that promotes unity through diversity, equity and inclusion. In August, Pack United rallied more than 300 student athletes, coaches and staff.
"Leon spoke as an ally and gave the blueprint of how to lead with empathy. He was candid and vulnerable, and I have never seen him stronger. Many left inspired and will never forget that moment," said Raymond Harrison, NC State's senior associate athletics director.
Sasha Pereira
In her many campus leadership roles, Sasha Pereira has championed diversity and access. As a member of the University Honors Program, Sasha designed LEAP – Leadership, Engagement and Academic Participation – an outreach program that reduces barriers to honors education for underrepresented high school students. As a student representative on the DASA Academic Enrichment Programs Diversity Committee, Sasha worked with university staff to improve diversity and inclusion. She manages volunteers for and tutors at-risk K-12 students in STEM subjects at the Daniel Center for Math and Science. In addition, Sasha has led initiatives at The Science House, Service Raleigh, Feed the Pack, the Doris Duke Conservation Scholars Program, the Student Fisheries Society and the Environmental Student Association.
"Her commitment to NC State through the lens of championing diversity and access fulfills and furthers the mission of our public land-grant university. Her legacy will be felt long after she moves on to her next challenges," said Holly Hurlburt, assistant dean and executive director of Academic Enrichment Programs.
Matt Traenkle
For Matt Traenkle, a Park Scholar, leadership will be a legacy. As co-chair of the Park Philanthropy Council, Matt helped raise $765,000 for the Park Scholars Program from alumni and students during the 2019 and 2020 NC State Day of Giving campaigns, inspiring a culture of giving. He managed one of NC State's signature traditions, the Krispy Kreme Challenge, raising $175,000 for UNC Children's Hospital. As vice president and engagement manager for NC State's Consult Your Community, Matt helped select and manage diverse student teams to solve problems for local businesses. He's served as an ambassador for the Parks Scholars and College of Engineering as well as philanthropy chair for Beta Theta Pi, a fraternity dedicated to mutual assistance, intellectual growth, trust, responsible conduct and integrity.
"Matt has always worked towards not only living these values in his everyday life, but also leading with these values. His scholarly and service efforts are outstanding examples of his putting values into action," said Mindy Sopher, his faculty academic advisor.