Community
Full Court, Full Circle
Jalen Latta will leave NC State in May with two degrees and three ACC championship rings, thanks to his time as a manager for the women's basketball team. His success story also intersects with the 1983 Wolfpack men's NCAA title team – with one key assist connected to a member of that legendary squad.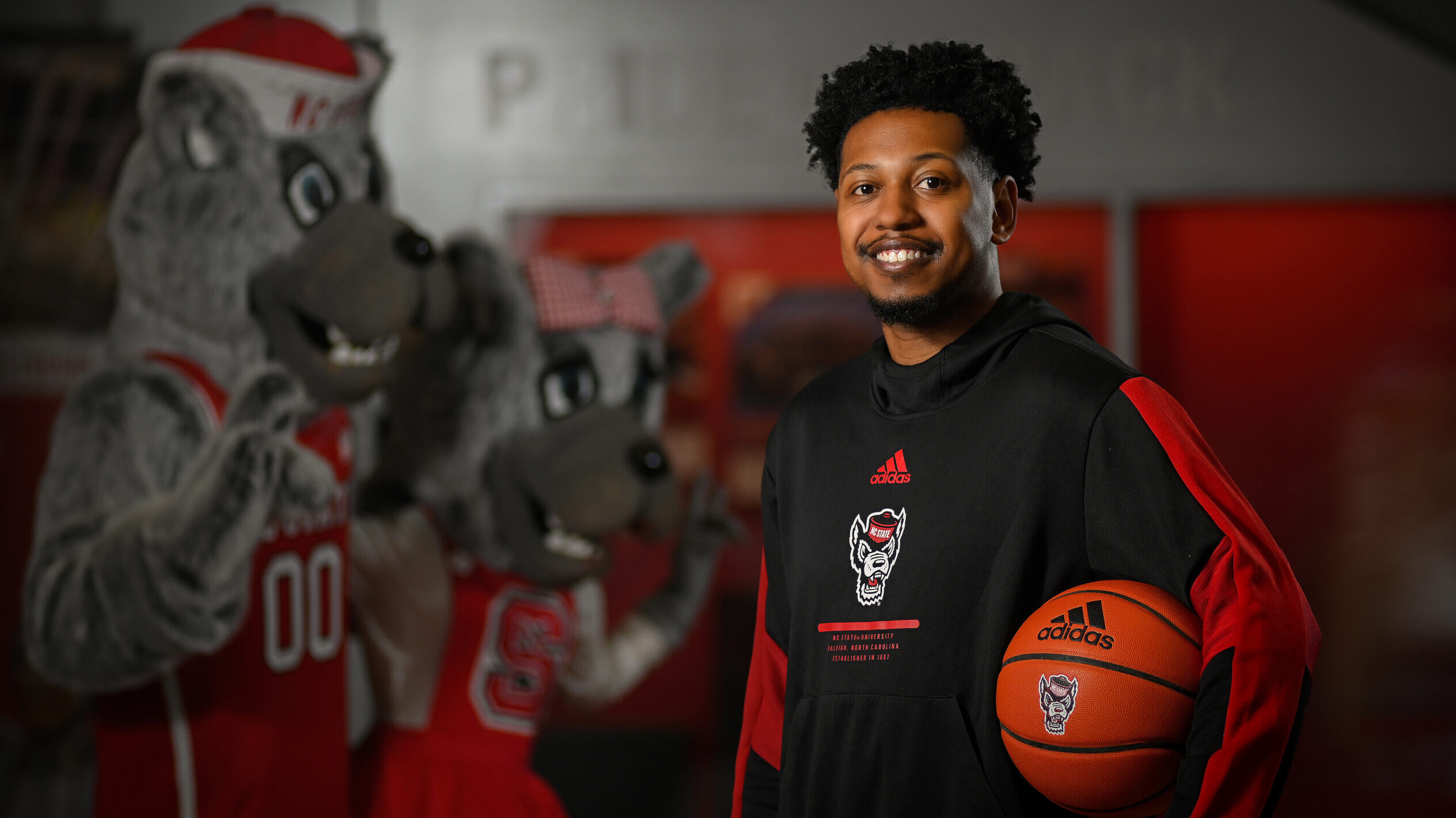 Since childhood, NC State graduate student Jalen Latta has loved basketball. Season after season, he played on various teams, often coached by his father.
Nothing unusual about that. Sports – played or followed – closely intertwines with memories, celebrations, disappointments and relationships in countless life stories.
Latta's basketball journey, though, has proven more uncommon than most.
A shared father-son passion helped shape the path. Bumps along the way included attending two other institutions after high school before finding a home in Raleigh. One road-not-quite-traveled branched off to an unexpected destination.
"This is a story about perseverance, tenacity and faith," said Jalen's mother, Ronice Latta. "It's a story about believing in yourself."
In May, Jalen, who grew up in Connecticut, will receive his second degree from NC State, a master's. He possesses three ACC Championship rings, well-earned not on the basketball court, but on the sidelines as a manager for Coach Wes Moore's women's program.
His journey has intersected – more than once – with a very well-known NC State basketball story: that of the underdog 1983 Wolfpack team that won the NCAA men's championship 40 years ago this week.
"It's a great full-circle story," Ronice said.
Flashing Back to the 1980s
Jalen's father, Lenwood Latta, joined the Shaw University basketball team in the fall of 1981, following two years at NC Wesleyan. He grew up in Oxford, North Carolina, always loving the sport.
A friend who worked on the nearby NC State campus suggested that in the early evenings, after finishing his classes, Lenwood head over to the larger school. Pickup basketball games in Carmichael Gym drew the area's top players. One court, in particular, was known for being the place where members of the actual Wolfpack team showed out.
"Everyone wanted to get on that court," Lenwood said. "I felt like I had the basketball skills to compete with those guys. I was from a small town and just really never got the opportunity to go to a big school. It was great for me to get to play some of these great players and see how I measured up – a confidence builder."
A 6-foot-3 guard, Lenwood was an outstanding three-point shooter. He made it onto the premier court at Carmichael regularly during his years at Shaw and for two or three years after graduation. "He loves to talk about those glory days," Ronice said, when he played against NC State standouts like Thurl Bailey, Dereck Whittenburg, Lorenzo Charles, Ernie Myers, Chucky Brown, Rodney Monroe and Chris Corchiani.
"I remember being out on the Brickyard when the '83 team won," he said. "It was crazy. They really earned that Cardiac Pack nickname. It was cool to have played against a lot of them."
In 1984, Lenwood completed his bachelor's in education, becoming the first man in his family to earn a four-year college degree. Eight years later, he ended up in Connecticut and met his soon-to-be-wife Ronice in church.
Long before NC State was on Jalen's radar, his father would tell him stories about his own college days on the basketball court. When ESPN's 30 for 30 documentary about the 1983 team, Survive and Advance, came out, he pointed out to his young son some of the men he had played against. Jalen loved it.
"My dad has been a big influence on everything I've done and someone I look to for advice," he said. "He speaks with a lot of wisdom, so when he tells a story I'm locked in. I know when we came to NC State for a visit, he was excited to be back in his old Raleigh stomping grounds."
Lenwood remains well known in basketball circles back home in Connecticut. He co-founded Stamford Peace, a successful AAU program, coaching Jalen there as well as in recreation basketball before becoming a high school assistant. Currently a sports director at a YMCA, he plays regularly and can still hit a sweet jumper.
But he never wanted Jalen to feel pressured to play basketball. Jalen competed in baseball, tennis and football, too.
"I joke that I realized basketball was going to be the main sport, the one that stuck, one day when Jalen was in about third grade," Ronice said. "I was watching him play baseball and he was in the outfield bouncing a pretend basketball with his mitt."
Jalen soon became a hoops standout himself.
"We had different games," Lenwood said. "I was a shooting guard who was expected to score. Jalen is much more of a true point guard. He's more athletic than I ever was."
He sheepishly admits that he also never pressured Jalen, whose summer hoops camps included one at Duke, to embrace the team he loved as a child: the North Carolina Tar Heels.
"I'm so completely NC State red now," Lenwood laughed.
As much as the family – which also includes Jalen's younger sister Jordan – shares a passion for sports, they also share one for education.
"Lenwood and I are both first-generation college graduates," Ronice said. "As a Black family, we know how important education is in elevating your economic circumstances. We wanted to pass the torch and we've always sacrificed to make sure our kids could go to college without racking up a lot of debt. We've tried our best to position them for success, to go higher and further. Jalen has raised the bar by getting his master's."
Finding A Second Family
Decades after his father played there, Carmichael Gym's basketball courts changed Jalen's life.
He long dreamed, his mother said, of playing Division I college basketball on scholarship. After high school graduation, though, he ended up at a Division III school in Massachusetts. Before long, the college basketball grind wore on him and kept him from his many other interests.
"He wanted to have a full college experience and after a while, he just didn't believe that playing on a basketball team, with all the hours of practice, working out, games and travel, was going to allow him to have that complete experience," Ronice said.
Jalen moved back home. He spent a year at a nearby community college while trying to figure out what to do next. A former guidance counselor from his high school helped him secure funds that would pay most of his way at just about any college.
He visited 10. The last was NC State.
"He and Lenwood flew there for a 24-hour trip and Jalen fell in love with the campus," Ronice said. "It was a perfect match. Sometimes it takes you a while to find where you are meant to be. At the end of the day, he didn't realize his dream to play Division I ball, but he still ended up in an elite program."
"God works in mysterious ways," Lenwood said.
Both Lenwood and Ronice have extended family in North Carolina, which eased their anxiety about Jalen being so far away. He headed to NC State in fall 2018 and asked his father for advice on meeting people.
Do what you have done your whole life, Lenwood said. Play basketball.
Jalen hit the courts at Carmichael. Not long after his arrival in Raleigh, he played a co-ed pickup game with a teammate that he described as a "lights-out shooter." Afterward, she approached him and told him she was a walk-on for the Wolfpack women's team. You are pretty good, she said, and we need strong practice players.
"My first reaction was naaaaw," Jalen said with a laugh.
"OK, how about being a student manager? I think we are having a hard time finding one," she said. Intrigued, Jalen submitted a resume and interviewed. He got the job on the spot.
"Right place, right time," Jalen said. "I didn't realize the magnitude of what it would mean for my future."
Being a student manager and then a graduate manager – a full-time role that has paid for his graduate school classes – for such a successful program has felt like something he had long prepared for. He has done everything possible to support the coaching staff, from scouting opponents, to player scheduling and daily updates, to planning and leading practices. He has been part of many great wins and a few disappointments and challenges.
"There's a real family atmosphere in this program," Jalen said. "I've always felt like I had a family here even though I'm 10 hours away from my actual home."
"I have a great group of friends here," he added. "At NC State, I've been pushed to do so much. The people, experiences, places … There's a long list of ways that NC State has been a blessing for me."
Ronice called her son's university experience amazing.
"Coach Moore is great. He has such love for the game and for the team, and that trickles down," she said. "Jalen being part of the program has been very exciting for all of us."
Completing a 40-Year Circle
Jalen did face a major obstacle completing his bachelor's degree in sport management, with a minor in business administration, in 2021. In addition to direct effects of the COVID-19 pandemic, and with the scholarship funds his guidance counselor helped secure exhausted, Ronice was laid off from a job she had held for 26 years. Here's where that 1983 team comes in again.
"It was tough. I told the coaching staff and everyone that I might have to leave school," Jalen said. "I was asking everyone about scholarships. Someone mentioned The Dereck Whittenburg Foundation. I went online and did the application. Without their support, I don't know if I would have finished."
Jalen became one of nearly 200 non-athlete students from seven North Carolina colleges and universities who have received a total of nearly $1 million in grants from the foundation since 2015, said Jacqueline Whittenburg, executive director and Dereck's wife.
"Supporting students like Jalen means the world, as they are our future," she said. "We champion giving every college student who puts in the work an opportunity to graduate and begin their journey to a better quality of life. Our mantra is 'Dream. Believe. Work. Now Finish,' and that's why our focus is on juniors and seniors who find themselves in a situation where they need a push to cross the finish line.
"Jalen is like the other Dereck Whittenburg Foundation scholars from NC State and has not disappointed us in his journey to greatness. He continues to make us proud of his character and his gratitude."
At NC State, the foundation, which spearheads a number of fundraising efforts, has made grants to students in at least four colleges. Dereck currently serves as associate athletics director for community relations and fundraising at NC State.
The Lattas remain grateful for the assist and the Whittenburgs' mentorship of Jalen.
"To know someone so legendary is helping students like me was surreal," Jalen said. "I had seen him around, but then I got to officially meet him. And for it to be someone who my dad played pickup against so long ago, that was cool too."
Ronice and Lenwood have watched most of the Wolfpack's games on television, excited whenever they see Jalen on the bench. They loved watching all the ACC Tournament victories and have attended NC State's games at Boston College and last year's NCAA tournament game at the University of Connecticut.
There, Jalen reintroduced his dad to Myers, another 1983 player who currently does radio broadcasts for NC State.
"He is such a good guy, so cool. We chat a lot," Jalen said of Myers. "He told my dad, 'You do look familiar. I think I remember your jump shot.'"
Jalen is finishing his Master of Arts in Liberal Studies with a concentration in communication, leadership and sport. His parents are proud of the young man he has become in Raleigh.
"He's leaving NC State with an incredible education, memories and more," Ronice said. "So much has been poured into him at NC State. We can't wait to see what he does next."
For his part, Jalen is not yet certain what that will be. Coaching is one option and over the weekend, he was in Dallas at the Final Four, where many staffing connections get made. With a lot of interests in photography, social media, organizational operations and more, he might end up pursuing the marketing or business side of sports. Whatever comes, NC State has prepared him well.
"I prayed a lot about where I might end up and I wouldn't change any of it now," Jalen said. "I made the best decision of my life coming here. My life trajectory has definitely been pushed in the right direction. I hope I can be a role model to younger students. I want them to know they can get there, too."
This post was originally published in Giving News.