Community
From Textiles To Advocacy: Passionate Volunteer Johnny Chapman '85 Pays It Forward In Meaningful Ways
Johnny Chapman's long-standing involvement with NC State and the Wilson College of Textiles has led him to pave the way and create spaces of belonging at his alma mater and beyond.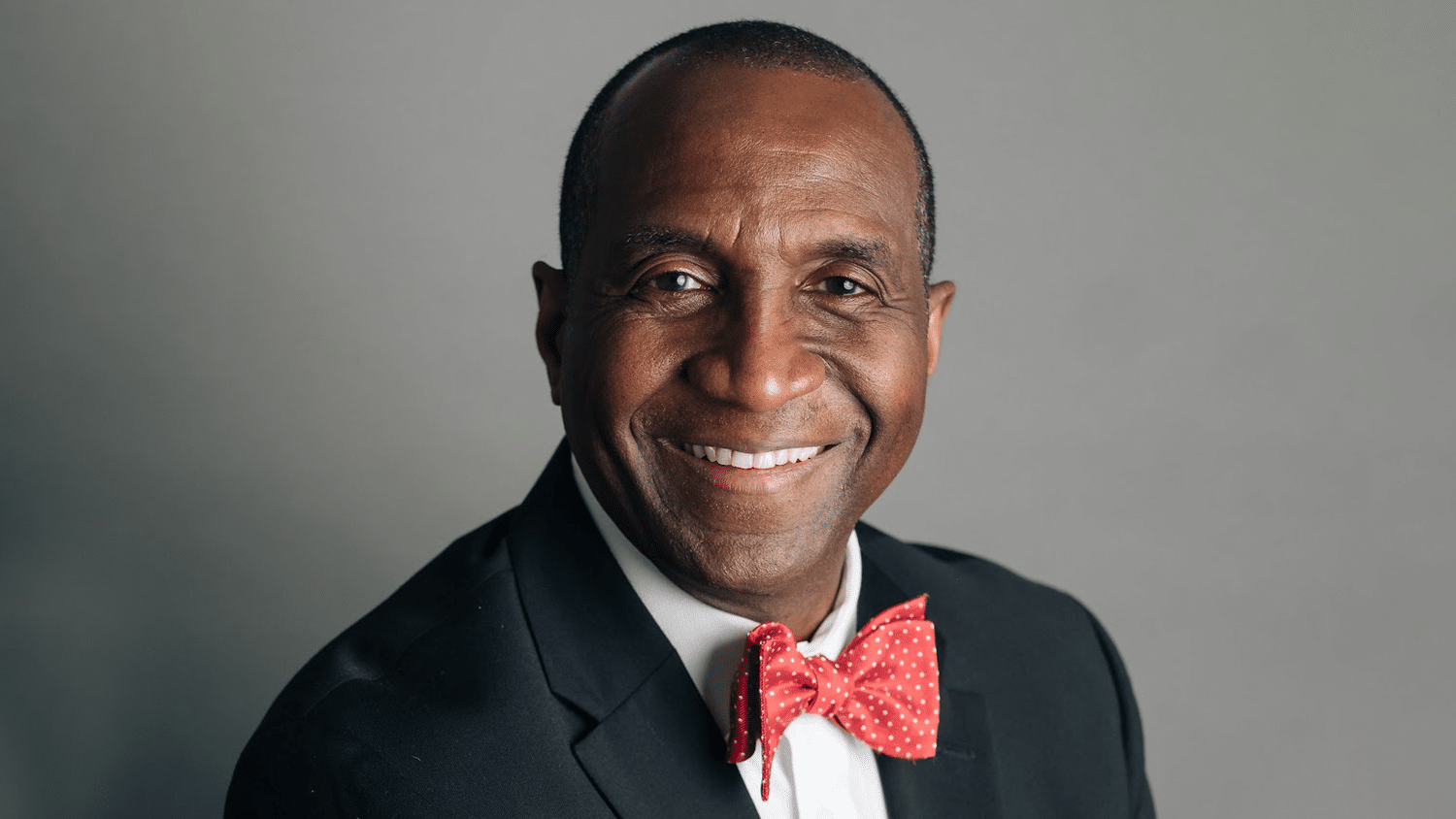 By Kamilah Heslop
One of the first things you'll notice about Johnny Chapman is his smile.
Like Chapman himself, its warmth effortlessly brightens each room he enters, forging instant connections with others. A self-proclaimed extrovert, Chapman has never met a stranger; he simply introduces himself to new friends.
"Being a positive person isn't just about wearing a smile. It's embracing the extraordinary in the ordinary," he says, grinning. "It's about finding joy in the simplest moments and recognizing that happiness resides in the everyday."
That optimistic mindset has continuously propelled Chapman to success — both personally and professionally.
His positivity, along with his passion for textiles, was passed down by his parents: Johnny L. Chapman, Sr. and Lena Chapman.
"I can trace my textile roots back to my mom, who spent more than 30 years working at Homespun Hosiery," says Chapman, a proud first-generation college graduate. "I can still remember the many pairs of socks they would give to employees, and they always made sure I had a fresh pair when school started."
Those deep ties to the textile industry motivated him to enroll in NC State's Wilson College of Textiles in 1981. Chapman brought that lifelong cheerfulness with him to campus.
Like all of us, though, Chapman is no stranger to challenges.
During his first year as a student at NC State, which should have been one of the happiest times of his life, Chapman faced an overwhelming obstacle: grief.
Navigating loss while embracing hope
In their rural Lincolnton, North Carolina, community, Chapman's father was revered as a beacon of hope, renowned for his unwavering support and countless friendships.
His father enjoyed visiting cousins on Sunday afternoons, working with his hands in his concrete business and helping friends. Despite having only a third-grade education, Chapman's father was a natural entrepreneur; he went on to found and own a successful concrete business in Lincolnton.
Two years before Chapman stepped foot onto NC State's campus, his father was diagnosed with multiple myeloma — a rare blood cancer that affects one's plasma cells.
"As you can imagine, I was in shock. It felt like the world stopped moving for about five minutes," he explains. "I thought my father was invincible. He owned a concrete business, was a proud veteran and was the strongest person I knew."
His world shattered when Chapman lost his father the summer following his first year of college. During that extremely difficult time, Chapman's mother was an unwavering pillar of strength and solace.
"I attribute my determination to my mom, Lena, who still lives in the same house. She was instrumental in ensuring our family would fulfill our dreams," Chapman shares. "My mom, who didn't have a high school diploma, was set on her kids living out their educational opportunities."
Chapman's five sisters, friends, fellow students and faculty and staff from the Wilson College of Textiles also wrapped him in love during what he still considers one of the most challenging times of his life. Another support system vital to Chapman's healing was his fraternity, Alpha Phi Alpha Fraternity, Inc., which he joined in 1982.
"Being in a fraternity was important because I had just lost my father, and I didn't have any brothers," he explains. "My fraternity brothers, who were seniors, took us under their wings, and we learned about giving back and caring for those who come behind you."
With the help of his family and personal network, Chapman learned the importance of leaving a legacy. From there, he was determined to make his father proud.
Attending NC State and the Wilson College of Textiles is why I'm sitting here today. Our college is all about supporting students.

— Johnny Chapman '85
In 1985, after completing four years of his textiles studies, an ecstatic Chapman crossed the commencement stage to earn his bachelor's degree in textile management — now known as fashion and textile management.
"Attending NC State and the Wilson College of Textiles is why I'm sitting here today," Chapman emphasizes. "Our college is all about supporting students."
Discovering the world of textiles, post-graduation
His first job opportunity came shortly after graduation, thanks to the encouragement of Lennie Barton, the college's former director of recruitment, who recognized Chapman's potential. He applied and was hired as a shift supervisor at Chicopee, a Johnson & Johnson Company. The nonwoven textiles manufacturing company, which specializes in high-quality products for the food service and healthcare industries, set the stage for his subsequent achievements.
"I got the job offer the day after my birthday," Chapman shares. "It was the first time I had the opportunity to work for a Fortune 500 company."
Having spent over a decade exploring the intricacies of the textile industry within Chicopee, Chapman's curiosity led him to embrace a new field: information technology (IT).
"I've always had a gift for technology. While working in textiles at Johnson & Johnson, I was given the chance to work on a data collection projection using an advanced computer system when I transitioned to manage the shipping and receiving for the company," he says. "In 1995, my employer selected a new system to manage their inventory called Oracle. The company's free Oracle training for key employees was a pivotal moment for me."
During that time, Chapman's wife of more than 32 years, Tammy Gilliam Chapman, emphasized the importance of this training and foresaw how that may reward him in the future. It was then that Chapman realized its importance and quickly embraced it. Little did he know that this conversation would be a pivotal moment he still remembers vividly today.
"Your goals and plans can point one way, but there may come a time when God has a different plan for you," he explains. "You have to embrace it."
In 1995, Chapman himself was struck by illness.
He was diagnosed with thyroid cancer during the first year of his MBA program at Campbell University. Chapman continued attending classes while navigating the challenges of undergoing two surgeries. With a young child at the time, his wife was his strongest supporter, and she unwaveringly encouraged him not to give up on his dream.
Today, Chapman is cancer free.
After earning his MBA, Chapman was hired as a consultant at Oracle, the world's largest database management company and third-largest software company. From there, his potential skyrocketed.
Today, he leads the Enterprise Applications Support group globally as the director of IT and business systems for Red Hat, a subsidiary of IBM that provides open-source software products to enterprises with offices across the globe.
"Working for Red Hat has allowed me to combine my passion for technology and my drive for global impact," Chapman says. "What I truly love about my position is the opportunity to harness the power of cutting-edge technology while building a bridge between innovation and success."
Paving the way to create places of belonging
Born and raised in the rural South in the 1960s, Chapman's childhood was shaped by the harsh realities of the time.
"I've seen it all. I watched my father, a grown man, being called 'boy,'" he muses. "For many of my teachers, my class was their first group of desegregated students. My passion for diversity, equity and inclusion truly started during my childhood. I was raised during the Civil Rights Movement, and making a difference has always felt important."
My passion for diversity, equity and inclusion truly started during my childhood. I was raised during the Civil Rights Movement, and making a difference has always felt important.

— Johnny Chapman '85
That determination has inspired Chapman to give his time, talent and treasure to creating spaces for others, specifically individuals from marginalized backgrounds, to feel like they belong.
"This passion all started when I was able to attend my first diversity training in the late '80s," he remarks. "Because I'm a talker, I interacted with people from all walks of life during that one-week training. It opened my eyes to diversity and inclusion, and I've always been committed to supporting that."
At Red Hat, Chapman has done that by establishing Blacks United in Leadership and Diversity (B.U.I.L.D.) in 2017. This diversity and inclusion community, one of nine employee resource groups at Red Hat, has grown from only 12 members during its inception to over 800. As the founder and chairperson and now the Executive Sponsor of B.U.I.L.D. Chapman profoundly understands the importance of recruiting, developing, engaging and retaining Black talent. He was honored in 2015 with Red Hat's General H. Hugh Shelton Chairman's Award for his exceptional leadership and commitment to Red Hat goals.
"It started small for two years in IT, where a small group of black IT professionals met unofficially. From there, we've grown to include hundreds of Red Hat employees and have created a powerful sense of belonging within our organization."
At NC State, Chapman has served on the Chancellor's African American Advisory Council for 12 years. In this capacity, he provides valuable input to the Chancellor and doesn't hesitate to ask tough questions, including ones about the enrollment numbers among Black students.

"I've had the opportunity to speak with the university's Board of Trustees, talk with Black professors and hear from Black professionals and executives," he says. "This council is committed to thinking about what's in the best interest of Black students, faculty, staff and employees at NC State."
Chapman's tireless efforts to create places of belonging have left an indelible impact, solidifying his enduring legacy.
Honoring his parents by creating a Wolfpack legacy
It's often that Chapman finds himself thinking of his mother and family and the impact they both had on his life and the lives of others. His parents' generosity — of their time and treasure — is one of the standout characteristics that others often remark on.
"My mother and father both had a limited education, but they were both pillars in our community," Chapman shares. "I always wondered why they gave money to people who didn't give it back. It finally dawned on me that it was because they had it to give, and it was important to them to help others."
That sentiment inspired Chapman to want to repay the overwhelming support he's received as a student from NC State and the Wilson College of Textiles. His first philanthropic investment came in the form of monthly $20 payments when he was in his 20s and 30s to the A.M. Witherspoon Graduate Scholarship Endowment, which was created by the Black Alumni Society to honor Professor McIver Witherspoon.
Chapman's connection to his alma mater grew deeper throughout the years.
In 2021, Chapman was invited to join the North Carolina Textile Foundation (NCTF) board of directors. As the powerhouse philanthropic foundation of the Wilson College of Textiles, the NCTF makes the college's groundbreaking work possible.
"Johnny's unwavering dedication to the Wilson College of Textiles and to nurturing future textile leaders is a joy to witness," says Michael Ward, the executive director of the NCTF. "As a member of our board, he exemplifies a steadfast commitment to empowering the next generation of innovators in our textile industry."
Seeing the impact of generous philanthropy on the Wilson College of Textiles led Chapman and his wife, Tammy, to leave their legacy in 2022 by establishing the Johnny L. Chapman Jr. Scholarship Endowment. Their fund will support undergraduate students at the Wilson College who have a financial need and are interested in equity, diversity and social justice.
"I want students to see that when they graduate, it is important to give back," Chapman explains. "Over the years, the cost of college has skyrocketed, and I want to help make a world-class textiles education affordable for students from all walks of life."
I think of what my parents did. It always goes back to them. They would always give what they had, and I feel the same way.

— Johnny Chapman '85
That radiant smile of Chapman's lights up when he speaks about the impact he hopes to leave behind, envisioning a legacy that inspires future generations at the Wilson College of Textiles to overcome obstacles and achieve their dreams.
"I hope my legacy as a young Black boy from a poor county who came to NC State, struggled at NC State but was able to learn, graduate and move through the corporate world," he remarks, speaking from the heart.
"When I'm long gone, I want other students to think that they could do it too if he did it. I think of what my dad did with his educational level and forward thinking. It goes back to his willingness to give when asked and my mother's determination to continue to do what it takes to provide for their family and others."
This post was originally published in Wilson College of Textiles News.