Community
Designing a Diplomatic Future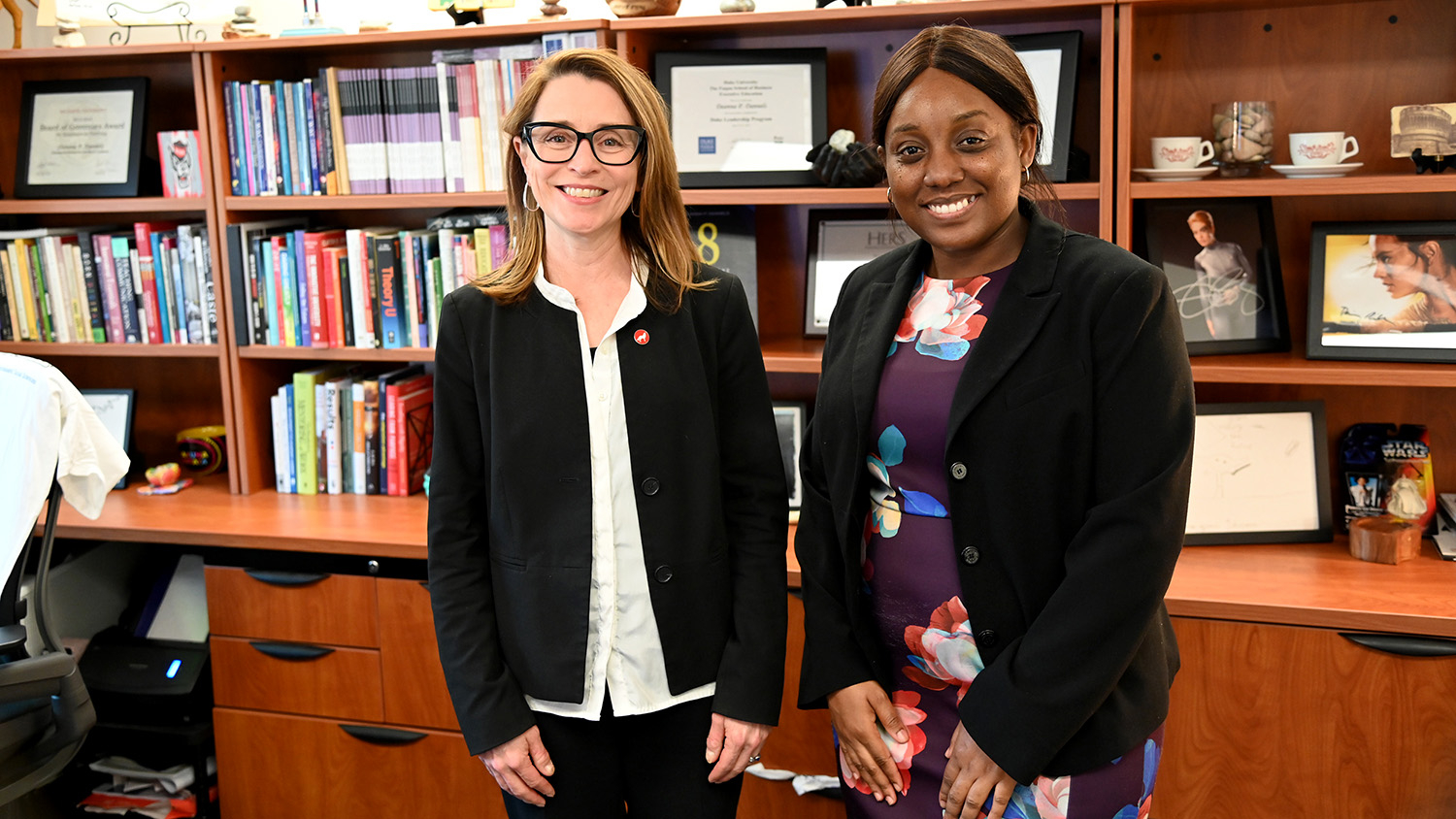 ✔️ Gain experience in international relations and cultural competence.
✔️ Graduate from NC State with a master's degree earned through the U.S. Department of State's Thomas R. Pickering Foreign Affairs Graduate Fellowship program.
✔️ Receive an appointment to the State Department's Foreign Service.
That's the career path recent NC State master of international studies graduate Ayele Kuevidjen has traveled to become a U.S. diplomat in the foreign service.
The first-generation American citizen will likely begin her diplomatic service this fall with a five-year stint at a U.S. embassy or consulate somewhere in the world; or she initially could be stationed in Washington, D.C. before heading abroad. Kuevidjen — the daughter of Togolese immigrants, who was born in Niger, West Africa, and raised in Togo, West Africa — says she is up for the adventure. The family immigrated to the U.S. more than a dozen years ago and settled in Charlotte, North Carolina.
"I love to explore other cultures and when you learn so much about them you can become a bridge between different cultures. And that's something I want to do," she says. "Becoming a foreign service officer will allow me to represent the great diversity of the American people overseas."
Kuevidjen, however, hasn't always been set on a career in international diplomacy. Her earlier dream job? "I actually wanted to become a surgeon – a neurosurgeon to be exact," she says.
That changed during her junior year at UNC Charlotte when she secured a yearlong virtual internship through the Department of State working with the U.S. embassy in Niger. As an intern, she was involved in different projects, including facilitating programs and working with Femmes Emergentes, a group of women entrepreneurs in Niger.
In 2017, the internship ended and a year later Kuevidjen graduated from UNC Charlotte with a degree in international studies. During and after college she worked at Central Piedmont Community College in a variety of roles while continuing to volunteer through 2020 with the U.S. embassy and the women entrepreneur group in Niger.
"One of my proudest accomplishments was creating a safe space for Femmes Emergentes," says Kuevidjen. "I used online platforms like WhatsApp and Band to moderate weekly webinars in French and English to support the women throughout the Covid-19 crisis. I became invested in the group because women empowerment is dear to my heart."
Additionally, she continued to volunteer as the foreign affairs campus coordinator at UNC Charlotte. As coordinator, Kuevidjen worked with the diplomat in residence (the State Department has a representative in each state) who told her about the Pickering Fellowship, which helps bring underrepresented Americans into U.S. foreign service careers and finances a two-year graduate program.
She applied to the fellowship program and was selected as a Pickering Fellow in 2020. She chose to attend NC State's Master of International Studies (MIS) program because "I felt that I belonged there and it felt like the right place, it felt like home."
The MIS program also allows students to develop their program specialization, which was appealing, she adds. Kuevidjen's specialization, developed in consultation with her advisors, is in diplomacy and communication with a focus on Sub-Saharan Africa, which includes her country of origin.
Asked how the MIS program has helped prepare her for a career in diplomacy, Kuevidjen notes: "I have sharpened my writing, research, communication, public speaking, information integration and analysis skills."
She counts among the highlights of her time at NC State presenting her capstone research paper, making new connections, meeting people from diverse backgrounds and connecting with a great group of professors "who guided and mentored me along the way." Other highlights include attending a luncheon with Assistant Secretary of State for Diplomatic Security and NC State alumnus Gentry O. Smith and shadowing Deanna Dannels, dean of the College of Humanities and Social Sciences, for a day.
While in the MIS program, Kuevidjen also worked as a facilitator in the Developing Cultural Competence Program, part of the Global Training Initiative, and waded through the foreign service's arduous entry requirements and several levels of tests. Now, as a recent NC State grad, she is awaiting her first assignment in and the start of her five-year commitment to the foreign service.
Kuevidjen says she is interested in pursuing public diplomacy, one of five career tracks the Department of State offers. Public diplomacy officers promote U.S. interests abroad, which may include explaining to foreign audiences how American history, values and traditions shape U.S. policy.
Although where she will serve is still unknown, Kuevidjen says she has no preference. "It's going to be a surprise, an adventure, and I'm looking forward to it," she adds. "For me, it's just where I can best represent the United States and pay it forward."
What will Kuevidjen do after her five-year commitment? "I don't know, I'm learning, I'm blossoming," she muses. "Plans can change. I'm open to other stuff and I'll see where this first assignment takes me."
This post was originally published in College of Humanities and Social Sciences.