Culture of Collaboration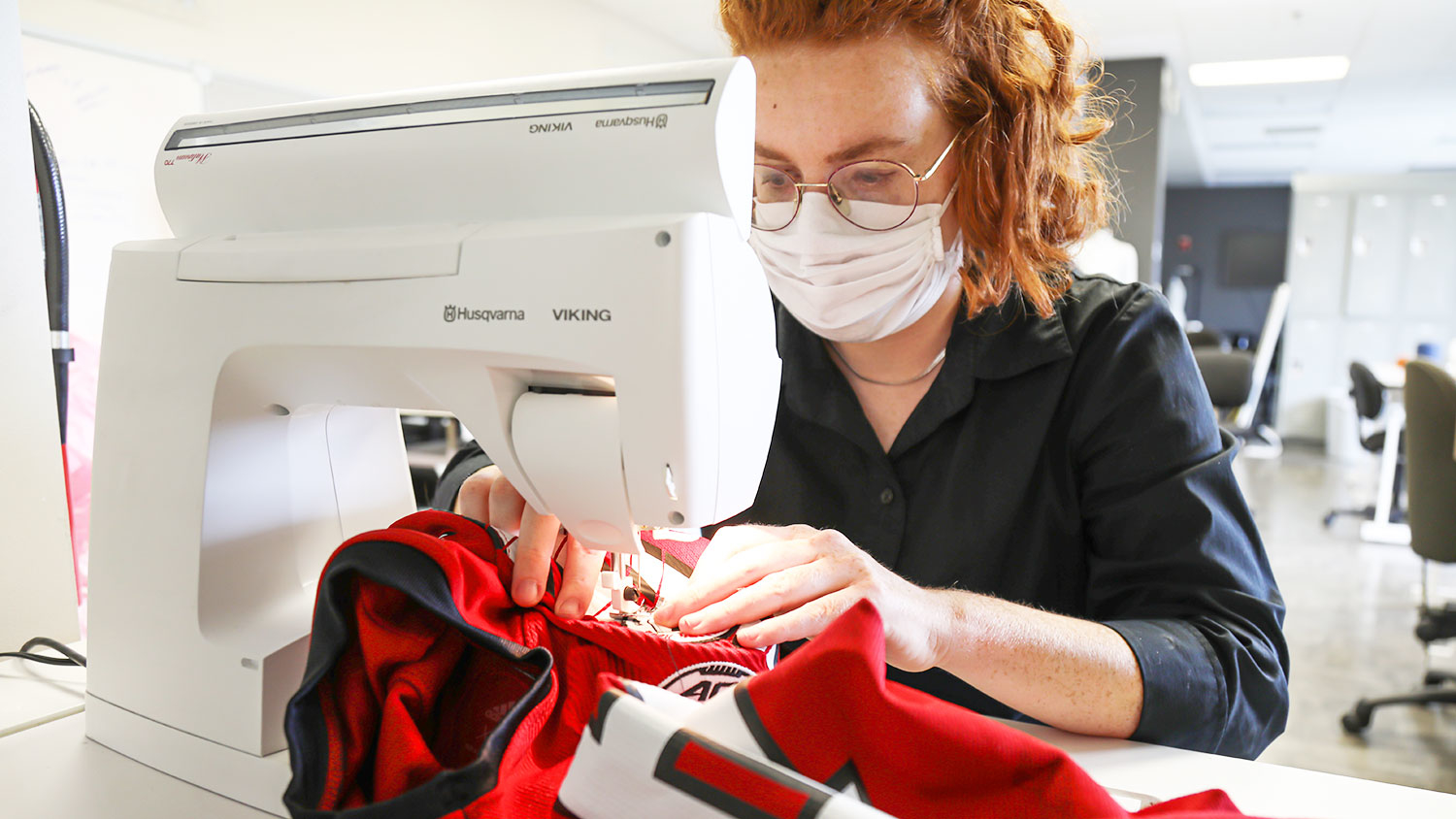 One Saturday morning in September, Wilson College of Textiles Dean David Hinks received an unusual phone call. The voice on the other end of the line belonged to NC State Athletics Director Boo Corrigan, who said, as Hinks recalls, "I have an opportunity for you."
Their conversation set into motion a unique collaborative project in support of social justice that ended up being showcased on national television.
"Wolfpack student-athletes — led by football team captain and linebacker Isaiah Moore — took the lead in designing a patch for their uniforms with the 'Pack United' message and its three pillars of education, action and awareness," Hinks says. "Boo asked if we could assist with the final patch design, production and sewing under a tight deadline."
How tight, exactly? One week.
So Hinks made a flurry of calls to members of the Wilson College community, enlisting their help pulling off a small miracle in time for the Wolfpack's home opener the following Saturday.
One of those employees was Bailey Knight, a studio and lab technician in the Department of Textile Apparel, Technology and Management.
She got to work quickly, enhancing the design provided by Athletics and manually digitizing the font and embroidery software so the letters would stitch properly. Multimedia Specialist Lynn Doby transformed the shape of the patch and added other design elements for clarity.
Once the design was finalized, Knight tuned up the embroidery machines and recruited help from graduate students who work in her lab.
"Luckily, I didn't have anything huge taking up my time that week, so I was able to spend most of it working on the project," she says. "Our TAs also put in 20 to 30 hours of work, including one student who had been scheduled to train on the embroidery machine that week anyway. So it was a crash course for her."
Once the patches came off the line, Knight and a team of students from the college's fashion studio sewed them onto each jersey — 150 in all.
The week flew by in a blur, she says, but they pulled it off with (a bit of) time to spare.
"It was great to work on something totally different and fun and out of the blue," Knight says. "We had to do some troubleshooting along the way. In the industry, embroidery machines have multiple heads stitching at once, but our two embroidery machines aren't usually stitching that much at one time. So we had to make sure they could keep up the pace."
Doby documented the process, producing a video that was broadcast by ESPN to a national audience during a game break.
"NC State Athletics appreciates the support and collaboration from the Wilson College of Textiles," Corrigan says. "We are truly fortunate to be able to lean on such a world-class partner on our campus for innovative and creative projects like this."
Hinks beams with pride when he talks about his employees' efforts to knock out the herculean task in a matter of days. But more importantly, he says, this project represents a larger spirit of collaboration within the college and university.
"I am so grateful and proud that we were able to meet this challenge by showcasing our talent, responsiveness and core values," Hinks says. "This has been a fun yet serious project — one that visibly demonstrates our college's spirit of hyper-collaboration and our commitment to compassion, collaboration, equity and innovation.
"Our college has state-of-the-art facilities — there is no textiles college in the world that has the capacity and capabilities that we have — but at the end of the day, it's my world-class colleagues who make a difference, who make our achievements possible."
Hinks also credits a culture of collaboration within the university that fuels partnerships like the one between the Wilson College of Textiles and NC State Athletics. He tells the story of how Corrigan reached out to all of the deans soon after joining NC State to get to know them and their colleges.
"One thing that really impressed me about Boo is that he set the tone for collaboration from the moment he became athletics director, and he has shown a genuine interest in the academics of the university," Hinks says. "It's refreshing that he would put in that effort, and his outreach has helped build a strong relationship with our college.
"I think it also speaks to Chancellor Woodson's leadership," he says. "What he's built at NC State is a community of leaders that are themselves inherently collaborative. This project is just one example of that."
This post was originally published in NC State News.