Cheese-Rolling Champ Returns in Triumph to Packapalooza, Prize in Hand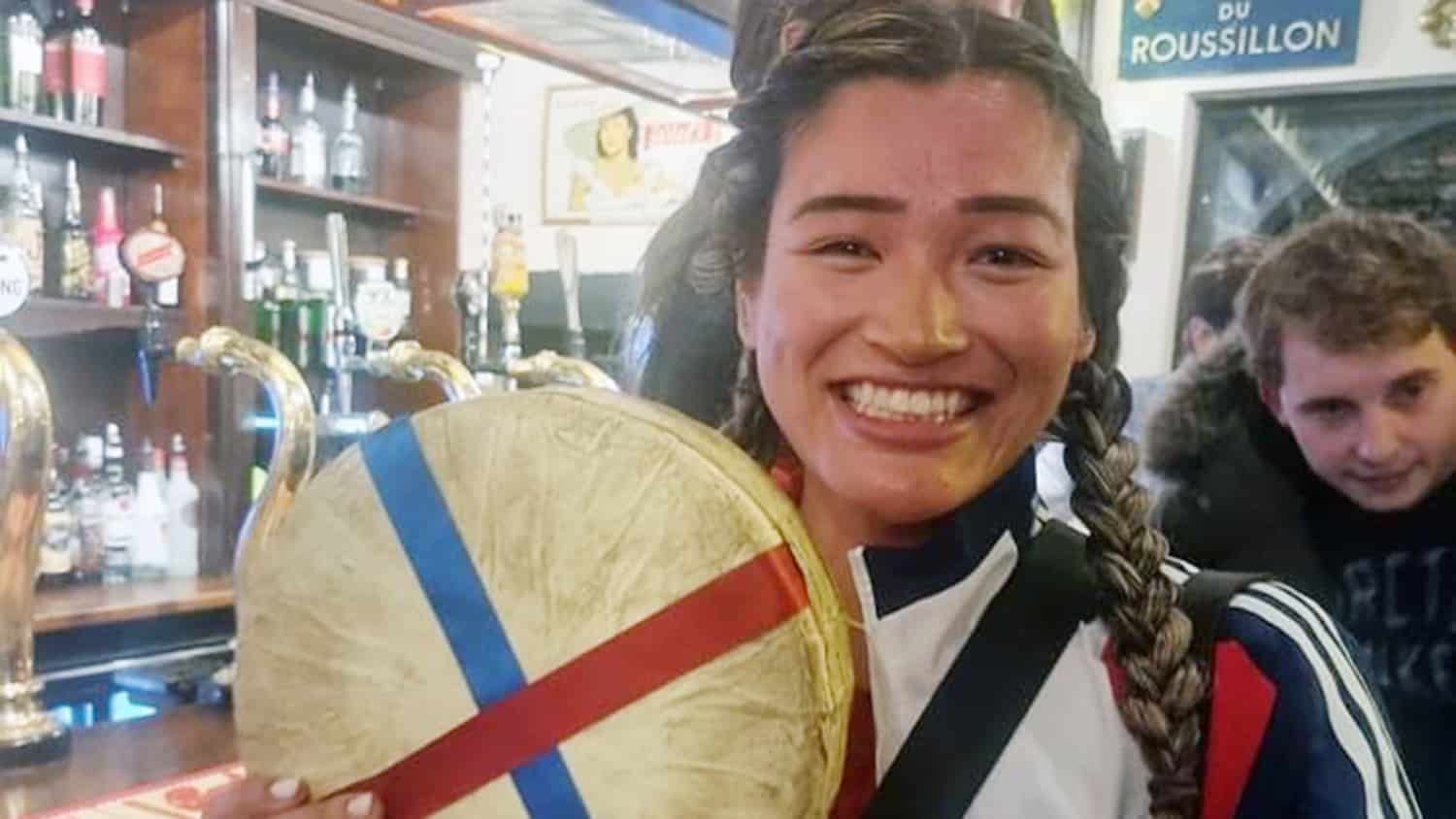 Back in 2018, before cheese-rolling champ Abby Lampe ever attended her first class at NC State, she turned out to see country band Parmalee at Packapalooza on Hillsborough Street.
Never did she think only a few years later she would be a celebrated guest at NC State's biggest community and street festival.
So many things have changed for the native of Smithfield since that sunny afternoon: she survived freshman year. COVID changed the world, disrupted a full generation of students' college experiences and canceled two years of Packapalooza. Lampe's international study abroad trip ended abruptly and, this spring, she completed her degree in industrial and systems engineering.
Then last month she earned international celebrity when she became the Cooper's Hill Cheese-Rolling and Wake champion of the world with a 15-second plunge down a steep hill in England, becoming the first American woman to win the daring event that dates back to the Middle Ages.
Now, Lampe has finally decided what to do with the 9-pound cheese wheel she shipped home to her parents in Clayton the day after she won it: She's going to slice it up at Packapalooza to share with her family, Chancellor Randy Woodson and some other close friends who might not mind a few stray grass clippings on the outside rind of the well-traveled wheel.
"As soon as I got the invitation, I knew I wanted to come back home and do this at Packapalooza," says Lampe, who is finishing up a post-graduation trip to Europe a few days early to attend the Aug. 27 event on Hillsborough Street.
After a two-year absence because of the global pandemic, the day-long festival returns to cap Wolfpack Welcome Week and kick off the new academic year. Lampe will make her appearance just before headliner American Aquarium begins its concert set on the main stage by the Memorial Tower.
For Lampe, it's the perfect place to share her bounty from a three-month graduation trip abroad, which included travel in Spain, the United Kingdom, Greece, Scotland, Italy and Sweden, in addition to her three-day trip to Gloucester for the cheese-rolling championship.
"Being invited to be part of Packapalooza isn't something that happens every day and I knew I wanted to be a part of it," Lampe says. "It's a once in a lifetime kind of experience.
"I remember being there my freshman year and the atmosphere was amazing. To be on the stage that thousands of people gather around is going to be incredible. I'm grateful for the opportunity."
Before being shut down by the pandemic, Packapalooza drew more than 85,000 attendees to Hillsborough Street for hours of activity among the 300 vendors, 40 sponsoring organizations, musical guests and other entertainment, all peppered with red-and-white NC State style.
"We've all been through a lot the last two years and one of the biggest losses has been not being able to gather on Hillsborough Street for what has become a great annual tradition for students, alumni and the NC State community," says Assistant Vice Chancellor Justine Hollingshead, chair of the Packapalooza Planning Committee. "This being the 10th anniversary of the first Packapalooza, having Abby here with American Aquarium is a great way to welcome the largest new class of students in school history and a great way for us all to reconnect."
This post was originally published in NC State News.