Community
Calling Dr. Quarterback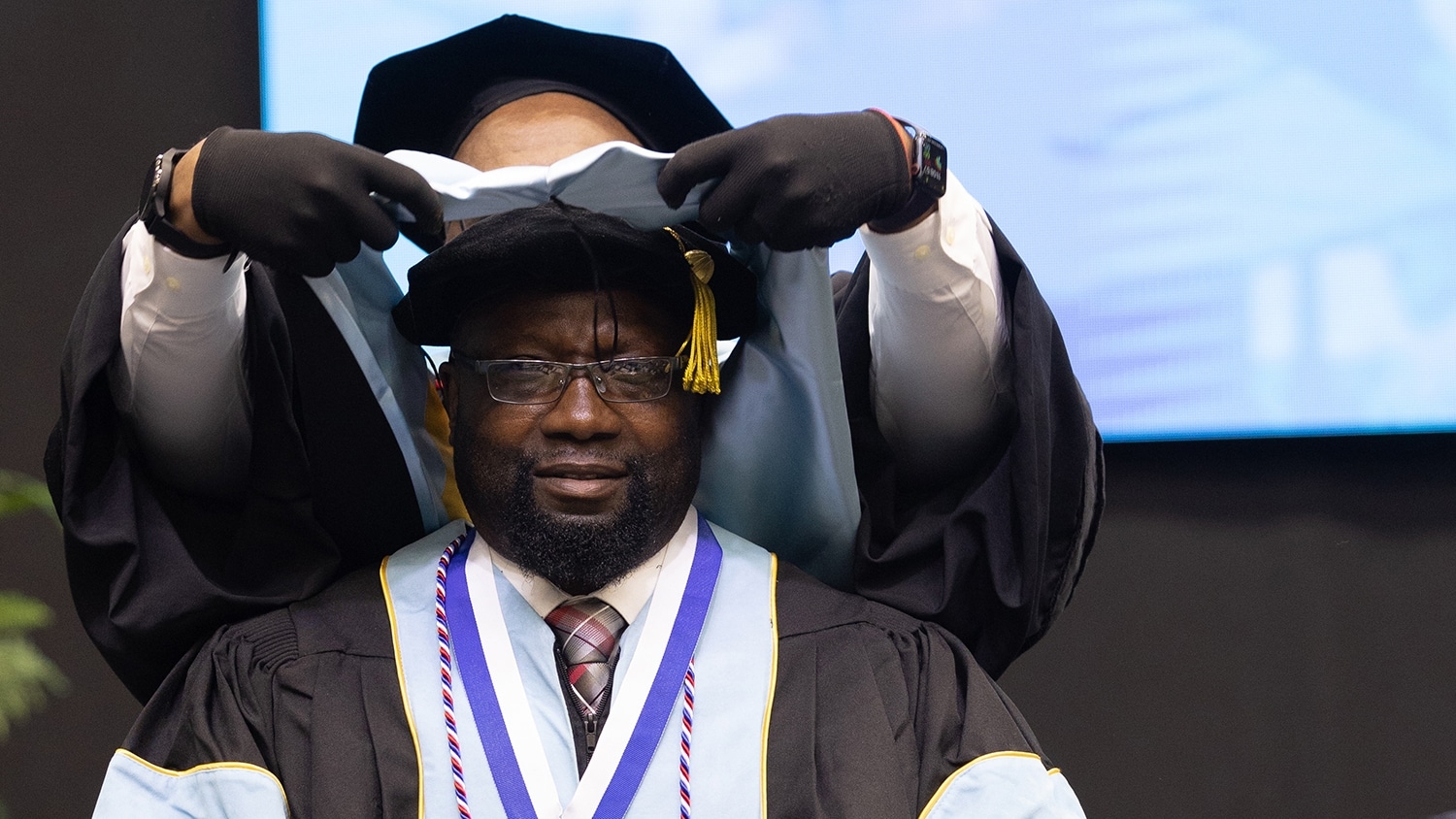 Because of their successes in the NFL, NC State football quarterbacks have helped the school's athletics department market the Wolfpack program as "QBU."
BY TIM PEELER
Because of their successes in the NFL, NC State football quarterbacks have helped the school's athletics department market the Wolfpack program as "QBU."
Coley McDonough, Roman Gabriel, Erik Kramer, Philip Rivers, Russell Wilson, Mike Glennon, Jacoby Brissett and Ryan Finley all became NFL starting quarterbacks after playing for the Wolfpack — but none of them ever earned a doctorate.
Earlier this month, however, former three-year starter Tol Avery (1980-82) established himself as NC State's first "Dr. Quarterback" when he earned his advanced degree in education from Fayetteville State University, some 40 years after his final start under center for the Wolfpack.
"It was a surreal moment for me, a moment that took me through the perseverance and hard work, long nights and long days to get to that moment," Avery says. "It was a very humbling experience and journey to get there.
"My first thoughts are always about gratitude, of course. To God be the glory."
Avery adds to NC State football's unique legacy at the school that first integrated ACC athletics in 1956. The Pack's first Black football player, Marcus Martin, went on to earn NC State degrees in pulp and paper technology (1970) and chemical engineering (1971), and he was the first Black graduate of Eastern Virginia Medical School (1976).
The first Black starter, walk-on defensive end Clyde Chesney of Fayetteville, earned his bachelor's and master's degrees from NC State and a Ph.D. from Michigan State during his long career as an extension specialist.
Martin and Chesney paved the way for NC State's first two Black scholarship players, running backs Willie Burden and Charley Young, who both attended Raleigh's Enloe High School and enrolled at State in 1971. Burden was a two-time All-ACC player, the 1973 ACC Player of the Year and a Canadian Football League star, while Young was a first-round NFL draft pick by the Dallas Cowboys and a longtime Wake County law enforcement officer.
When Burden finished his football career, he earned a master's degree in sports administration from Ohio University and an Ed.D. from Tennessee State before embarking on a career in sports marketing and administration.
Avery's journey to his doctoral degree took him around the world before he returned to his roots in Johnston County. After an All-State prep career, he enrolled at NC State at the age of 17 to play for the Wolfpack, recruited by head coach Bo Rein and assistants Chuck Amato and Darrell Moody. He was a freshman reserve on the Wolfpack's 1979 ACC championship team.
He became State's first Black quarterback when he won the starting job as a sophomore under the late Rein's replacement, Monte Kiffin, learning to attack the opposition from Kiffin's defensive coordinator, then-Pack assistant Pete Carroll. He held the starting job for three seasons, completing his career at No. 2 on the all-time passing yardage list behind Dave Buckey and at No. 4 in total offense behind Ted Brown, Buckey and Johnny Evans.
Avery set passing records that didn't last long but were historic during his playing days. He gave professional football a try, following in Burden's footsteps in the CFL. After playing for two franchises in one season, he gave up athletics and enlisted in the U.S. Army as a private.
After a year he was promoted to specialist and then to sergeant first class while stationed in West Germany, where he married and had three daughters. He did tours of duty as a tank commander in both Operation Desert Storm and Operation Desert Shield during the Gulf War and another tour in Bosnia before returning to Germany to become a tank instructor.
Beginning in 2000, he served his final five years of active duty in Houston, where he restarted his collegiate academic career that he first began at NC State in parks, tourism and recreation and vocational education.
"I was really only going after my undergraduate degree," Avery says. "My colonel [Ret. Lt. Col. Brian Whalen] told me I was pretty good at teaching and encouraged me to look into pursuing a teaching degree.
"It makes sense, because that's what we were good at in the military: breaking things down and training others how to do things. I taught trained and mentored soldiers 365 days a year. The significance of that training was a matter of life and death."
He earned a bachelor's degree from Texas Southern University while serving as a military science instructor at the University of Houston, then earned a bachelor's degree from Excelsior College. Afterward he earned graduate degrees from both Houston and East Carolina.
"I fell in love with anatomy and human performance and I wanted to become a strength and conditioning coach," he says. "When that didn't work out, I turned to teaching and coaching in high school."
In 2005, he retired from active duty and returned to his hometown as a teacher, basketball coach and football coach at Clayton High School, where he won Johnston County's First-Year Teaching Award. After five years, he returned to South Johnston High School, where he had been a four-sport athlete and from which he graduated in 1979, to become assistant principal.
He was named principal of Four Oaks Middle School in 2016 and principal of North Johnson High School in 2019. He moved to the county's central office in 2022 as the Safety and Covid Response Manager at the height of the global COVID-19 pandemic.
Avery's legacy as NC State's first Black quarterback made things easier for those who followed: NFL receiver Charles Davenport, one-time passing leader Jamie Barnette, Super Bowl champion Russell Wilson and NFL starter Brissett, among others.
Last Thursday — in front of family, former military buddies, students and special guest Lt. Col. Whalen — Avery walked across the stage on the Fayetteville State campus to receive the doctorate that he began in 2016 and worked on while working as a Johnston County educator and preparing a dissertation that presented the results of his study of ninth-grade academy attendance.
"Some people learned what they wanted to do quicker than I did," Avery says. "It took me longer. NC State will always be an important part of that journey because it's where my postsecondary career began and where I was able to play for a football program that is second to none."
Avery's experiences took him from a tobacco farm in Johnson County, around the world and to five different colleges where he earned undergraduate and advanced degrees. He stands as an outstanding example of dedication and perseverance to a modern generation.
"The main thing for our youth of today," he says, "is to get exposed to as many vocations and positive experiences as possible. Continue to search until they find something they are interested in and have a passion for.
"Once they find it, it will not feel like work."
This post was originally published in NC State News.