Caldwell Fellows Think Big about Leadership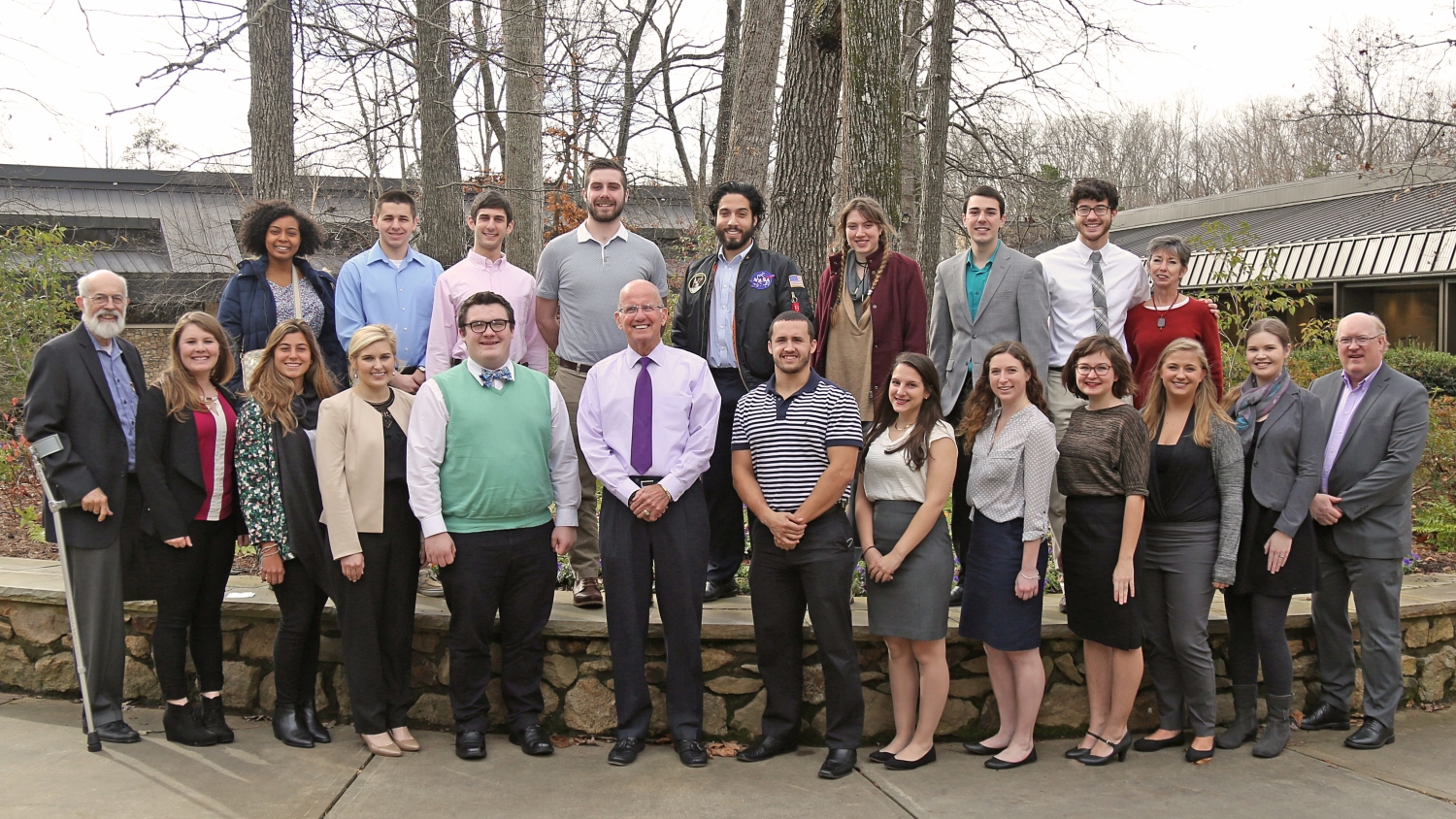 From the moment students are chosen for the Caldwell Fellows, NC State's longest-running universitywide scholarship opportunity, they are encouraged to "think big" and to develop as servant-leaders.
For decades, the Center for Creative Leadership (CCL) in Greensboro has helped give Fellows the tools to do both. Many alumni of the program describe the intensive, three-day training session at CCL, a capstone for Caldwell upperclassmen, as a life changer – shaping their ambitions and goals as it honed their leadership and professional abilities.
Jess Kraus, a 2017 alumna, said attending CCL taught her foundational skills for collaboration that achieves both personal goals and broader societal change.
The experience also gave her the confidence to pursue law school.
After graduating from NC State's College of Natural Resources with a bachelor's degree in parks, recreation and tourism management and minors in accounting and nonprofit studies, Kraus worked for about a year at a land trust. She's now enrolled in William & Mary Law School with the goal of specializing in environmental and land-use law.
"CCL was an extremely transformative experience for me," Kraus said. "It built on the principles of self-reflection and servant leadership developed through the Caldwell Fellows Program, and oriented us toward the world beyond NC State and the roles we would play in it. CCL helped me understand myself better, so that I could more effectively work with others.
"Going through this journey of reflection while in community with my peers made it all the more impactful."
Twenty-two current Caldwell Fellows will go on that journey Jan. 2-4 at the Center for Creative Leadership. The opportunity will be available for many years to come, thanks to a $1 million gift from an alumnus in honor of Gerald Hawkins, who led the Caldwell program as director for 35 years prior to his retirement more than a decade ago.
The commitment from Jeff and Melissa Williams to create the Gerald Hawkins Experiential Learning Fund also honors this year's 50th anniversary of the Caldwell Fellows. Williams, the chief operating officer of technology giant Apple, is a 1985 graduate of NC State with a degree in mechanical engineering; he later earned an MBA from Duke University.
Hawkins has served as a mentor and role model for hundreds of Caldwell Fellows including Williams.
"Student success remains NC State's top priority, and the Caldwell Fellows Program continues to be one of our most competitive and most impressive student development programs – empowering students to find their homes at the intersection of leadership and service," Chancellor Randy Woodson said. "This gift will endow the Center for Creative Leadership experience, ensuring that this important opportunity continues for Fellows in perpetuity.
"Gerald made an extraordinary impact, and gifts from alumni and friends are helping guarantee that the Caldwell Fellows Program continues to make that kind of impact for years to come."
The Caldwell Fellows invests in students selected during their first year at NC State who share a passion to learn, grow and serve others. It seeks those with not only outstanding intellect but characteristics such as curiosity, humility, integrity and gratitude, said Janice Odom, the program's current director. About 10 percent of roughly 300 annual applicants are chosen.
Fellows receive a financial stipend toward tuition and educational opportunities such as study abroad. They take part in a range of programming, leadership training and collaborative activities with alumni, faculty, community partners and one another.
Donors have made the Caldwell Fellows possible. As part of NC State's current Think and Do the Extraordinary Campaign – which has the ambitious goal of raising $1.6 billion for scholarships, fellowships, professorships, facilities and other needs – Caldwell Fellows alumni also have worked together to grow a Caldwell scholarship endowment named for Hawkins to the $250,000 level.
A Shared History
The Center for Creative Leadership, founded in 1970 through the support of the Smith Richardson Foundation, has been linked to the Caldwell Fellows since the beginning. Today, the partnership is the only ongoing commitment to student training at any CCL campus, Odom said.
The Greensboro-based Smith Richardson Foundation was established in 1935 by its namesake, the son of Vick Chemical Co. founder – and inventor of products including Vicks VapoRub – Lunsford Richardson. Company leaders had a stated interest in being at the forefront of effective management recruitment and development practices; the foundation would throw its support behind improving the quality of a broad spectrum of leaders and insuring committed and ethical leaders for the future.
It provided seed funding for five college and university student leadership development programs in 1968. Those funds launched the North Carolina Fellows program at NC State, with longtime administrator Banks Talley Jr. and Hawkins providing the vision.
A decade later, the Caldwell Scholars, NC State's first merit-based scholarship program, was established to honor retiring Chancellor John Caldwell. The two programs merged to create what is known today as the Caldwell Fellows.
Meanwhile, CCL has expanded to 11 offices worldwide and more than 700 faculty and staff members. It provides leadership training to some 3,000 organizations and 60,000 leaders annually, with a stated mission of advancing the understanding, practice and development of leadership for the benefit of society worldwide.
During the CCL experience, each Caldwell Fellow receives leadership feedback based on psychological tests and surveys, and a 360-degree assessment drawn from peer and staff ratings, coaching observations, videotaped sessions and more. They complete experiential challenges that examine legal, ethical, economic and other dimensions.
"It's really building on everything we do in Caldwell Fellows and taking an even deeper dive," Odom said. "The whole idea is effective leadership based on understanding of self and use of servant-leadership to empower."
Kelsey Shevlin, who graduated from NC State with a degree in statistics in May and is now an actuarial assistant for MetLife in St. Louis, said CCL taught vital lessons in self-awareness, the ability to set aside assumptions and respect different opinions, and the ability to give and receive constructive feedback. She constantly uses skills built there.
"I learned how to respect myself and my motivations, what I need to do to recharge and what my weaknesses are when connecting with others. I've been able to work with others so that our goals are mutual and effectively pursued," Shevlin said.
The center's program gave her the foundation for success in projects such as starting a composting program and an actuarial club at NC State, piloting an alumni-student networking conference for the Caldwell Fellows, and now leading social and technical initiatives as a new hire at MetLife.
"All of these projects required numerous others to succeed and continue to succeed after my involvement, and I wouldn't have been able to communicate and collaborate as impactfully without my CCL training and experience," Shevlin said.
CCL senior fellow Bill Sternbergh, along with associates, has trained every class of Caldwell Fellows and has served on the Fellows selection committee. Sternbergh has said that opportunities like CCL training help polish Caldwell "diamonds in the rough" into leaders who can make a difference in a range of industries and endeavors: "There's a spark about wanting to have an impact on the world."
Private support allows the Caldwell Fellows to continue nurturing those sparks and polishing those diamonds.
"I am incredibly grateful for the CCL experience," Kraus said.
This post was originally published in Giving News.