Community
Behind the Camera
Film studies alumnus Kieran Moreira's path to a picture-perfect career started at NC State and led to professional success creating videos for tech companies and indie films.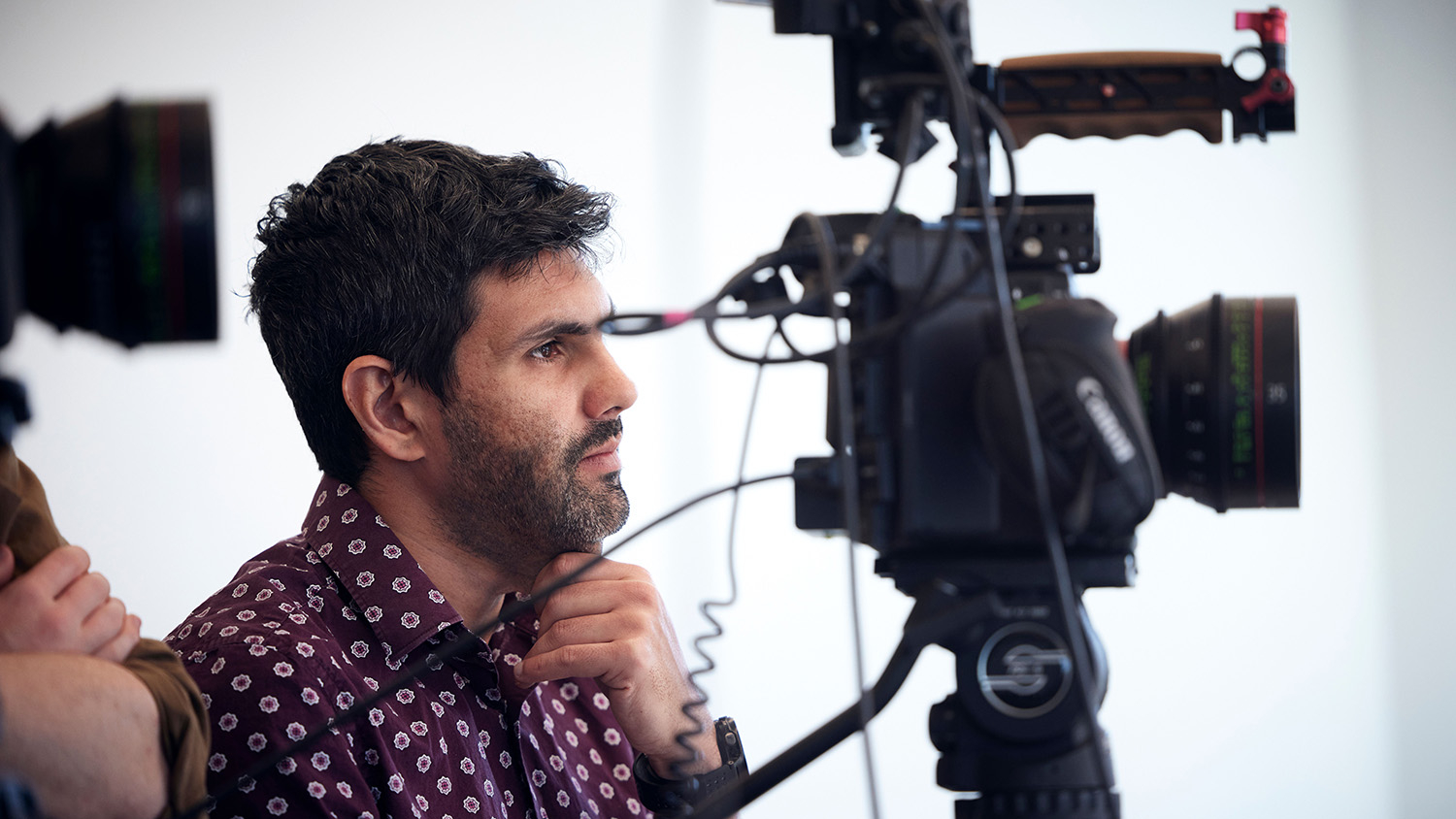 One class.
That's all it took for NC State alumnus Kieran Moreira to change career paths — completely. He switched his major from biology to film studies after attending the first class of Introduction to Film, which he took on a whim second semester freshman year. There was no turning back.
"I owe my career to NC State," Moreira is quick to add.
Today, the 2011 graduate is manager and senior art director of video for Red Hat, the software company in downtown Raleigh. He spends his days working with designers, animators, writers and producers to create short documentaries, commercials and other videos for the tech firm.
After work and on weekends, he continues to practice his craft at Negative Split Films. He launched the production company in 2018 as a platform to showcase short independent films shot in North Carolina.
Both roles enable Moreira to satisfy his lifelong quest for a creative outlet and embrace his passion for the magic of movies.
"Videos and films are a powerful storytelling medium," he says. "They can connect with an audience, drive an emotion, or present a point of view with such intensity."
That's what Moreira strives to display through the films he creates.
For Red Hat, Moreira works with his creative team to translate an intangible – the company's open-source software — to the screen in innovative ways. In a 30-second commercial about edge computing, for instance, Red Hat's IT practitioners are portrayed as quiet heroes, showcasing how their code made it possible for astronauts to conduct data analysis on the International Space Station.
When Moreira works on indie films — such as GILL and LUNGS, the latest — the fantastical world of sci-fi shares center stage with the reality of climate change. He finds the dichotomy intriguing.
Neither film is easy to produce, but Moreira and his collaborators make the task seem effortless. He also savors the creative rush. It turns out, he always did.
As a kid, Moreira loved to draw, tell stories and make movies with his friends and brother, often using his dad's camcorder. But growing up in a family of medical professionals there were early hopes, however slight, that the self-proclaimed creative would follow suit.
Becoming a biology major was an initial step in that direction, he says. But after taking that first eye-opening film course, everything changed.
Videos and films are a powerful storytelling medium. They can connect with an audience, drive an emotion, or present a point of view with such intensity.
"I realized that filmmaking could be a potential career even though I didn't really know what that might look like," explains Moreira, who also earned minors in art and design, and business administration. With his parents' full support, he dove in head first, stitching together classes from various disciplines "to set me up on a good path."
Moreira soon became "laser-focused" on that path, and the pieces quickly started to fall into place.
He moved in with like-minded students in NC State's Arts Village, a living and learning community that exposed him to myriad cultural events. He also became the program director and a DJ at the student radio station, WKNC, growing his interests in communication, entertainment and post-production.
And through his major, he landed an internship with Trailblazer Studios in Raleigh. The experience helped Moreira gain a foothold in the local film community where he started working as a freelance production assistant.
Building a Career
Once Moreira graduated, his career momentum continued to build.
Over the years, he has worked with many creative teams and worn many hats, from director and editor to producer and writer, creating corporate and commercial videos for tech firms. Besides Red Hat, they include Lenovo, Cisco and Intel. He has also worked on independent films and reality TV.
His hard work has paid off. Films he has worked on have been recognized at such industry competitions as the American Advertising Awards, the Global Trend Triumph Awards, and several film festivals, including having a feature film premiere at the Tribeca Film Festival.
Recently, Moreira's position at Red Hat has expanded to include the role of "people manager." He leads a small team of filmmakers and "helps them progress with their career goals," he explains.
As for his own career, he says his college days provided an outline for the success he has achieved in his professional life.
As a humanities major, he says, he took classes like Modern Middle Eastern History and Philosophy, which broadened his perspective and honed his critical thinking and problem-solving abilities.
Additionally, his digital and film production classes "taught me the basic skills I still use today crafting video for clients," he adds. And from his business classes, he gained such additional transferrable skills as running a small business.
Asked what three words best describe him and led to his success, Moreira says: Driven, passionate and realistic (but hopeful.) "Okay, that's four, but I think it's important to add a caveat," he jokes.
But he is dead serious when offering advice to those contemplating a career in film: "Take advantage of all the great resources that are at your disposal," he says.
Then, in a twist on NC State's think and do mantra, he adds: "There is no excuse for not tinkering around and making films because the best way to learn is to do."
And that's a wrap!
This post was originally published in College of Humanities and Social Sciences.