Community
A Thousand Tours… And Counting
Tom Stafford, vice chancellor for student affairs emeritus, will give his 1,000th tour of NC State's Memorial Belltower on Aug. 29.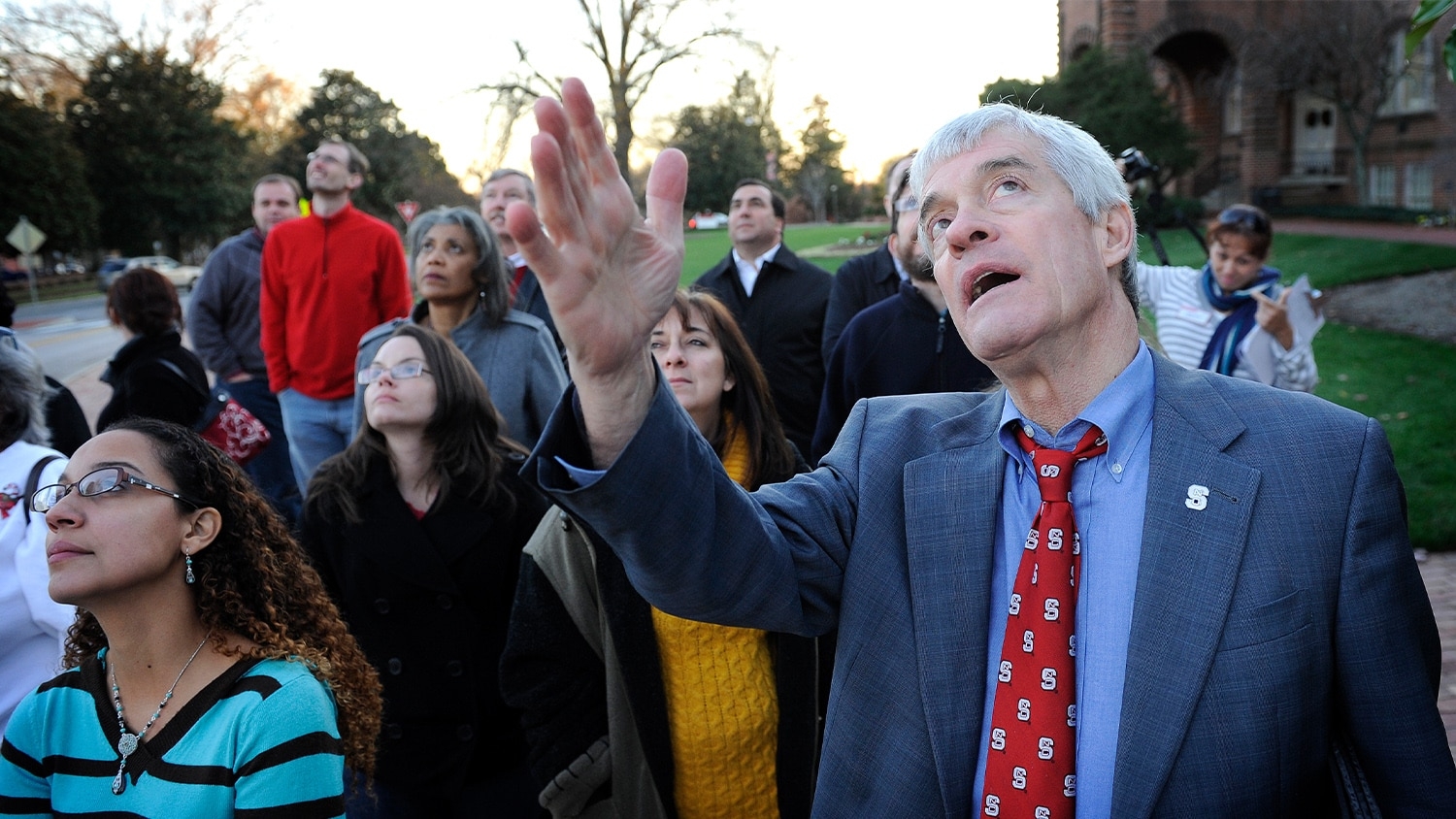 In the 11 years since Vice Chancellor for Student Affairs Emeritus Tom Stafford gave his first tour of NC State's Memorial Belltower, much has changed about the granite edifice that stands at the corner of Hillsborough Street and Pullen Road.
In particular, because of his dogged dedication to telling the story of the World War I memorial, it has been renovated, renewed, re-landscaped and — most importantly and proudly for Stafford — finally added the 55 brass bells that were intended for the tower when the cornerstone was laid in 1921 as a place to remember the fallen in what was supposed to be the "War to End All Wars."
Many of those improvements happened thanks to a gift made by alumni Bill and Francis Henry of Gastonia after they heard Stafford's story about the tower's lack of bells.
Stafford has helped turn one of the school's original nine Hallowed Places into sacred ground, highlighting the names of the 34 students, staff and alumni who died during the one and the one who famously didn't.
On Tuesday, Aug. 29 at 4 p.m., Stafford will give a ceremonial 1,000th tour of the tower to a specially selected group. All of campus, however, is invited to attend and celebrate Stafford's personal history project, with the steps of Holladay Hall as the gathering spot. Any individuals or teams interested in attending are requested to register here by Thursday, Aug. 24.
"Tom is an amazing person," says NC State Chancellor Randy Woodson. "Most of my relationship with him is watching the way he cares for the history of this university and the people who built it. I see him constantly out my office window telling people his stories of how the tower originated and how it progressed."
The 115-foot memorial was designed by architect William Henry Deacy. It was built in 10-foot increments starting in 1921, and it was eventually completed by the federal Works Progress Administration in 1937. It was officially dedicated on Nov. 11, 1949.
Stafford began giving his tours as a retirement pastime following 40 years of service in the NC State Division of Student Affairs. He has a list of every group that has ever taken the tour, which includes deans, directors, staff members, varsity athletics teams, alumni and fans from every walk of life.
His largest tours of up to 60 participants have been during Packapalooza, the annual community fair on Hillsborough Street. He will lead his 998th and 999th tours at this year's Packapalooza on Aug. 26.
Stafford covers all of the tower's history and more during his by-request tours, which typically last between 45 minutes to an hour. He also has a similar history tour of Reynolds Coliseum, which opened its doors three weeks after the Belltower's dedication.
Since the tower is officially a veterans memorial, the participants in the landmark tour will all have military ties, with four cadets each from NC State's Army, Air Force and Navy/Marine Reserve Officer Training Corps and two enrolled military veterans.
The hour-long event will be a celebration of the 81-year-old Stafford's continued dedication to the university, and it will be a tribute to the NC State students who train for careers in the military and the more than 300 who have died in service to their country in the century since the tower was first started.
Anyone, however, can attend Stafford's tour of the plaza and greenspace surrounding the tower.
Stafford will continue to give his tours of the Belltower and Reynolds Coliseum after this celebration, though he doesn't know for how long.
"My goodness," he says. "I know there won't be another 1,000."
This post was originally published in NC State News.