Annual Events
Celebrating NC State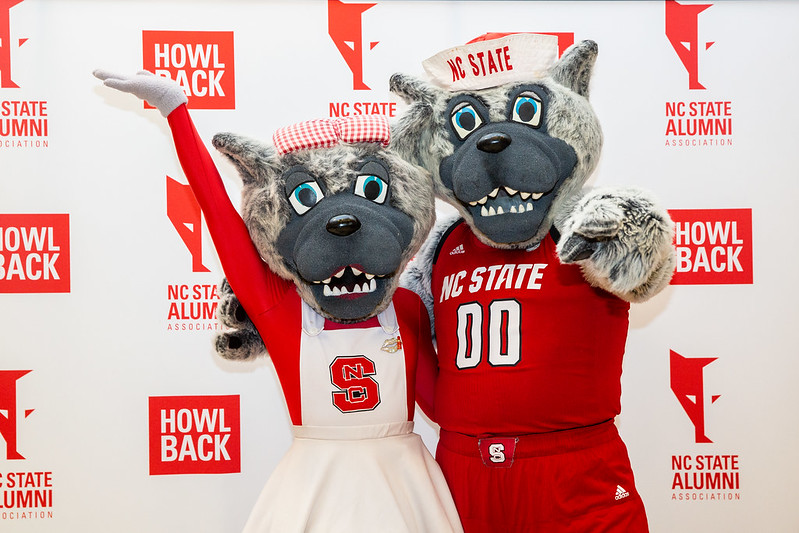 A connected Pack is a strong Pack. To that end, the Alumni Association offers a wide variety of annual events to help foster relationships, build networks and serve communities. Whether you're a recent graduate or have crossed those red bricks many years ago, we want you to play an active role in our Pack.
Austin Winery Event
Alumni gather in Round Mountain, Texas, for an annual gathering at Westcave Cellars Winery. Winemaker and alumnus Allan Fetty '83 cooks a pig – North Carolina-style. Local band, Electron Donors, featuring NC State alumnus Paul Hollis '92, performs.
Beaufort County Oyster Roast
During our Beaufort County Oyster Roast, NC State alumni gather for a Low Country boil, fried shrimp and seafood chowder feast. NC State Chancellor Randy Woodson provides an update on campus, and alumni enjoy live music and Wolfpack giveaways.
Chancellor's Receptions
Through lively receptions hosted by the Alumni Association, alumni attendees have the opportunity to chat one-on-one with Chancellor Randy Woodson and learn more about the latest happenings on campus and the Think and Do the Extraordinary Campaign.
Cookies and Cocoa with Mr. and Ms. Wuf
Alumni Association members are invited to enjoy Cookies and Cocoa with Mr. and Ms. Wuf at the Park Alumni Center. Decorate cookies, enjoy Howling Cow eggnog or cocoa and gather with Mr. and Ms. Wuf for a family portrait in front of the 18-foot holiday tree.
Crystal Coast Oyster Roast
Randy and Susan Woodson, fellow NC State alumni and friends gather for a Crystal Coast Oyster Roast at the NC State Center for Marine Sciences and Technology (CMAST) in Morehead City. Producers representing local oyster farms shuck their delicious oysters for enjoyment and taste comparison. Alumni also view activity displays on the important CMAST research/extension projects happening on the coast.
Evening of the Stars Gala
Each year, the Alumni Association hosts an Evening of the Stars to celebrate the winners of the College Distinguished Alumni Awards, the Wolfpack Club's Ronnie Shavlik Award and the other Alumni Association awards. This evening showcases some of NC State's most decorated alumni and spotlights the important work they are doing across the state and around the world.
Faculty Awards and Mathews Medal
The Alumni Association honors faculty who excel in the classroom, in the laboratory and in the field. Additionally, the Alumni Association Student Ambassadors honors graduating NC State student-leaders who have made a difference and left a legacy that will be remembered by future generations of Wolfpack for years to come.
Howl Back With Your Pack
Howl Back With Your Pack is the perfect opportunity to gather together with fellow alumni, friends of the university, and – of course – Mr. and Mrs. Wuf. Enjoy an oyster roast that includes steamed oysters, fried shrimp, chicken tenders, a low country boil, and all the fixins. To top it off, we also have NC State's own homebrew and a Howling Cow ice cream bar.
Legacy Admissions Day
The Alumni Association hosts two Legacy Admissions Sessions in the spring for parents who would like to understand more about the admission requirements for NC State.
Legacy Luncheon
The Alumni Association invites incoming NC State students (freshmen and transfers) with alumni parents or grandparents to a barbecue luncheon on move-in day. This event celebrates those alumni who make NC State a family tradition.
Orange County Wolfpack Picnic
NC State alumni and friends gather each summer for the Orange County Wolfpack Picnic in California. Wolfpack families enjoy an afternoon of fun, food and door prizes. The menu includes pulled pork, barbecue chicken, potato salad, baked beans, mac-n-cheese, cornbread and non-alcoholic beverages.
Pig Pickin' in the Burgh
NC State alumni come together annually for our Pig Pickin' in the Burgh in Pittsburgh, Pa. The menu includes pulled pork, pulled chicken, baked beans, mac-n-cheese, coleslaw, cornbread, cookies, sweet tea and water.
Red and White Week
Red and White Week is NC State's biggest celebration! Join fellow students for a week PACKed with activities that celebrate all things NC State.
Return to Raleigh Picnic
NC State alumni, family and friends gather each summer for the Return to Raleigh Picnic in Portland, Oregon. The menu features North Carolina-style barbecue, chicken, baked beans, slaw, mac-n-cheese, dessert, beer, wine, sweet tea and water. This is one of the Alumni Association's longest-running annual events.
Reunion Weekend
The Alumni Association invites the NC State class celebrating its 50th anniversary back to campus for a once-in-a-lifetime reunion.
State Mates
Our State Mates event celebrates couples who fell in love at NC State. Whether you met while on campus or after, or simply share a love for the Wolfpack, you won't want to miss this memorable evening.
Welcome to the Pack
These events are the first chance for incoming freshman to engage with the university. The Alumni Association brings an inspiring NC State message to excite and welcome new students, their families and guests.
Wreaths Across America Service Project
Fellow NC State alumni and friends gather together to honor those who served our country by laying holiday wreaths at Arlington National Cemetery.