Southeast Alaska
August 12 to 19, 2022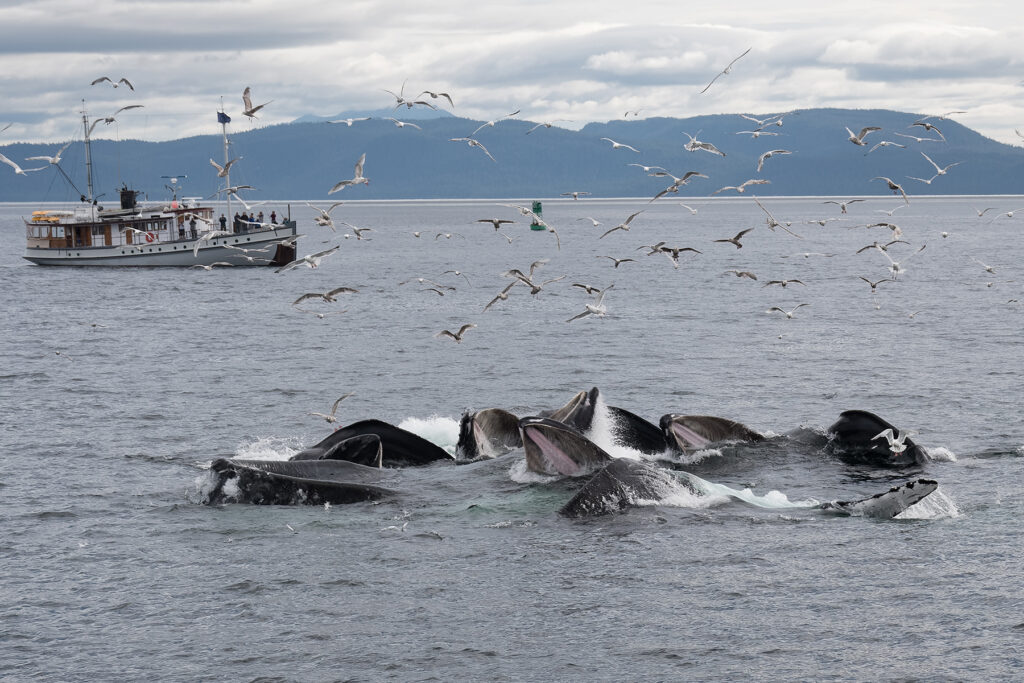 Starting Price: $4,395 per person, double occupancy, airfare not included
Activity Level: Moderate
Travel type: Small-boat cruise
Ship Diagram: Chichagof Dream
Add-Ons: Denali National Park Pre-Tour
Tour Partner: Orbridge
Brochure: Brochure PDF
More information: NC State + Orbridge website
Photos: See what to expect
Reservations: To ask questions or make a reservation, call WolfTreks Travel Manager Kathy Hart at 919-515-0508 or book online using this link.
The unyielding forces of nature are on full display throughout Alaska's Inside Passage. Mountains erode by the crushing force of massive glaciers, icebergs drift across aquamarine waters, and the life cycles of flora and fauna are compressed into the scant weeks of an arctic summer. During this expedition cruise, navigate narrow channels and waterways with skilled naturalists at your side—ready to encounter Alaska's abundant wildlife, breathtaking peaks and fjords, and ice-blue glaciers of unfathomable proportions.
See the spray of whales only yards away and venture into secluded inlets as you get up close to nature, whether from the decks of the Chichagof Dream or aboard its skiffs and kayaks. Accompanied by expert naturalists, including an Orbridge Expedition Leader, learn surprising details about animal behavior, glacier activity, and the wealth of natural spectacles along these protected waters.
Learn about Alaska's culture and living history during a Native dance performance at a Tlingit Clan House. Cruise around Glacier Bay National Park alongside a Native Huna Tlingit Cultural Heritage Guide and a park ranger, observing the sanctuary's deep fjords, tidewater glaciers, and snow-capped mountain ranges.
Capture the sight of whales breaching next to your boat, bears fishing along the shoreline, and eagles looking down from their nests—all part of nature's amazing show. Discover Alaska's culture and living history during a visit to the Alaska State Museum and take a guided tour of the Norwegian fishing community of Petersburg.
This program also offers an optional pre-tour to Denali National Park. Explore this vast and stunningly beautiful wilderness­—home to Denali, the highest mountain in North America. Ride the Alaska Railroad, stay at a hilltop lodge with panoramic views just north of the park entrance, and learn how this magnificent landscape became one of our nation's most breathtaking conservation areas.
Friends and Family Welcome!
You don't have to be an NC State graduate to travel with WolfTreks!
Let's Get Social
For all the latest WolfTreks news, traveler photos and travel tips, join our Facebook group and follow us on Instagram.
WolfTreks Mailing List
Join our WolfTreks mailing list to receive trip brochures and email information.