Singapore, Thailand & Angkor Wat
September 30 to October 14, 2021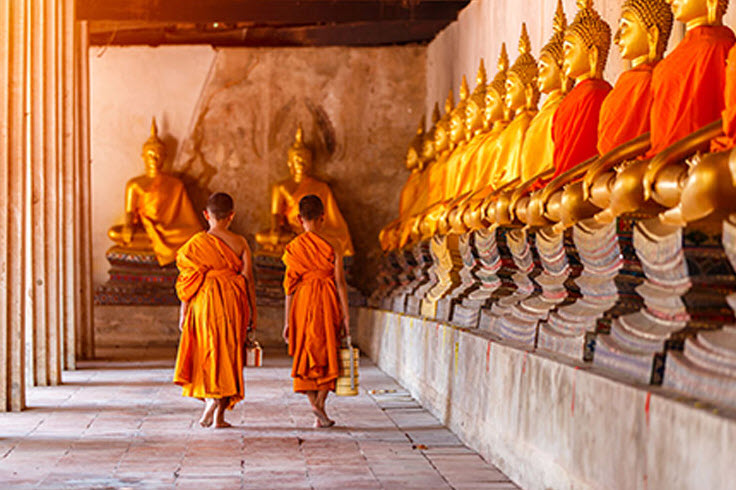 Starting Price: $7,245 per person, double occupancy, air not included. VAT and Port charges are an additional $495 per person. Save $250 per person if you book before March 15, 2021.
Activity Level: Easy to Active Excursions
Travel Type: Land and train
Tour Partner: Alumni Holidays International (AHI)
Brochure: Downloadable PDF
More information: NC State + AHI website
Reservations: To ask questions or make a reservation with a credit card, call WolfTreks Travel Manager Kathy Hart at 919-515-0508 or book online using this link.
Behold Singapore's harmonious blend of traditional and modern lifestyles. Explore the city on a panoramic tour, passing Merlion Park, Padang, Cricket Club, Parliament House and more. Visit Singapore's oldest Chinese temple. Marvel at the breadth of Singapore's diverse cultures and rich history during visits to a Malay enclave,Chinatown and Little India.
Relish the Golden Age of travel aboard the Eastern and Oriental Express. Thrill to the glories of Southeast Asia, a medley of energetic cities, stunning landscapes and ancient ruins.
Delight your palate with the flavors – sweet, savory, spicy and tart – of Southeast Asia's outstanding food culture. Cruise the legendary Chao Phraya and Kwai Yai rivers to glimpse colorful local life along the waterways. Uncover culinary traditions with a family who reveals the secret to rice noodles, a local specialty. Another family shares the secrets of Chinese dumplings, enjoy a tasting and learn about bead work and embroidery at a shop.
In Bangkok, discover river life as you cruise the Chao Phraya River and Thonburi canals.Disembark and visit the Grand Palace and Emerald Buddha Temple, followed by a tuk-tuk ride to see the Reclining Buddha. Visit the European-style BangPa-In Palace, a summer residence for the kings of Thailand. Continue to Ayutthaya and witness massive brick ruins, lion guardian statues, seated Buddha figures and other amazing artifacts.
Discover the storied wonders of Angkor Wat. Built in the 12th century, it is the largest temple in the world and the crown jewel of Angkor. Explore Angkor Thom,a walled city that once was home to one million people, and see the imposing temple of Bayon. Marvel at the mysterious Ta Prohm, swathed by the massive roots of kapok trees, and visit Thommanon temple.
Friends and Family Welcome!
You don't have to be an NC State graduate to travel with WolfTreks!
Let's get social
For all the latest WolfTreks news, traveler photos and travel tips, join our Facebook group and follow us on Instagram.
WolfTreks Mailing List
Join our WolfTreks mailing list to receive trip brochures and email information.