Normandy
September 4 to 12, 2021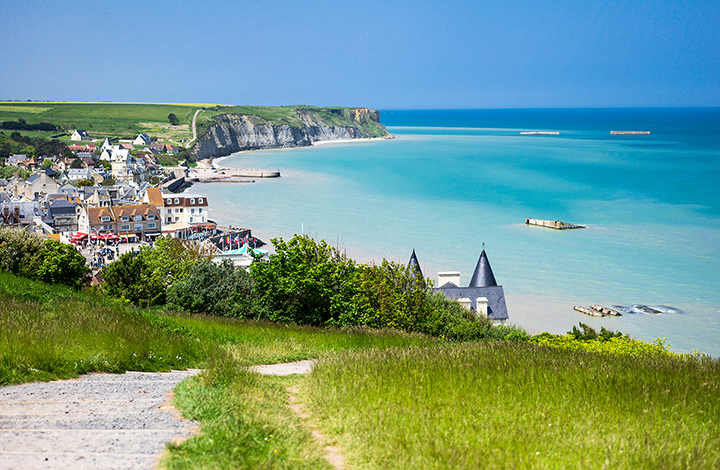 Starting Price: $3,645 per person. VAT is an additional $295. If booked before March 31, 2021 deduct an additional $250 per person. Airfare is not included.
Special Note: Limited to 24 travelers. The single supplement is waived for solo travelers.
Activity Level: Moderate
Travel type: Land
Tour Partner: Alumni Holidays International (AHI)
More information: NC State + AHI website
Reservations: To ask questions or make a reservation, call WolfTreks Travel Manager Kathy Hart at 919-515-0508 or book online using this link.
Historic Honfleur. Get to know this quintessential French port town that has captivated artists for centuries. Soak up the maritime ambience of its picture-perfect,17th-century old harbor and stroll its narrow streets to see landmarks like the wooden Church of Sainte-Cathérine, crafted by 15th-century shipbuilders.
D-Day and the Battle of Normandy. See Arromanches, site of one of the offshore mulberry harbors, and visit the museum.Walk on Omaha Beach, where Allied forces valiantly advanced across the heavily fortified shoreline under devastating fire to overcome German troops. Then, pay tribute to the fallen while visiting the Normandy American Cemetery. Finally, at Pointe du Hoc, see the100-foot cliffs the U.S. Rangers scaled to destroy enemy artillery emplacements, and go inside a German defensive emplacement.
Giverny and Rouen. Claude Monet lived in his cheerful, green-shuttered home in Giverny from 1883 to 1926. Admire the enchanting gardens that endlessly inspired him and visit the studio where he painted his"Water Lilies" series. Continue to the Muséedes Impressionnismes Giverny, dedicated to impressionism's history. After viewing the museum's collection, enjoy lunch on your own. Next, head to Rouen for a guided walk in the old town, noted for its bevy of half-timbered houses; the Gros Horloge, an astronomical clock; and its grand cathedral.Hear the haunting story of Joan of Arc, who was martyred in the town square in 1431.
Mont-Saint-Michel.On a guided tour, explore this fascinating granite island, andvisit the serene abbey and church that have drawn pilgrims for centuries. If you'd like,walk along the ramparts to watch the tides and admire the panoramic vistas.
Caen Memorial Museum. France's award-winning World War II museum offers intriguing exhibits, photos and videos about World War II, the D-Day landings and the Battle of Normandy.
Bayeux. View the 11th-century Bayeux Tapestry, a finely stitched artifact nearly 230 feet long, embroidered with more than50 scenes about the Norman conquest of England and the Battle of Hastings in 1066.Later, admire the Gothic details of Bayeux's Nôtre Dame cathedral.
Calvados Tasting.Normandy's famous apple cider brandy is among the world's finest brandies. Visit a farm that distills Calvados from the apples grown on its 42 acres of orchards and learn about the production process. Finish with a glass of Calvados and relax over lunch.
Friends and Family Welcome!
You don't have to be an NC State graduate to travel with WolfTreks!
Let's Get Social
For all the latest WolfTreks news, traveler photos and travel tips, join our Facebook group and follow us on Instagram.
WolfTreks Mailing List
Join our WolfTreks mailing list to receive trip brochures and email information.