Latinx Alumni Network
Red and White Week Events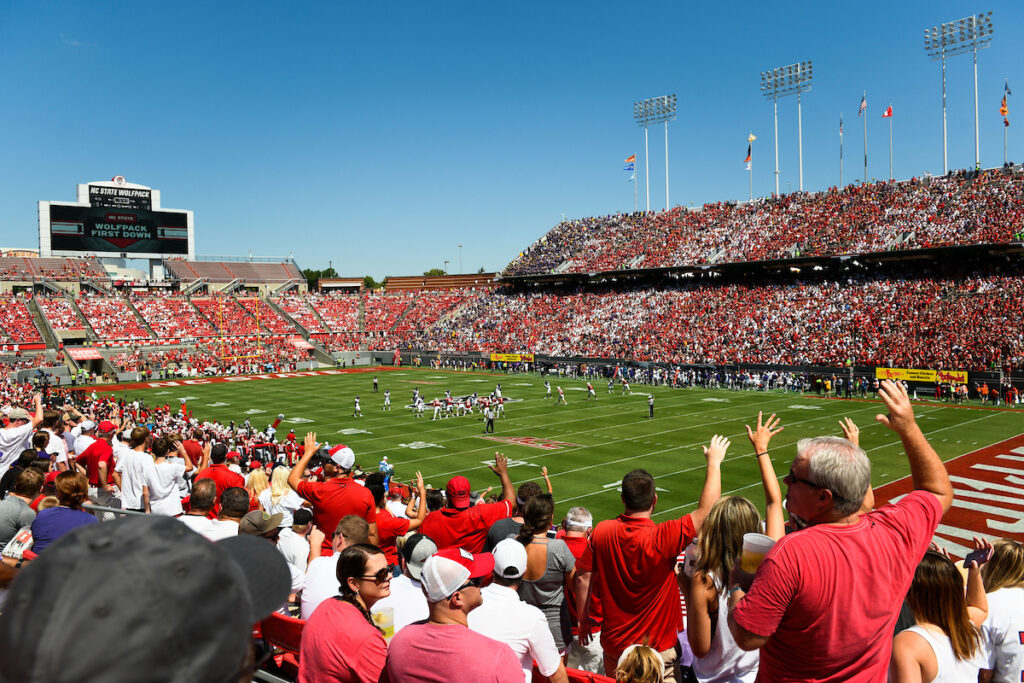 Hola! Join the Latinx Alumni Network (LAN) for our homecoming festivities. Whether you're traveling from near or far, we want to see you at Red and White Week.
LAN Homecoming 2021 Events (Look for the registration button at the end of the event schedule.)
Virtual Trivia Night with the Black Alumni Society
Thursday | Oct. 28 | 8 – 9:30 p.m.
Location: Virtual | Link to join will be sent at a later date
Expect twice the fun when the Black Alumni Society and Latinx Alumni Network get together and test your trivia skills against fellow members of the Pack. Join the two groups for virtual trivia and a chance to make new friends. Winners will receive NC State swag – and bragging rights. Teams will be randomly assigned so you can meet new people.
Cost: Free
Descalza Fashion Show
Friday | Oct. 29 | Time TBD
More details coming soon.
Harambee! Witherspoon 30th Celebration Block Party
Friday | Oct. 29 | 3 – 6 p.m.
Location: Harris Field | Witherspoon Student Center | 2810 Cates Ave.
The African American Cultural Center is celebrating 30 years of being at NC State with Harambee!, a celebration of a unified campus community. The African American Cultural Center, student media, Military and Veterans Affairs, and several campus partners will be showcased at the event.
Cost: Free to attend.
(You will need to register for this event separately as the African American Cultural Center is hosting it.)
LAN Homecoming Tailgate
Saturday | Oct. 30 | Time TBD
Location: PNC Arena | East Terrace
Join the Latinx Alumni Network at the homecoming tailgate on the PNC Arena East Terrace. The tailgate will feature music, games and fellowship. The menu includes alpaca chicken, maduros, yuca, salad and chicha morada.
Cost: $20 for Alumni Association and Hispanic/Latino Advisory Group (HLAG) members meal ticket, $30 for nonmembers meal ticket, $10 for children aged 12 or younger (Meal tickets are no longer available but you can purchase an entry only ticket.) $10 for Alumni Association members-Entry only, $15 for nonmembers-Entry only
Want to go to the game? You can purchase a ticket in the BAS/LAN block. The deadline is Oct. 25.
You can also purchase parking (limited availability) for the game.
LAN Brunch
Sunday | Oct. 31 | 12 – 2 p.m.
Location: Cantina18 | Cameron Village | 433 Daniels St.
Wrap up homecoming weekend with delicious food, drinks and fellowship. We'll have a private room and custom brunch menu that includes three courses. Registration is required. Guests will pay their own bill.
See who's coming to this year's events:
View attendee list
A special thank you to our Red & White Week sponsors!

Stay connected:
Be sure to follow us on Facebook and Instagram.
Support:
We encourage you to donate to the LAN scholarship, supporting our push to reach endowment level. Donate online today.
Red and White Week:
Visit redwhiteweek.ncsu.edu for a complete list of NC State events happening during Red and White Week.
By registering for these events, attendees agree to abide by venue COVID-19 protocols and current local guidance.
Membership:
An Alumni Association membership helps Wolfpack alumni #HowlBack together with engaging events. Members also receive a subscription to NC State magazine and career services. Not a member? Join today to enjoy more benefits!
Questions:
Contact the Engagement Team at alumni_engagement@ncsu.edu.